About
Want to start your own business? Manage an on-campus coffee shop? Develop marketing strategies for local and regional businesses? Serve and study in another country while gaining management skills and business principles? As a business student at Goshen College, you can do all of these things and more before you graduate!
We Prepare Students for the Real World
Here, you don't have to wait until your final year to do the good stuff. In fact, from your first semester, you will be encouraged to carve a career path for yourself and recognize the many ways business concepts and ideals are infused into every facet of our lives. We all use business and entrepreneurial approaches to make the world a better place, from business careers in nonprofit organizations to churches, schools, family-owned businesses, government agencies, the healthcare industry, international business, and large corporations in many industries.
You will be encouraged to work on real projects for real companies starting with your first class. Our business education courses will give you the chance to interact with business owners, intern at small and large companies, and even start your own company while in college!
Get Business Administration Experience with Our On-Campus Coffee Shop
We are on the lookout for leaders who are eager to work and study while enrolled in the Java Junction Management course (see the video, here). In this class, you will serve as a manager for the campus coffee shop, learning how to put into action what you're learning in business operations, supply chain management, human resources, market trends, business leadership, and more.
Learn How to Start and Run a Successful Company through our Bachelor's Degree in Business
Additionally, we want students that are pursuing a bachelor's degree in business to be a part of making the world a better place through problem-solving as part of the award-winning Goshen College Enactus team — a group of business bachelor's degree students that puts entrepreneurship into action. You will be able to compete for an entrepreneurship grant, using creativity and business knowledge to build your own company, with the support and guidance of our experienced and caring faculty. Menno Tea, a popular bottled iced tea produced by Niles Graber-Miller '14 and Hans Weaver '13 had its beginnings at Goshen College in our entrepreneurship program.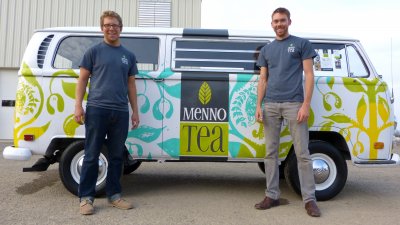 Real-Life Applications, Business Acumen, and a Global Perspective
In another opportunity, you will be encouraged to apply your business knowledge in an international setting through Goshen College's ground-breaking Study-Service Term. You will also be able to take advantage of the three-week study abroad business courses we offer in places such as Spain, China, or Ecuador.
Through all of the opportunities available through our business programs, you will be well-positioned to complete an undergraduate degree and continue towards a master's degree. From risk management to project management, information systems, portfolio management, financial data, accounting, finance and more, students studying business are set up for a rewarding career progression or to continue their studies at the graduate level.
Our graduates have gone on to pursue job opportunities in healthcare management, financial analysis, public relations, leadership positions, market research, information technology, higher education, accounting, marketing, finance as well as obtaining a graduate degree from business school.
Our Business Students are Prepared for the Future
Join the exciting things happening in the GC business program! Business graduates gain practical, moral, and ethical leadership experience as well as a global perspective that will prepare them for a future of putting their values into action while being successful contributors in the business world. For more information, fill out the form below.
Stats
3
Number of countries where business and economics classes are offered (China, Ecuador, Spain)
#12
Accounting program in the U.S. for a program of its size in 2014.
#1
GC team's ranking in the Student Case Competition at MEDA's annual convention in 2012 and 2013
94%
of business alumni are satisfied or very satisfied with their undergraduate education
Faculty & Staff