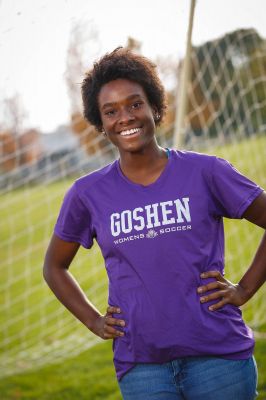 Melia Watkins, a 2017 business major and marketing minor grad from Cincinnati, Ohio, stayed busy during her years at Goshen College. She played soccer, ran track, participated in Black Student Union and joined PRSSA.
Why did you choose Goshen College?
Goshen College became my first choice because of the high quality education, the possibility to have an impact at this college, and the opportunity to compete in intercollegiate soccer.
What has kept you at GC?
Although perfection does not exist at Goshen, I have found that I can be myself with the people that surround me everyday. The opportunity to compete on the intercollegiate track team has also given me an incentive to continue studying here.
What do you hope to do with your degree?
One day I hope to be a marketing director. My plan is to pass the CPA exam, work as an auditor for a Big Four firm for five years, then move on to the marketing field somehow. My dreams are large and complex, but I know I have the ambition to make them come true.