Program Description
The Master of Arts in Environmental Education program is designed as a challenging intensive experience in all aspects of environmental education. Your 11-month experience includes extensive time in the outdoor classroom, indoor discussions, teaching, field trips, projects and several weekend conferences and workshops. In your practicum, you will work with grades K-12, as well as adult groups who are visiting our environmental learning center. At the same time, our curriculum develops your skills to work with schools, businesses, churches and/or communities with a long-term commitment in caring for creation. This is your opportunity to become a leader in education and to contribute to the care, restoration and preservation of our environment.
Program Distinctives:
Seven core courses taught by excellent faculty
Immersion in ecosystem studies
Teaching practicum
Leadership and program management training
Multi-faceted research project that you design with a professor
Completed degree in 11 months!
Learning experiences throughout the region including parks, centers, schools & nonprofits in Indiana, Michigan, Chicago, Detroit and Washington D.C.
Ecosystem Laboratory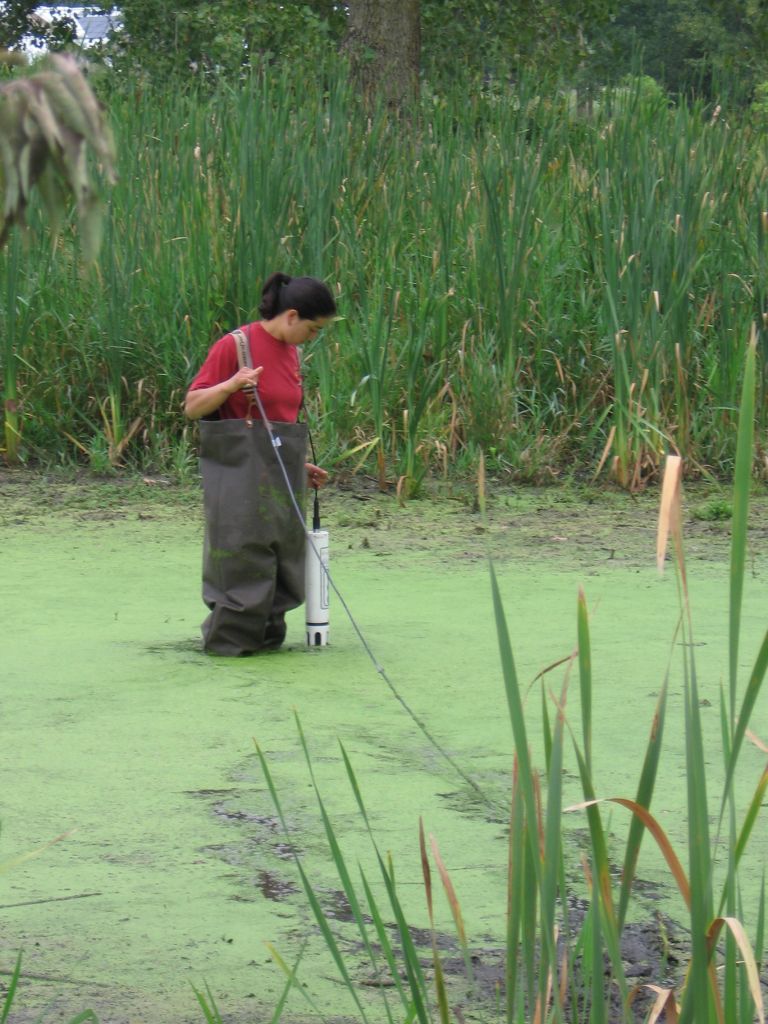 A foundation of your experience is exploring and learning about our 1,189-acre preserve that contains wetlands, bogs, lakeshores, upland and lowland forests, prairies and meadows. Merry Lea is among the best-assembled land preserves in Indiana and the largest private preserve in the state. The area contains a diverse group of Indiana ecosystems that have been managed to provide both rare and typical Midwestern habitat.
Environmental education ranges from multi-day outdoor adventures to residential church camps, zoo programming or in-the-classroom lessons. Because of the nature preserve, a distinctive aspect of our place-based program is an immersion in natural history. Our approach depends on knowing and understanding systems thinking, learning the local ecosystem and then building lessons from that knowledge. In a research methods course you will learn how to collect information on ecosystems and translate that information to the public. In order to fully understand how one site (i.e. one educational resource) changes across seasons, each student will study an ecosystem throughout the year.
Frequently Asked Questions
What are the dates?  The graduate program for Environmental Education runs from July to May during an academic year. For more information, see the semester schedule.
What is the application deadline?  Check out the admission requirements page.
How many students are in a cohort?  We are currently working with 6-9 students per cohort. The program may expand to 10-12 in upcoming years.
Who comes to the program?  Since 2008 we have had students from 23-50 years old with backgrounds in: wildlife and fisheries, elementary education, environmental science, high school science, forestry, psychology, religion, ecology, art history, English, management, biology, Latino studies and photography.
Where do graduates go?  Our graduates are pursuing a wide range of interests including: elementary and high school education, university outdoor programs, camps, zoo education, community program administrator, government and a PhD. degree in education.
Where are the courses delivered?  We are based entirely at Merry Lea Environmental Learning Center about 30 miles southeast of Goshen College. Most of your classes in July-August are in the field exploring our nature preserve (1,189 acres). The practicum portion is teaching schoolchildren in K-12 grades entirely outside. Winter graduate classes are mostly inside. The spring land management class is half and half inside and out. Several field trips throughout the year combine indoor meetings with environmental education leaders and outdoor tour experiences.
How many credits would I earn? 33 credits for the six core courses, one seminar course, practicum, field experience and project.
Does it involve writing a thesis?  This is a non-thesis master's degree. Instead, we require a research-based project. Working with one or two professors, you will design a project that complements your lifelong aspirations and experience. The projects can focus on the process of learning or the environmental content. All projects have a review of the literature, some data collection and an emphasis on curriculum for distribution to the public.
May I take only some of the courses and complete the degree in two years?  No, the core courses are built around an extensive practicum and a project that cannot be truncated.
What does this degree course cost? Please visit the tuition and financial aid page for more information.
Are scholarships available?  There are a limited number of scholarships available. For more information, please visit the tuition and financial aid page.
Does this include room and board?  No, students are responsible for organizing their own housing. For more information, please visit the tuition and financial aid page.
My background is strong in science but weak in education; is this a problem? No, this program is designed for students from a wide variety of backgrounds. Most of your learning will be in education and communication.
My background is strong in education but weak in science; is this a problem?  No, however there is a prerequisite of at least one qualifying undergraduate science class. We learn our natural history mostly through experience and fieldwork so the science part of your education is exploratory and experiential. Some math and statistics skills are part of the experience and we have worked with the full spectrum from people who avoid math at all costs, to people who love nothing more than a good stats problem.
When I take this degree course, will I obtain my teaching certification?  No. This can be obtained in a state-certified education program or through a transition-to-teaching program.
What is the time expectation?  This is an intensive program as all the credits are earned within one calendar year. Typically students will be at Merry Lea Monday through Friday for classes, practicum and project research. There will also be four to six required weekend seminars or programs throughout the year. No one has successfully worked in the first four months, but a couple of students have worked part-time the second half of the year. The last month is also very time demanding.
Do I get paid for my teaching within the K-12 programs?  No, this is your practicum and you will be receiving academic credit for this work. It is comparable to student teaching. The time teaching is about 280 hours and we emphasize tackling problems and issues in communication across many age groups. This is your opportunity to explore different learning styles and strategies. The teaching is accompanied by a seminar.