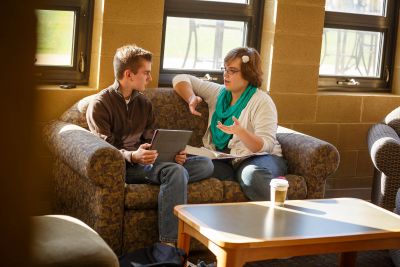 The Academic Success Center (ASC) offers programs to promote independent, life-long learning for all students of Goshen College. Located in the Good Library (Rooms 111 – 113).
Sign Up for a Writing or Tutoring Appointment
Please request interpreting at least one week in advance
Contact:
Carol Shetler  Writing Support Coordinator
Kelsey McLane  Technology Support for Students with Disabilities
---
Writing Center
Drop-in Writing Support – No appointment necessary
Drop-in writing help is at the Reference Desk in the Library. Look for the big "ASK" sign over the desk. Writing Support Coordinator Carol Shetler is there to work with you several hours each week, and peer writing mentors are available in the evening. Any other time, ask the librarian on duty at the Reference Desk. Our versatile library staff are also skilled writing mentors.
Questions about writing support? Contact Judy Weaver (574-535-7560)
Try these links for some excellent writing resources:
Peer Tutoring Program
Tutoring Appointments – 50-minute sessions
The Peer Tutoring Program offers individual tutoring and peer-tutored study groups for undergraduate students. Please make appointments at least one hour in advance. When you make an appointment, you will see the location to meet your tutor.
Tutoring works, especially if you go early and often. Of students who attended 5 or more tutoring sessions last year, 95% passed their courses.
If you can't get an appointment for the class you want, or if you have any other tutoring questions, contact Judy Weaver in the ASC.
Organization and time management
We offer assistance with organization and time management skills. For an individual consultation or more information, stop by the ASC or contact Judy Weaver
Try these organizing resources:
For a sense of your whole semester, print a copy of our handy academic planning calendar – the whole semester (or May Term) on one page! Fill in all your biggest exams and due dates, and post it by your work space.
academic_calendar_spring_2020 (1)
Next, think about your weekly time blocks. Use one of the organizers below to graph out your class times, meals, work hours, regular meetings, etc. Then look at the time you have left. Plan your study blocks, allowing 2-3 hours of study outside of class for every hour in class. This should also be posted on a wall or carried with you, until it becomes habit. Lastly, think about a daily to-do list, on which you will capture assignments and prioritize. Some people use planners, sticky-notes or a small pad of paper they carry everywhere. Some people use the task list or notes on their phones. Others keep a running list on a white board in their room. It must be a format you will look at and update daily. Experiment and find what works for you!
Weekly schedule                   Do and Due  (weekly list of what's due and when you'll do it)                    ABC task list (Prioritize, and commit to doing the "A"s first)
For tips and strategies about time management and study skills, a helpful webpage is: www.howtostudy.org
Services for students with disabilities
To be eligible to receive accommodations, a student must provide an educational evaluation completed by a licensed professional, usually within the last three years. This documentation will be kept on file in the Academic Success Center office. The ASC provides a variety of services to students with documented learning disabilities. Read more about disability services.