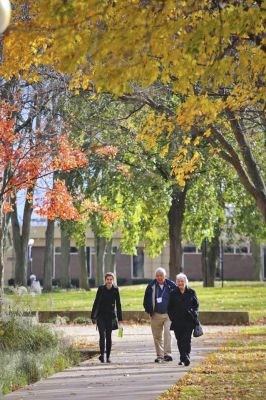 Goshen College offers partial reimbursement of your travel costs when you schedule a visit. Conditions apply though, so be sure to check the details.
Events at a glance
Individual visits are also available throughout the year
Discover Nursing is an optional track available during any Explore Goshen Day event
---
Explore Goshen Days
Who: Anyone and everyone interested in learning more about Goshen College
When: To be announced, fall 2015
Where: Check-in at the Church-Chapel Fellowship Hall
Nothing is going to tell you more about the right college fit than stepping on campus to check out the housing options, tasting the food, trying out a class, taking a campus tour, or talking to current students and professors. Join us and other like-minded students considering making Goshen their home at our next Explore Goshen Day.
If your preferred visit date is less than a week away, please contact the Admissions Office at admission@goshen.edu, (800) 348-7422 or (574) 535-7535.
---
Individual Visits
Who: Anyone and everyone interested in learning more about Goshen College
When: 12:45 p.m., Monday through Friday; 10 a.m. on Saturdays (by appointment only)
Where: Check in at the Welcome Center
Join us for a campus visit that is customized just for you and your needs. If you'd like to meet with specific faculty members, a Monday through Friday individual visit is the best option for you. During the fall and spring semesters, Saturday visits are also available to meet with an admission counselor and tour campus (by appointment only).
Sign up for an individual visit!
---
Discover Nursing Days
Who: Those interested in learning more about GC's exceptional Department of Nursing
When: An optional track available during every Explore Goshen Day (dates listed above)
Where: Check in at the Music Center Lobby
Are you wondering what types of courses you should take or how to determine if a career in the nursing field is for you? You are invited to spend a day at GC to get answers to your questions from current nursing students and their professors. You can also tour campus, attend classes and check out a post-clinical conference where students discuss patient situations and learning experiences.
Sign up for a Discover Nursing Day!
---
Making your way to Goshen College
Need directions, hotel or parking information? Here's all you need for your visit!
Goshen College
1700 South Main Street
Goshen, IN 46526 USA