Diversity at Goshen College
Goshen brings people together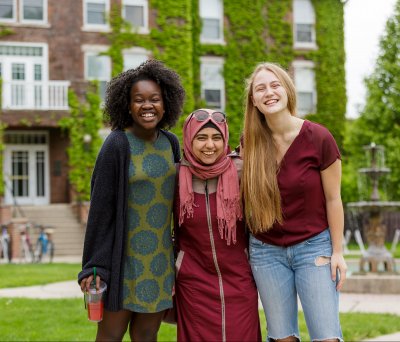 In the 2016 edition of "America's Best Colleges," U.S. News & World Report recognizes Goshen as 33rd among liberal arts colleges for most international students and 76th among all liberal arts colleges for having high ethnic diversity on campus. Our diverse campus welcomes students from more than 25 countries and many religions outside the Mennonite faith. In fact, more than 40 different Christian denominations and several world religions are represented here. Of course, none of this is news to us. Diversity is so important at Goshen that we have an entire office dedicated to it. The Diverse Student Support Office supports diversity-related clubs and organizations, hosts multicultural events and activities, and sponsors programs like Martin Luther King Jr. Study Day, Hispanic Day and Peace of the Arts.
Breaking boundaries and broadening perspectives
U.S. News & World Report also recognizes Goshen among the top five liberal arts colleges in the country for most students studying abroad, and the Christian Science Monitor placed Goshen College on their list of top ten most globally minded colleges. Intercultural opportunities abound at Goshen, starting with our popular Study-Service Term (SST), which takes students to places like China, Peru and Tanzania for a semester. And if you want to add global perspectives to your area of study, the international studies minor makes it possible.
Right here in Indiana, Goshen's Center for Intercultural & International Education (CIIE) connects with the Latino population through educational research, curriculum development and access to resources.
Wherever we go, whomever we meet, Goshen joins people in peace and understanding.
Goshen College is in compliance with all federal regulations pertaining to nondiscrimination on the basis of race, color, national or ethnic origin, sex, disability, age, sexual orientation, gender identity or any legally protected status in its recruitment, admission, educational, athletic, financial aid and employment policies and programs.