Champions of Character Awards
The Champions of Character Awards were established by the Maple Leafs Athletic Club to honor and recognize those former student-athletes who have gone on to exemplify and demonstrate the core values of Goshen College and the NAIA in their lives, work and community service.  The Maple Leafs Athletic Club established the Champions of Character Awards in 2006 and they are annually presented to a male and female alumni athlete. The awards are named the Dr. Ruth Gunden Award and the Dr. Roman Gingerich Award. Gunden and Gingerich were pioneers in Goshen College's athletic history.
Criteria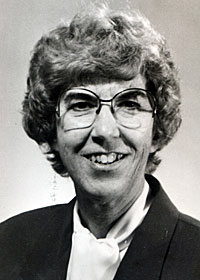 The nominee will:
Be a living alumna/us who participated on a sports team at Goshen College and has graduated from the college.
Live a life consistent with the Champions of Character Core Values: Respect, Responsibility, Integrity, Sportsmanship and Servant Leadership.
Have distinguished record of service and/or achievement to home, church, college, community and world. They are committed to seeking a life which balances the demands of their professional, church, community and family life.
Process
Please submit your nomination via this form. Complete nominations are reviewed by the Maple Leafs Athletic Club council members. Applications are accepted on an on-going basis. Applications that are completed after March will be considered for the following year. *Current Goshen College employees are not eligible for these awards.
Past Champions of Character Award Recipients
2020/21 Recipients: Todd Woodworth '78 and Krysten Parson '02
2019 Recipients: Garrett Cannizzo '12 and Kari Heusinkveld '12
2018 Recipients: Byron Shenk '63 and Peni Acayo Laker '11
2017 Recipients: Stan King '61 and Justine Clemmer Pletcher '72
2016 Recipients: James Gingerich '66 and Aletha Stahl '89
2015 Recipients: Ken Pletcher '70 and Alice Gunden Bender '80
2014 Recipients: Ken Edwards '81 and Mandy Yoder '99
2013 Recipients: Fred Litwiller '62 and Lynda Hollinger-Janzen '78
2012 Recipients: Keith Springer '69 and Sue Roth '66
2011 Recipients: Marty Gaff '71 and Mary Sutter '80
2010 Recipients: Dan Bodiker '64 and BJ Leichty '75
2009 Recipients: Lynn Williams '60 and Marty Kelley '71
2008 Recipients: John Ingold '59 and Trinda Bishop '69
2007 Recipients: Henry Zehr '78 and Sue Conrad '92
2006 Recipients: Don Jantzi '72 and Sally Hunsberger '86
---