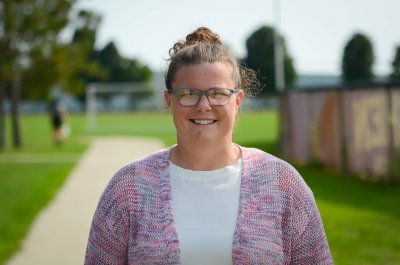 Krysten Parson '02: Champion of Character Award
Goshen, Indiana
Physical education and health teacher
Physical education major
---
Krysten Parson '02, a former Maple Leaf basketball and All-Conference softball player from Indianapolis, Indiana, remembers much more about her time at Goshen College than individual athletic success.
For Parson, the community she found at Goshen College transcended the softball field and basketball court, to the classroom and beyond.
"Community has become part of my foundation; it is integral to who I am as a person and in my professional life," Parson said. "This was not something that I had experienced before I came to Goshen."
Playing since she was five years old, Parson excelled at softball while at Lawrence Central High School in Indianapolis. A basketball standout as well, she committed to Goshen College to play both basketball and softball at the school.
Parson set records and received awards in basketball and softball. In basketball, Parson set two career school records that still stand today with most assists (610) and steals (318). She remains among the top ten for career points (1277), free throws (345), three-pointers (132) and three-pointer percentage (.376).
"From the moment she stepped foot on the Goshen College campus she brought a tremendous amount of energy and passion to our team," Kim Eiler, former women's basketball coach at GC said.
Also a member of the softball team, Parson was both an all-conference catcher and all-region catcher, still holding program career records for 148 runs scored, 204 hits and 8 triples.
In her reflections as an athlete at GC, Parson highlights the community.
"At GC, I was a part of something that was bigger than me. I felt supported by faculty, students and my coaches," she said. "While my teammates and I understood the importance of our individual roles, our coaches taught us to rely on the community around us to be successful. I never felt like I was winning alone. I never felt like our success as a team was only about me. I never had to fail on my own."
In 2001, Parson and the GC softball team won the conference championship, making an incredible and surprising comeback against Indiana Wesleyan at home.
"It was one of those games you dream about as a young athlete," Parson said.
Down by one at the bottom of the 7th inning, Parson's teammate, Candy Feare '02, hit a grand slam, and Parson ran it in from third base to win the game. Parson's team was the only one in program history to win a conference championship.
"I still tell that story to my athletes," Parson said. "Our team that year had a lot of confidence, poise and determination. We trusted each other and we never counted ourselves out."
Upon graduation, Parson became a physical education teacher and coach at Bethany Christian Schools in Goshen. She served as the junior varsity girls basketball coach for three years, and spent a year coaching the boys junior varsity basketball team before becoming the girls basketball head coach, now in  her 15th season. She holds a program record of most wins (138) and is the longest-serving high school head coach in Elkhart County.
She was also head coach of the Bethany softball program from 2004-09 and then again from 2013-15, compiling a 56-114 record.
"Krysten was destined to be a coach, since she was the coach on the floor during her playing career," Eiler said. "She also cares so much about helping young people fulfill their dreams and passions. She is willing to invest in her team not only as athletes but as students. This is what makes her an outstanding coach."
Parson is now school counselor at Bethany Christian Schools, where she passes down her philosophy of holistic physical education to her students, emphasizing the importance of physical activity for emotional, mental and spiritual well-being.
"My coaches had a tremendous influence on my life and helped to shape me into the person I am today," Parson said. "Through their coaching, I developed an unshakeable confidence in who I was as an athlete and as a person. They pushed me to my limits, challenged me to develop and refine my leadership skills, and helped me understand the need for community. These are the same qualities that I have emphasized in the classroom and as a coach at Bethany."
Parson is finding a new passion in her work as a school counselor, having earned a Master's degree from Lamar University in 2019.
"Having the opportunity to be a student-athlete taught me the necessity of leading a balanced life," Parson said. "I have used these life lessons in my work as a teacher, coach and counselor at Bethany; athletics at Goshen College taught me how to come together with people I had never met before and work toward a common goal," Parson said.
Parson lives in Goshen, Indiana. She has legal guardianship over her two nephews, Isaiah, 15, and Zane, 13. They attend Maple City Chapel.
- By Mackenzie Miller '21