Alice Gunden Bender '80: 2015 Dr. Ruth Gunden Champion of Character Award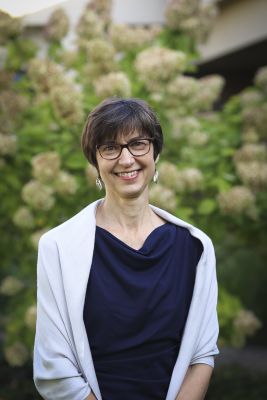 Alice Gunden Bender '80 is the recipient of Goshen College's 2015 Dr. Ruth Gunden Champion of Character Award. For the 10th year, the Goshen College Maple Leafs Athletic Club presents the Dr. Ruth Gunden and the Dr. Roman Gingerich Champion of Character Awards. The two awards are presented to a male and female alumni athlete who exemplify the college's core values in their lives, work and community service. Gunden and Gingerich were pioneers in Goshen College's athletic history.
---
Learn more about Homecoming Weekend 2015
---
Alice Gunden Bender '80 has dedicated her professional career to helping people live healthier lives.
As the associate director for nutrition programs at the American Institute for Cancer Research (AICR) in Washington, D.C., Bender promotes healthy lifestyle choices for lower cancer risk. AICR studies the link between diet and cancer, funding research in nutrition, physical activity and cancer prevention and survival.
Bender keeps healthcare providers up to date on the research for cancer prevention and helps the public stay informed on cancer-preventive lifestyle choices as AICR's spokesperson.
As Ruth Gunden's niece, she is especially honored to receive this award.
"Ruth has been very supportive of all of her nieces and nephews, and for me she has been a role model for sports involvement as well as a great coach," Bender said. "She is also an inspiration for being physically active through life."
While earning her bachelor's degree in home economics at Goshen College, Bender was also a member of the women's tennis team. Even after her career as a Maple Leaf, she still exemplifies the college's core values—passionate learning, compassionate peacemaking, global citizenship, Christ-centeredness and servant leadership.
After completing a master's degree in nutrition and public health from Teacher's College, Columbia University, Bender developed the nutrition services program for students at the University of Georgia Health Center in Athens, Georgia. She has served in leadership roles in professional organizations, including as president of the Georgia Dietetic Association in 2006. While in Georgia she developed interests in local food policy and fair trade issues.
"Alice has always shown a deep respect for others as she helps them choose healthy ways of living so they might live life more fully," said Rose Widmer '73, Bender's sister. "This is one way Alice lives her life as an example of God's peace."
Bender has been involved in church activities, providing food for Warm Nights, a short-term shelter program, and community café, both sponsored by her home congregation, Hyattsville Mennonite Church (HMC) in Maryland. She and her husband have also served as HMC junior youth sponsors and Bender is a regular volunteer in the church's nursery. They also have enjoyed hosting students, visitors and international guests in their home.
Bender has been active in the wider church, serving as a Deacon and Elder in the Presbyterian Church while in California and Georgia.
"Alice practices healthy life choices which model and enable her to offer her kindness, gifts and time to serve others," said Widmer. "Alice is excited about life and lives a joy filled life."
Bender currently resides in Washington, D.C., with her husband, Michael Bender '80. They have two daughters, Emily and Katie '06, and a new grandson. As Ruth Gunden's niece, she is especially honored to receive this award.