Ken Pletcher '70: 2015 Dr. Roman Gingerich Champion of Character Award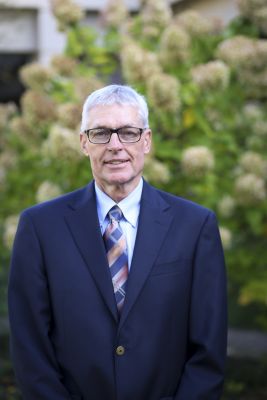 Ken Pletcher '70 is the recipient of Goshen College's 2015 Dr. Roman Gingerich Champion of Character Award. For the 10th year, the Goshen College Maple Leafs Athletic Club presents the Dr. Ruth Gunden and the Dr. Roman Gingerich Champion of Character Awards. The two awards, created in 2005, are presented to a male and female alumni athlete who exemplify the college's core values in their lives, work and community service. Gunden and Gingerich were pioneers in Goshen College's athletic history.
---
Learn more about Homecoming Weekend 2015
---
Ken Pletcher, a 1970 Goshen College graduate, is a familiar face around the Goshen College athletic facilities. He's been a player, a coach, a teacher and fan in his 50-plus year history with the college.
Pletcher has given significant amounts of his time and energy to the college. In addition to being a student-athlete during his college years, he has held a variety of roles on campus, including assistant professor of physical education (1972-74, 1981-82), admissions counselor and assistant director of admissions (1974-75, 1979-81), and athletic director (1999-2007). Throughout his career, he also coached men's basketball, golf, cross country and track.
"My experience at Goshen College helped me to understand and value the importance of service," Pletcher said. "The 'Culture for Service' motto was a continual thread throughout my days at GC; in classes, campus activities, and athletic participation. This GC motto and many faculty role models guided my career decisions, and gave me the foundation for the teacher, coach, and administrator I wanted to be."
After earning his bachelor's degree in health and physical education from GC, Pletcher taught physical education and coached at Goshen College and WaNee Schools for several years, before earning his master's degree in physical education from Indiana University in 1978.
During and following graduate school, he taught and coached at Goshen College. He later worked at Northridge High School from 1984-1999, where he served as athletic director for 11 years. He returned to GC as athletic director until 2007, and then worked in the development office until his retirement in 2011.
Pletcher has been an active participant in the Goshen College Maple Leafs Athletic Club. In 2002, he ran a 50-mile race as a fundraiser for GC athletics, raising $20,000 at a time when athletic budgets were on the verge of being cut.
"Roman Gingerich and Ruth Gunden were important mentors for me, both during my time as a student and also when I became a member of the faculty," Pletcher said. "They are the true Champions of Character, instilling these core values in all of us. I am humbled and grateful to be a part of this tradition."
Ken and his wife Justine '72 live in Goshen and attend College Mennonite Church. They have two adult children, Nathan '00 and Todd '05.