Four alumni receive honors at Homecoming Weekend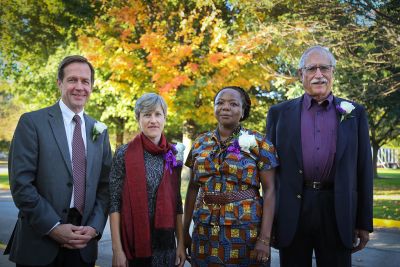 During Goshen College's Homecoming Weekend on Oct. 7-9, the college honored four outstanding alumni with awards for their commitment to the college's core values.
Sponsored by the Goshen College Alumni Board, the 2016 Culture for Service Awards were presented to Ellah Wakatama Allfrey '88 of London, England, and Dr. Doug Schwartzentruber '78 of Indianapolis. The 2016 Dr. Ruth Gunden Champion of Character Award will go to Aletha Stahl '89 of Richmond, Indiana, and the Dr. Roman Gingerich Champion of Character Award will go to James Gingerich '66, of Albuquerque, New Mexico.
The Culture for Service Awards were initiated in 1989 and are given annually to honor Goshen College graduates who have made lifelong commitments to service. Recipients distinguish themselves through commendable accounts of service and achievements at home or in their churches, colleges, communities and the larger world.
For the 10th year, the Goshen College Maple Leafs Athletic Club is presenting the Dr. Ruth Gunden and the Dr. Roman Gingerich Champion of Character Awards. The two awards, created in 2005, are presented to a male and female alumni athlete who exemplify the college's core values in their lives, work and community service. Gunden and Gingerich were pioneers in Goshen College's athletic history.
---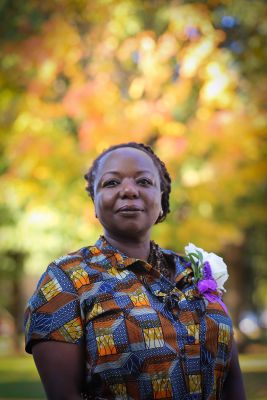 Ellah Wakatama Allfrey '88 – Culture for Service Award
An internationally-known author, broadcaster, editor and literary critic, Ellah Wakatama Allfrey '88 grew up in Zimbabwe and now lives in England and has become renowned especially for her work in Anglophone African literature.
Allfrey is former deputy editor of Granta magazine and editor-at-large for Granta and Portobello Books. She has previously served as an editor for Jonathan Cape/Random House and Penguin Press. She currently sits on the selection panel for the Rockefeller Foundation's Bellagio Fellowship and as a judge for the 2016 Dublin International Literary Award.  Allfrey has served as a judge for prestigious literary awards such as the Man Booker Prize, the David Cohen Prize, the Commonwealth Writers' Prize, and the Caine Prize for African Writing.
In recognition of her significant contributions to the publishing industry, Allfrey was awarded the title of Officer of the Order of the British Empire (OBE) by Prince Charles in 2011, which is one of the highest cultural honors in England.
"Ellah's work is marked by her intelligence, honesty and integrity," said Jonathan Taylor CBE, chair of the Booker Prize Foundation and of the Caine Prize for African Writing. "Her work has a strong international focus and interest, particularly in relation to Africa where she is closely involved in the recognition and reward of creative literary talent and with the development of relevant skills."
Allfrey's work in journalism has appeared in publications including the Independent, the Guardian, the Telegraph and the Observer, and she has contributed to NPR's book pages and "All Things Considered."
In 2014, Allfrey edited the anthology "Africa39: New Writing from Africa South of the Sahara," a project which selected 39 Sub-Saharan African writers under the age of 40 who were deemed the most promising in the development of new literature. This May, Allfrey edited another collection of creative nonfiction by African writers called "Safe House: Explorations in Creative Nonfiction."
Allfrey returned to her alma mater this fall to teach two guest courses – one on contemporary African literature and another on editing and publishing – through a pilot program called the Global Intercultural Scholar Program. She will also present the 2016 SA Yoder Lecture in October.
In an essay written for the Journal for the Center of Mennonite Writing in 2012, Allfrey wrote, "I cannot say that Goshen changed me profoundly — but what it did provide is perhaps more valuable. There I found the space, the safety and the acceptance to become myself, and there I found the challenge to make that self one whose life would have meaning."
She lives in London with her husband, Richard Allfrey '87, and daughter Gabrielle.
---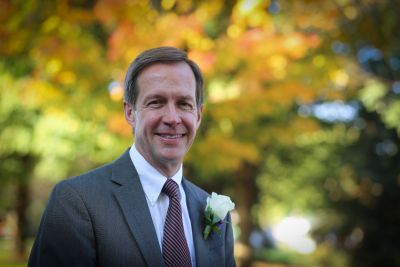 Dr. Doug Schwartzentruber '78 – Culture for Service Award
Doug Schwartzentruber '78, a surgical oncologist and the system medical director for Indiana University Health's statewide cancer services in Indianapolis, was named one of TIME Magazine's 100 most influential people in the world in 2010.
Schwartzentruber is best known for his groundbreaking research concerning the role of vaccines in the treatment of skin cancer.
The New England Journal of Medicine published Schwartzentruber's clinical trial, which was the first to show that a vaccine can assist the immune system in combating melanoma and shrinking existing tumors.A prolific author and researcher, he has published 12 book chapters and more than 80 scholarly articles in peer-reviewed journals.
Aside from his scientific successes, Schwartzentruber has a reputation for collaboration with colleagues and is known for his patient-centered approach to care. His goal is to create a cancer care program that takes care of the whole patient rather than focusing solely on the disease.
Schwartzentruber's parents were missionaries in Argentina with the Mennonite church, and he lived and attended school there until he was 16 years old. The family then moved to the United States in 1973 when local pastors took over leadership of the church.
"The community I grew up in was about the size of Goshen, and there was only one other American family in that city," he said. "It was a total immersion into that culture."
He completed his bachelor's degree at Goshen College in 1978, attended medical school at Indiana University School of Medicine and completed a general surgery residency there from 1982-87. He then completed an immunotherapy fellowship in 1988 and a surgical oncology fellowship in 1990 at the National Cancer Institute. After working there for 13 years, he served as medical director for the IU Health Goshen Center for Cancer Care until 2011.
Schwartzentruber attends First Mennonite Church in Indianapolis. He and his wife, Diane White, have two children: Alicia '11 and Jared.
---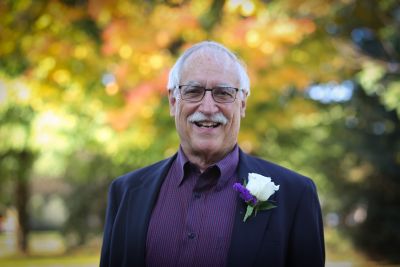 James Gingerich '66 – Dr. Roman Gingerich Champion of Character Award
James (Jim) L. Gingerich '66, of Albuquerque, New Mexico, has a diverse resume — among his many accomplishments, he played four years of basketball and baseball at Goshen College, climbed Mount Kilimanjaro and Mount Kenya and served in agricultural economic development for 34 years in six countries.
A math education major, Gingerich competed under the guidance of two well-known GC athletics figures, Baseball Coach Harold Yoder and Basketball Coach Roman Gingerich — Jim's father. He starred on the basketball and baseball teams, and broke the basketball team's career scoring record, averaged 19 points a game while making 60 percent of his shots and was second on the team for assists his senior year.
After college, Gingerich began his long international career with International Voluntary Service in Laos and Bangladesh.
Gingerich completed graduate school and then joined USAID, the United States' civilian foreign aid agency, and served with them in Pakistan, Indonesia, Kenya and Nepal. He then worked for a private consulting firm that was often involved with USAID and the World Bank.
In his free time, Gingerich continues to enjoy hiking and bicycling. In 2010, he biked the entire pacific coast of Oregon with two long-time biking friends. "I've always been very active in sports," he said. "My family and I enjoyed many treks in Nepal during our five years in that country. Outdoor sports and being in good health and good condition have always been important for me."
Gingerich currently attends Albuquerque Mennonite Church and is one of the leaders of the Mennonite Disaster Service unit in New Mexico. His son Christopher graduated from Goshen College in 2005, and Gingerich is enjoying being a grandfather to his six-month-old granddaughter.
---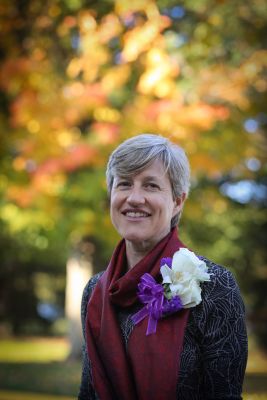 Aletha Stahl '89 – Dr. Ruth Gunden Champion of Character Award
Aletha Stahl '89 is a professor of French and francophone studies at Earlham College in Richmond, Indiana, as well as a registered yoga instructor and former Goshen College award-winning runner.
Stahl was a founding member of GC's first full-season women's cross country team, and her prowess played a large role in growing the program. She was a two-time NAIA All-American Scholar-Athlete and GC's first national qualifier in both women's cross country and track and field, and remained undefeated among runners from NAIA District 21 during her senior year, winning the conference and district championship.
After graduating from Goshen College in 1989 with bachelor's degrees in English and French, Stahl went on to complete her master's degree and doctorate at the University of Iowa.
Now a professor at Earlham College, Stahl brings a sensibility for social justice to the study of translation, creole languages, literature and film. Her current academic focus is on the way that virtual worlds and simulations may enhance education. Stahl writes on her website, "I am passionate about language and am particularly fascinated by the relationship between language and social justice."
She has continued in her love for physical activity by becoming a registered yoga teacher. After long pondering how language learning connects with the contemplative and physical aspects of yoga, she developed a special basic French course, pairing classroom French instruction with yoga classes in French.
In her free time, Stahl volunteers on a committee for three Quaker Meetings that offers a youth group for local young people. She lives in Richmond, Indiana, with her husband Neal Baker and their son Luc.