For Garrett Cannizzo '12, hard work pays dividends
Garrett Cannizzo '12: Champions of Character Award Winner
Granger, Indiana | senior accounting manager | accounting major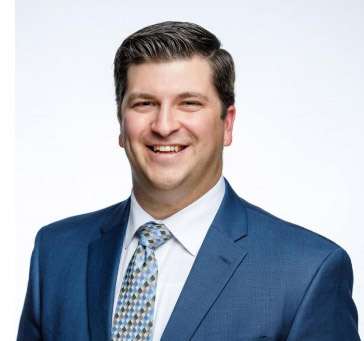 By Siana Emery '20

Garrett Cannizzo '12 was not only a top athlete, but a strong scholar during his time at Goshen College, which has helped lead him to quick success in his professional life.
The recipient of the 2017 Indiana CPA Society's Emerging Leader Award, Cannizzo currently works out of Elkhart, Indiana, as an audit senior manager at RSM US LLP, which is the fifth largest public accounting firm in the country. In this role, he specializes in working directly with companies in the manufacturing industry, and his clients are spread across the country. He was also named to the South Bend Tribune's 2018 "Michiana Forty Under 40" list.
Despite those accolades, Cannizzo notes that the proudest moments of his career have been when his staff develop and progress in their own careers. "Few things are better than seeing someone you have worked with and trained grow both professionally and personally," he said.
Originally from Arlington Heights, Illinois, Cannizzo came to Goshen College to continue his baseball career and pursue a degree in accounting, while also minoring in business and entrepreneurship.
"That said, I stayed at GC for the wonderful people I met and became friends with along the way, many of which I am still friends with today," he said.
Cannizzo was a vital member of the Maple Leafs baseball team during his time at Goshen. In his senior year, he maintained a career high 0.321 batting average, and was consistently one of the teams top hitters during his four years, serving as designated hitter his junior and senior seasons. He also was a top outfielder, posting an impressive 0.957 fielding average for his collegiate career.
Off the baseball diamond, he was involved on campus, serving in positions such as business manager of The Record and resident assistant. He secured a job with RSM US LLP immediately after graduating college.
Since then, Cannizzo has also been deeply involved in his local community with a number of non-profit organizations, both in volunteer and board positions, which he notes has helped him create business connections and accelerate his career trajectory. He attributes this to his time at GC.
"Being from a big city, I never really understood the concept of 'community,'" said Cannizzo. "After I graduated and moved to Northern Indiana, I truly started to understand and embrace what a 'community' really is and what it means to those who are involved. Without the GC community, I don't think I would have ever learned what that means."
Cannizzo and his wife Elise reside in Granger, Indiana, and attend Gospel City Church, also located in Granger.