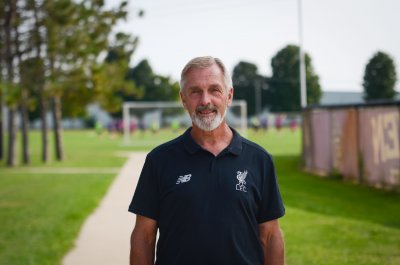 Todd Woodworth '78: Champion of Character Award
Goshen, Indiana
Retired high school Spanish teacher and farmer
Physical education and Spanish double major
---
For Todd Woodworth '78, his time as a soccer player at Goshen College was only one piece of the liberal arts education he continues to praise today.
Drawn to Goshen College for athletics, Woodworth's high school biology teacher and Goshen College graduate, Jim Miller '59, convinced Woodworth that there was much more that GC could offer him beyond the soccer field.
"[Soccer] really was the reason I went to Goshen College," Woodworth said. "At the time it was a pretty dominant school in soccer, but it was a place where I looked to pursue playing soccer and get a good education."
But Woodworth recalls being impacted by GC's emphasis on and motto of "Culture for Service" very early on.
"There is a community in Goshen College that can take you as far away as you want in your experiences," he said.
While a three-sport athlete in high school, Woodworth focused on soccer at Goshen College. He found success as a conference champion his sophomore year and as a district champion his junior and senior years. During his tenure on the men's soccer team, the team went 42-18-1.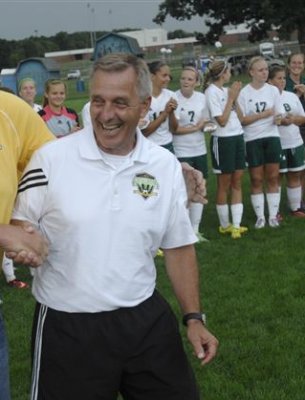 Beyond the field, Woodworth traveled to Honduras for Study-Service Term, where he improved his Spanish and decided to pursue it further. After graduating from Goshen, Woodworth earned a master's degree in physical education with additional accreditation in Spanish.
Woodworth credits many of his experiences at GC as having influenced his life and career choices. He and his wife, Diane (Bontrager) '83, moved to San Juan, Puerto Rico, after graduation to work at Academia Menonita.
"Pretty early on at Goshen College, education became my choice of what I wanted to pursue," Woodworth said. "Athletics was a big part of that, both as a physical education teacher and as a coach. Coaching was always in the picture for me."
For 33 years, Woodworth dedicated his time to coaching, while only serving as a physical education teacher for four years. Twenty-nine years of his career were spent as a Spanish teacher alongside his role as a soccer coach.
"It's the opportunity to help shape the future of young people, to touch their lives in a little way," Woodworth said.
In 2014, Northridge High School in Middlebury, Indiana, honored Woodworth's 24 years of coaching by naming the soccer field in his honor. The Todd Woodworth Field now acknowledges Woodworth as the longest-serving soccer coach, having started the boy's soccer program in 1990.
Woodworth speaks highly of his time as a soccer player at GC, having paved the way to become a coach himself. And he's always done it for the kids, he said.
"I hope they'll find meaning in what they are doing, outside of just winning and losing," Woodworth said. "By becoming a better person and helping others to become better people – both in the classroom and on the sports field."
After retiring six years ago, Woodworth began farming with his two sons at his wife's family farm in Shipshewana, Indiana.
"I never knew that retirement would be so busy," he said.
Woodworth lives in Goshen, with his wife, Diane Woodworth. They have three adult children, Jesse '07, Luke '10 and Clara '17. The Woodworths attend Eighth Street Mennonite Church.
By Mackenzie Miller '21