Some work in business, some in theater and music, and others in medicine. But no matter what kind of work they do, they have all been active peacemakers, taking the values they learned years ago at Goshen College and applying them to their daily lives.
Presented by the Goshen College Alumni Board, the 2011 Culture for Service Awards are presented to Arthur DeFehr '65 of Winnipeg, Manitoba; Ahmed Haile '79 of Milwaukee, Wis. (deceased); and Vance George '55 of San Francisco, Calif.
The 2011 Decade of Servant Leadership Award is given to Kelli Holsopple '99 of Brooklyn, N.Y.
The 2011 Dr. Roman Gingerich Champion of Character Award goes to Marty Gaff '71 of Kouts, Ind., and the Dr. Ruth Gunden Champion of Character Award goes to Mary Sutter '80 of Sedona, Ariz.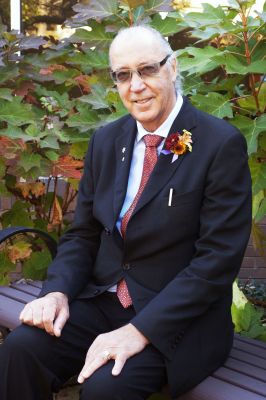 Arthur DeFehr '65 – Culture for Service AwardeeArthur DeFehr '65, of Winnipeg, Manitoba, attended Goshen College for a year after receiving a bachelor of commerce degree from Manitoba University and went on to travel the world and become CEO of one of North America's leading furniture manufacturers, Palliser Furniture, Ltd.
After obtaining a master's at Harvard Business School in 1967, where he graduated in the top one percent of his class, DeFehr used his knowledge to serve others around the world, in Bangladesh, Cambodia, Somalia and Lithuania.
DeFehr has worked at Palliser Furniture since 1967, and has been CEO since 1984. Palliser is a family-owned furniture business committed to environmental sustainability. DeFehr is also active with Habitat for Humanity and was the first chair of Canadian Foodgrains Bank, an organization through which Canadian farmers can share their abundant harvests with the less fortunate of the world. DeFehr's most recent focus has been on the former Soviet Union, including the founding of Lithuania Christian College University. Additionally, he lectures to businesses, universities and other audiences about business and social topics.
"Goshen provided the context for me to explore and test my faith and my values," said DeFehr. "The historic events of the mid-60's were the crucible for shaping ideas and values that have informed my life. Goshen was a great platform from which to experience and explore those extraordinary times and played a critical role in shaping a perspective on life that has served me well."
DeFehr is married to Leona, and together they have two adult children, Shanti DeFehr and Tara DeFehr-Tielmann. He attends River East Mennonite Brethren Church.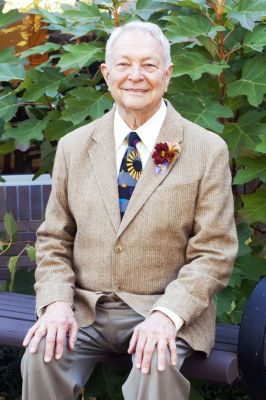 Vance George '55 – Culture for Service AwardeeVance George's '55 love for music took him from the small Indiana town of Nappanee to San Francisco, and along the way he's conducted choirs around the world and won several Grammy Awards.
While at Goshen College, George double majored in voice and piano. After graduation, he taught music at the Woodstock School in India as part of conscientious objector duties. Upon returning to the United States, George attended Indiana University School of Music where he received master's and doctorate degrees in choral conducting. He continued on to work with several schools and choirs, including the University of Wisconsin, Kent State University and the Cleveland Orchestra Chorus.
In 1983, George began his tenure as conductor of the San Francisco Symphony Chorus. Under his leadership, the chorus won four Grammy Awards, including Best Choral Album and Classical Album of the Year. In 2001, the chorus won its first Emmy Award for its concert production of Stephen Sondheim's "Sweeney Todd." Now he is director emeritus of the chorus and works as a guest conductor, holding residencies and workshops around the country.
George still returns frequently to Goshen College as an advisor to the music faculty and as a guest conductor for the choirs. Deb Brubaker, professor of music at Goshen College, said, "Vance has a way during rehearsal of keeping students vitally involved with their music. He is demanding and a taskmaster, while at the same time encouraging students with humor and inspiring stories. He helps them create a personal relationship with the music, learning to know its intricacies and meanings, and in the process, learning more about themselves. Students leave these rehearsals inspired, tired, yet invigorated, knowing that they have experienced something greater than themselves."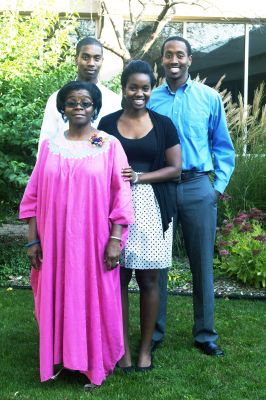 Ahmed Haile '79 – Culture for Service AwardeeAhmed Haile '79 came to Goshen from Somalia to study economics and peace, and returned to his homeland years later as a teacher and a peacemaker. But on April 26, 2011, the 58-year-old Somali diplomat for peace passed away after struggling with cancer for six years. Though Haile was nominated for the Culture for Service Award prior to his death, he was celebrated posthumously and his wife, Martha, accepted the award in his honor.
As a teenager, Haile chose to become a Christian, which was rare in the predominantly-Muslim country of Somalia. After he fled Somalia to Kenya, he was enabled by the help of several good friends to attend Western Mennonite High School in Salem, Ore. From there, he graduated from Goshen College with a bachelor's degree in economics, from Indiana State University with a master's of public administration and from Associated Mennonite Biblical Seminary with a master's in peace studies.
After completing his studies in the United States, Haile returned to Somalia to teach and lead international development efforts on a local level. After the downfall of the Somali government, Haile began peacemaking efforts between warring Somali factions. In 1991, while he was engaged in peacemaking efforts there, Haile lost his leg to a rocket-propelled grenade attack. Undaunted, he continued with his commitment to peacemaking. From 1994 to 2009, he taught as a professor at Daystar University in Nairobi, Kenya, where he founded the Peace Studies Program.
Robert Herr '72 and Judy Zimmerman Herr '74 wrote of Haile: "[As a teacher at Day Star], Ahmed liked to note that it was the tradition of peace he learned about at Goshen that gave him his life's orientation. He considered himself a Mennonite peacemaker and presented himself this way whenever he could."
In addition to his peace work in East Africa, Haile wrote a variety of papers, and completed a memoir on his life as a Somali peacemaker prior to his death, titled "Teatime in Mogadishu: My Journey as a Peace Ambassador in the World of Islam," published by Herald Press. The book, which he wrote with his long-time friend David Shenk, can be purchased online at www.mpn.net or by calling 1-800-245-7894. "Teatime in Mogadishu" will also be sold during the Oct. 7 reception at 10:45 a.m. in the Church Fellowship Hall.
In 2009, Ahmed, Martha, and their three young adult children, Afrah '11, Sofia and Gedi, moved to Milwaukee, Wis., from Nairobi, Kenya, where they had been living for the prior 15 years.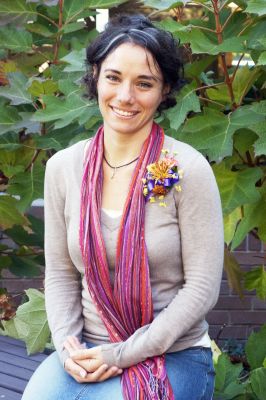 Kelli Holsopple '99 – Decade of Servant LeadershipKelli Holsopple '99, of Brooklyn, N.Y., has used her passion for theater not for self-promotion, but rather to teach others to share their stories.
Holsopple studied communication and theater education while at Goshen College. After graduation, she worked with a variety of theater companies, including the American Shakespeare Center in Virginia. Now, she is co-artistic director of Phoenix Theatre Ensemble, where she works as a producer, actor and director of the educational outreach programs InFlight and Evolve. The InFlight program works to bring drama into New York City public schools for grades K-5.
More recently, Holsopple developed the Evolve Theater Project, an intergenerational theater program. The pilot program of Evolve was documented in a film, titled "Stages," produced by Meerkat Media LCC. Over a period of 20 weeks, Holsopple worked with a group of older Puerto Rican women and a group of inner-city youth, creating a play with them and empowering them to share their stories. The film follows these groups as they look at their backgrounds, confront stereotypes and create unlikely bonds with one another.
"Stages" received the Best Documentary Award at HBO's New York International Latino Film Festival. The documentary was also played for a national audience of over 5,000 people in Los Angeles at the annual conference for the American Association of Homes and Services for the Aging. There will be a free showing of "Stages" during Goshen College's Homecoming Weekend on Saturday, Oct. 8 from 12:30 to 2 p.m. in Umble Center.
"Kelli exemplifies what it means to be a life-long learner, even in her typical role as a teacher," said Goshen College Professor of Theater Doug Caskey. "Her interest in learning about other cultures and individuals different from her keeps her engaged in her community. This desire to understand others and the world around her has been part of who she is from a young age, and I'm sure it will continue for all her living years."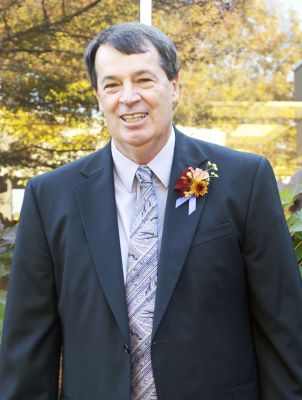 Marty Gaff '71 – Dr. Roman Gingerich Champion of Character AwardeeMarty Gaff '71, of Kouts, Ind., has devoted his life to inspiring young lives through athletics. While at Goshen, Gaff majored in physical education, and continued on to receive a master's degree and Indiana University in 1976. Gaff worked in Goshen for 11 years, teaching at local elementary and junior high schools. He also coached middle school sports and high school basketball.
Gaff then moved to Kouts High School, where he has been for 28 years, teaching U.S. history and current events. While at Kouts, he has coached varsity baseball, middle school boys track and varsity boys basketball. Throughout his time coaching basketball, he has led the team in a winning record of 354-251 and has won six sectional championships and two regional championships. Gaff holds the most career wins of any boys' basketball coach in Porter County. He served on the board of directors for the Indiana Basketball Coaches Association for five years, and in 2001, he was named the Gary Post Tribune Coach of the Year.
Gaff and his wife, Sally (Hieser) Gaff '73 have three children, Cindy, Kristy and Brooke, and attend Hopewell Mennonite Church where Marty has served as an adult Sunday school teacher, a member of the church council and a board member for the Hopewell Preschool Ministry.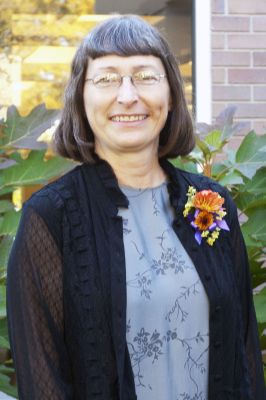 Mary Sutter '80 – Dr. Ruth Gunden Champion of Character AwardMary Sutter '80, of Sedona, Ariz., has used her knowledge of medicine to help people around the United States and abroad, providing many of them with care they normally wouldn't receive.
While studying pre-medicine at Goshen, Sutter was also an active member of the volleyball team. After graduating, she went on to receive her doctorate from the University of Illinois College of Medicine and completed her internship and residency at Good Samaritan Hospital in Dayton, Ohio.
Sutter began her career working at a community health center for eight years in Indianapolis, Ind., where she worked with patients with limited health resources, and many without insurance. Also in Indianapolis, Sutter worked at a homeless initiative often treating patients with mental illnesses or drug addictions. Throughout the next 10 years, she traveled and worked in many offices, from health maintenance organizations to private offices to community health centers and Indian health services.
In various community health centers, Sutter worked with many recent immigrants from countries around the world. Currently, she works with many immigrant patients at the Yavapai County Community Health Center in Cottonwood, Ariz.
Since moving to Arizona, Sutter attends the Church of the Red Rocks and participates in the Sedona area Centering Prayer Group.