Goshen College honors seven outstanding alumni during Homecoming weekend, Oct. 3-5
Culture for Service Awards:
Dale Kempf '78, Libertyville, Ill.
Jim '65 and Virginia Mininger '65 of Hesston, Kan.
Paul Myers '66 of Akron, Pa.
Decade of Servant Leadership Award:
Janna Hunter-Bowman '00, of Bogotá, Colombia
Dr. Ruth Gunden Champion of Character Award:
Trinda H. Bishop '69 of Greenwood Village, Colo.
Dr. Roman Gingerich Champion of Character Award:
John Ingold '59 of Goshen
GOSHEN, Ind. – Their lives have taken them to an antiviral research lab in Chicago, a university in Lithuania, impoverished countries around the world, violence-stricken communities in Colombia, an elementary school in Colorado and college sporting events. During Goshen College's annual Homecoming celebration on Oct. 3-5, seven outstanding alumni will be honored for their service, achievements and contributions. The 2008 Culture for Service Awards, which are given out by the Goshen College Alumni Board, will be received by Dale Kempf '78 of Libertyville, Ill., Jim '65 and Virginia Mininger '65 of Hesston, Kan., and Paul Myers '66 of Akron, Pa. The Culture for Service Award program was initiated in 1989 to recognize alumni whose lives embody the college's motto. The awards affirm those who have served the college, community, church and world, or whose professional and personal achievements are models of the motto.
The 2008 Decade of Servant Leadership Award will be received by Janna Hunter-Bowman '00, who currently resides in Bogotá, Colombia and is from Bally, Pa. The award, created in 2004, recognizes a Goshen College alumnus or alumna whose contributions and achievements in career, public or church service and volunteer activities early in post-graduate life – during or prior to their 10th class reunion year – are worthy of recognition.
And the Maple Leaf Athletic Club will present the Dr. Ruth Gunden Champion of Character Award to Trinda H. Bishop '69 of Greenwood Village, Colo., and the Dr. Roman Gingerich Champion of Character Award to John Ingold '59 of Goshen, Ind. The two awards, created in 2005, are presented to a male and female alumni athlete who exemplify the college's core values in their lives, work and community service. Gunden and Gingerich were pioneers in Goshen College's athletic history.
Dale Kempf '78 – Culture for Service Awardee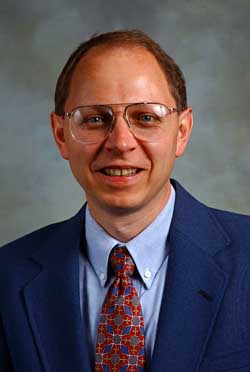 Kempf initially enrolled in Hesston College as a music major, but when he found himself helping friends with their chemistry homework, he switched to a chemistry major when he came to Goshen College. After completing a doctorate in organic chemistry at the University of Illinois, Kempf went on to work at Abbott Laboratories, where he and his colleagues invented some of the most potent antiviral drugs in the world.
One of the groundbreaking discoveries for Kempf and his colleagues was an HIV protease inhibitor called Norvir. This discovery provided a significant advancement in the treatment of HIV and AIDS, helping bring the disease to undetectable levels and increasing the quality of life for people with HIV. Kempf and his fellow researchers continued to work to improve their drug, which led to the invention of Kaletra, an extremely potent HIV drug that doesn't decrease in effectiveness over time. In fact, it is so effective that in a clinical study, 99 percent of patients who had no past experience with HIV treatment had undetectable levels of HIV in their blood. Kaletra was also the first HIV drug to be approved by the U.S. Food and Drug Administration for use in children as young as 6 months old. In 2002, Kaletra became the leading prescribed drug of its kind in the world.
"Although, the HIV epidemic worldwide is still devastating, it's not more drugs that are needed anymore, rather more access, more prevention and more education," Kempf said. "Today, the available therapies allow someone with HIV infection to avoid the devastation of that disease indefinitely."
Because of his discoveries, he has received many awards, including National Inventor of the Year in 1997 and the Heroes of Chemistry Award from the American Chemical Society in 2003. Kempf is also co-author of more than 120 scientific publications and co-inventor of more than 50 U.S. patents.
Kempf lives in Libertyville, Ill., with his wife Kay Miller Kempf '77. They attend North Suburban Mennonite Church and have two sons who are Goshen College students: Scott, a sophomore, and David, a senior.
Jim '65 and Virginia Mininger '65 – Culture for Service Awardees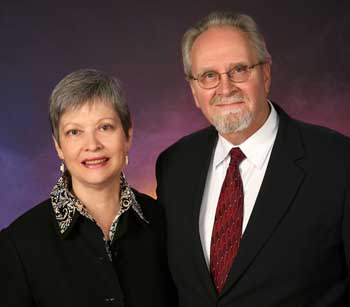 LCC International University was founded as an English speaking, Christian liberal-arts institution in 1991. "As a person who had been an academic dean for 17 years and as a historian whose field is European history, I was particularly intrigued with what it might mean to establish a Christian liberal arts university in the territory of what at that time was still very much the former Soviet Union," Jim said.
Prior to going to Lithuania, Jim had served as a history instructor and as academic dean at Hesston College and Virginia had been amiddle school teacher and a music instructor at Hesston College. At Hesston, Jim was an influential teacher and gifted administrator who established an annual Global Issues Seminar.
The Miningers took that interest and their passion to cross cultural and geographical boundaries to Lithuania. Virginiacontinued to support the students, giving special attention to scholarship students from Eastern European nations still recovering from the impact of the Soviet years.
"In my years of teaching at Hesston College, I became increasingly convinced that students needed to be persuaded to look beyond their immediate homes and often beyond the U.S. to fully grasp the direction their lives might take," Jim said. "In the process of teaching in this manner, I also persuaded myself."
Virginia models authentic global citizenship as she works with students from many different economic and cultural backgrounds. "Her spirit of love and acceptance was validated through her service to the students and broader community in Lithuania," writes Goshen College Professor of Art John Blosser '70.
Arriving at LCC International University when it was only four years old, Jim brought his own brand of servant leadership, often teaching while also serving as president. His willingness to learn the language and history of Lithuania earned him respect, as did his academic credentials and his resolve and wisdom in negotiating the complex systems of the Lithuanian government, which threatened to close the doors of the young university several times.
On campus, Jim gently challenged young adults from many different countries, faiths and political persuasions to thoughtfully examine their moral, theological and ethical assumptions. He stood with them as a teacher, leader and model of a Christ-centered life. After a series of racial assaults on LCC students, Jim met with national and civic leaders, spoke at a rally in downtown Klaipeda and initiated a diversity workshop to be taken into the public schools by LCC personnel.
Under Jim's leadership, the university earned Lithuanian accreditation, grew in enrollment, became an international affiliate of the U.S.-based Council of Christian Colleges and Universities, established its first graduate program and is now seeking U.S. accreditation.
From its small beginnings of 110 students – many of whom were studying English to get into the bachelor's degree program – and about 20 faculty members, LCC International University has grown to approximately 800 students, 50 professors and 50 staff persons. Of the students, 24 countries from around the world are represented and 50 percent are from a country outside Lithuania, making it a truly international campus.
"The approach to education developed at LCC is based on the Christian liberal arts model used by Goshen and Hesston," Virginia said. "The model of studying core general education courses that builds a framework for further study in a declared major area of study is not offered in Eastern European universities."
The Miningers completed their term in July 2008 and have moved back to Hesston, Kan., where they attend Hesston Mennonite Church. They have two sons: J.D. Mininger '97 and Matthew Mininger.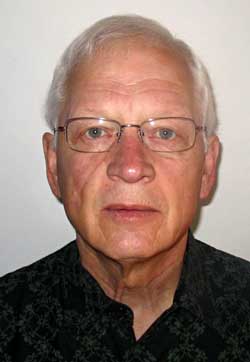 Paul Myers '66 – Culture for Service Awardee
Since graduating from Goshen College with a degree in economics, Myers has been working to assist people in poverty. "My interests for many years have been the issues of poverty and the quest for solutions for families caught in these terrible situations," Myers said.
After receiving a master's degree in international economics and problems of the developing world from the University of St. Gallen in Switzerland, Myers began his quest in 1975 with Mennonite Central Committee (MCC) as the Bangladesh country director. He served in Bangladesh for six years, soon after the country gained independence and following years of extreme drought and floods. During his tenure, Myers directed a program that addressed the challenges in food production, processing and storage, in maternal child healthcare, in family planning, in income and employment generation and in providing emergency assistance. "I learned more in those six years than at any other time in my life," Myers said. "Those experiences, friendships and lessons continue to nourish and energize me."
Myers went on to be the director of Middle East and South Asia programs for MCC for eight years. "I learned two critical things during this period," Myers said. "First, the importance of religion, both good and bad, in the development process … second, I increasingly became aware that local leadership was not only always available, but was essential to any effective solution. I am convinced that the solutions to poverty will generally be found among the poor themselves."
Beginning in 1989, Myers was the CEO of Ten Thousand Villages, an organization that imports fair trade handicrafts from around the world to a chain of stores across the United States, for 16 years. "I learned that to develop and cultivate relationships of trust and common interest is a powerful means to addressing the basic needs of the poor," he said.
Myers is now working as president of the International Fair Trade Association, where he also volunteers as chair of International Development Enterprises.
"Paul's career has been based on empowering others by providing them with an opportunity to develop," said his friend Llenay Ferritti. "The respect he has for those he serves is demonstrated in his view of equality in the relationship…. Over cultural boundaries, Paul sees only the similarities, not the differences, in the world we all share."
Myers lives in Akron, Pa., with his wife Kate Myers. They attend Akron (Pa.) Mennonite Church and have four children: Elsie Penner '93, Patrick Myers, Antony Myers and Sheila Myers '02.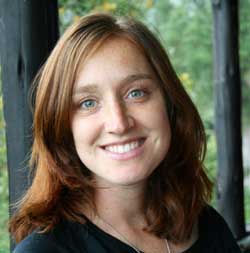 "I first learned of Colombian Mennonites through a letter sent to U.S. churches in 2000. It warned that, if passed, the bill before the U.S. Congress for 'Plan Colombia' (a military aid package) would make the work of Colombian peace builders more difficult and dangerous," Hunter-Bowman said. "At the time I was longing for more radical peace action from the North American Mennonite church. Upon learning of this politically astute and action-oriented Mennonite community, I wanted to participate."
In 2001, Hunter-Bowman moved to Bogotá, Colombia to work with Justapaz, a Christian Center for Justice, Peace and Nonviolent Action. She was active in developing a program that advocates public policy changes to promote peace in Colombia based in primary source documentation of human rights violations against churches. Along with this, she also documents stories of faith-based peace initiatives throughout Colombia.
"The goal of the documentation program is to contribute to truth, justice and a nonviolent solution to the armed conflict," Hunter-Bowman said. "The real-life stories are our foundation for the recommendations we make to governments – both here in Colombia and internationally."
Since she began working with Justapaz in 2001, she started a sister peace church program and has worked as the international education and advocacy program coordinator, in which she investigates the effects of U.S. policy on churches and civil society in general.
"Janna's documentation work with Justapaz is of the utmost significance in what remains one of the world's most difficult conflicts," said Goshen College Professor of Peace, Justice and Conflict Studies Joe Liechty '78, who learned to know her during a visit to Columbia. "Janna does all her work with contagious joy, conviction and warmth. That she should be engaged at so deep a level in another society at so young an age is very impressive. She exudes GC's core values."
After spending six years in Colombia, she has fallen in love with the country and its people. "Colombia offers the world more than coffee and cocaine," Hunter-Bowman said. "The enduring faithful who creatively confront the death-dealing powers to transform conflict and seek peace have much to teach us. They both invite and indict. They invite radical discipleship that gives hope; they indict the narratives of imperial power, lies and tepid Christianity."
Hunter-Bowman lives in Colombia with her husband Jess and her 7-month-old daughter Amara, and attends Teusaquillo Mennonite Church. Hunter-Bowman is originally from Bally, Pa.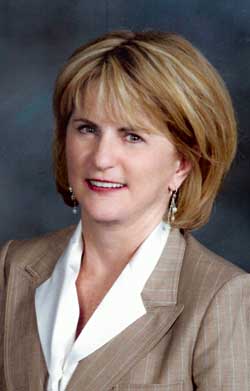 Bishop received a master's degree from the University of Colorado and taught physical education in Littleton (Colo.) public schools.
She has served on Goshen College's alumni board for five years and is a member of the Maple Leaf Athletic Club and helped start the Gunden/Bishop Athletic Scholarship. At her church, First Mennonite of Denver, she helped organize and establish an endowment fund to provide financial support for students to attend Mennonite colleges. As a teacher, in 2000, Bishop won the Denver Metro Board of Directors Award for commitment to the American Heart Association's Jump Rope for Heart program, by motivating her students to raise more than $50,000 in seven years of participation. She is currently involved in a Reading for Peace program with the Conflict Center in Denver.
"She's one of the most active participants and supporters of Goshen College, because she's willing to step forward," said Ken Pletcher, former athletic director and current major gifts officer. "She's a classic example of a servant leader."
Bishop lives in Greenwood Village, Colo., with her husband Tom Bishop. The couple has two children: Zachary Bishop '97 and Griffen Bishop O'Shaughnessy '00.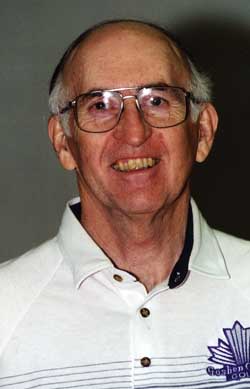 As a student, Ingold competed on the college's first soccer and track and field teams. He was also a captain of the 1958-59 basketball team.
After graduation Ingold went on to complete a doctorate in physical education at the University of Illinois. He began teaching physical education and coaching at Goshen in 1964. During his time, he coached 74 athletic teams and all seven men's sports at least once.
Ever since he retired as a professor of physical education and coach at Goshen College, Ingold has been no stranger to the Goshen College athletic community.
Ingold can be seen at games or meets of any one of Goshen's 14 athletic teams keeping scores or times, and driving athletes to away games. In the past three years Ingold has logged over 2,000 hours of driving Goshen College athletes. "It's always been his willingness to volunteer that sets him apart. His volunteer hours are unbelievable in terms of driving alone," said Ken Pletcher, former athletic director and current major gifts officer. "John is a very humble person who cares a lot about our athletes."
Ingold lives in Goshen with his wife Margaret Miller Ingold '59. The couple has five children: Jay Ingold '84, Jane Ingold Stichter '84, Judy Ramirez Ingold '90, Sue Ingold (deceased) and Joe Ingold '02.
-By Tyler Falk