Five alumni honored with 2018 Alumni Awards
During Goshen College's Homecoming Weekend on Oct. 5-7, the college will honor five outstanding alumni with awards for their commitment to the college's core values.
Sponsored by the Goshen College Alumni Board, the 2018 Alumni Awards were presented to:
The Culture for Service Awards were initiated in 1989 and are given annually to honor Goshen College graduates who have made lifelong commitments to service. Recipients distinguish themselves through commendable accounts of service and achievements at home or in their churches, colleges, communities and the larger world.
For the 13th year, the Goshen College Maple Leafs Athletic Club presented the Dr. Ruth Gunden and the Dr. Roman Gingerich Champion of Character Awards. The two awards, created in 2005, are presented to a male and female alumni athlete who exemplify the college's core values in their lives, work and community service. Gunden and Gingerich were pioneers in Goshen College's athletic history.

---
David Reimer '84
2018 Culture for Service Award Winner
Port Louis, Republic of Mauritius | U.S. Ambassador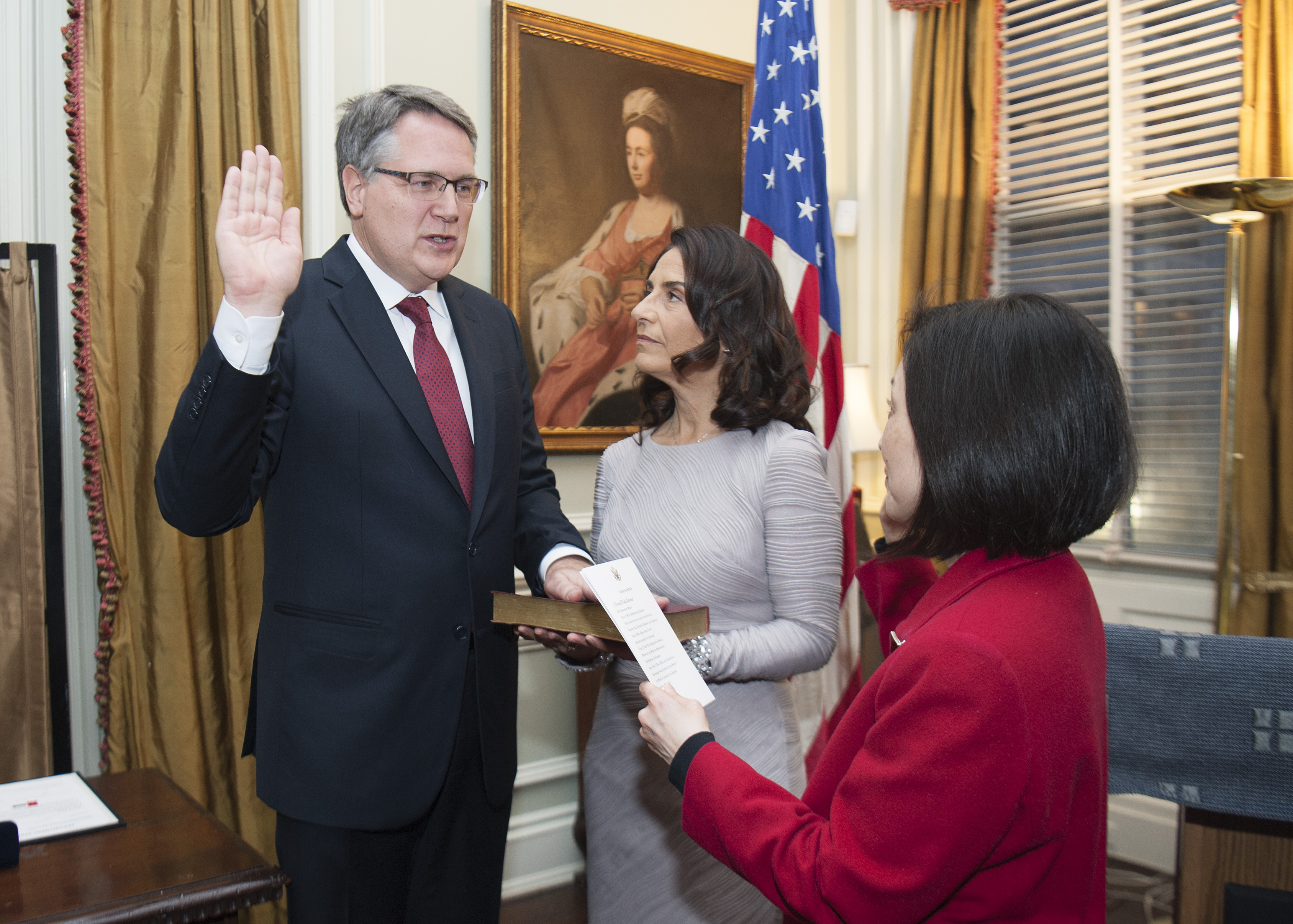 David Reimer '84 is a career member of the Senior Foreign Service and, on Dec. 13, 2017, was sworn in as U.S. Ambassador to the Republic of Mauritius and the Republic of Seychelles, two island nations in the Indian Ocean off the southeast coast of Africa.
While studying abroad during his Study-Service Term (SST) in Belize, Reimer interviewed a United States economic officer at the U.S. Embassy in Belize City for a final paper about the economic and commercial relations between the U.S. and Belize. Years later, he would find himself in that same office, only then the desk was his.
After graduating from Goshen College in 1984, and earning a Master of Public and International Affairs degree from the University of Pittsburgh and working for the U.S. Department of Agriculture for five years, he joined the U.S. Foreign Service, and, because of his SST experience, he was sent to Belize, where he worked for several years.
Originally from Smithville, Ohio, Reimer's path to becoming a U.S. Ambassador has taken him all over the world. He has received eight top State Department performance awards, and is known for his extensive knowledge of Africa and his outstanding leadership and communication skills.
Before college, Reimer spent several years living in Kenya and Ethiopia with his parents, which he credits, along with studying history and economics at Goshen College and his SST experience, for his success as a foreign officer.
Having spent about two-thirds of his career overseas, Reimer has served as the deputy chief of mission at the U.S. Embassy in Nouakchott, Mauritania (2012-2014); senior refugee coordinator for the U.S. Embassy Baghdad, Iraq (2011-2012); Deputy Director of the Africa Bureau of East African Affairs (2009-2011); Refugee and Migration Officer, U.S. Mission Geneva, Switzerland (2006-2009); Economic Officer, U.S. Embassy Port-au-Prince, Haiti (2004-2006) and Economic Officer, U.S. Consulate Milan, Italy (2000-2003). He spent time at the U.S. Department of State's Economic Bureau (1996-2000), did economic work for the U.S. Embassy in Bonn, Germany, and the U.S. Embassy in Belize City, Belize. He speaks French, Italian and German.
Reimer lives in Port Louis, Republic of Mauritius, with his wife, Simonetta Romagnolo. He is a member of Oak Grove Mennonite Church in Smithville, Ohio.
---
Patricia Ebersole Zwier '76
2018 Culture for Service Award Winner
Goshen | Bilingual Therapist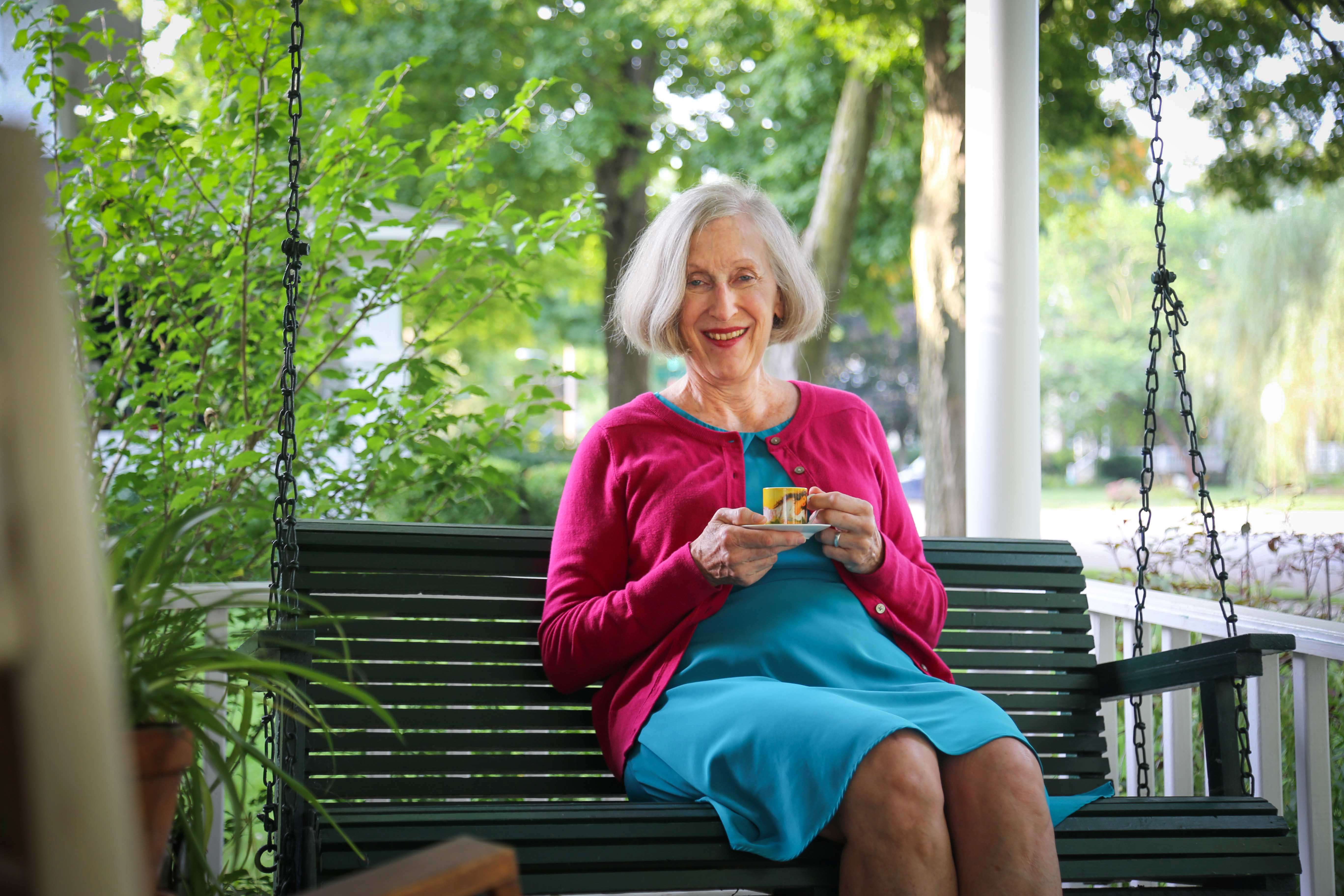 As a bilingual therapist, Patricia Ebersole Zwier '76, has counseled couples and individuals in Latin America and the United States, and is now mentoring the next generation of bilingual professionals at Oaklawn in Goshen.
Growing up in Archbold, Ohio, Zwier's worldview unfolded during her Goshen College Study-Service Term (SST) in Honduras. Several years after graduating, she returned to Honduras to work at a Mennonite church in San Pedro Sula doing leadership formation for young adults. While there, she met her husband, Joel Zwier, who was working with the Christian Reformed Church in development work. Together they started a family in San Pedro Sula.
Soon after the birth of their first child, the couple moved to Santo Domingo in the Dominican Republic, where Zwier eventually began doing marriage counseling for young couples.
In 1992, Zwier completed a study leave with her family to the United States to attend graduate school at the University of Wisconsin-Madison. A year later they returned to Santo Domingo, where Zwier found an internship as a family counselor.
Zwier also began taking one class at a time at La Universidad Autónoma de Santo Domingo, and six years later graduated with two master's degrees from two countries in counseling and family therapy. Zwier soon joined a practice run completely by Dominican women, where she worked for 11 years.
Thirty years and four adult children later, Zwier and her husband have found their way back to Goshen. As a bilingual therapist, Zwier enjoys participating in training and mentoring the next generation of bilingual professionals at Oaklawn.
Zwier sees all kinds of clients, including those without documents. She maintains that what has allowed her to be successful in the United States was what she learned in Santo Domingo: relationships and community matter.
Patricia Zwier and Joel Zwier live in Goshen and attend Assembly Mennonite Church. They are the parents of Elisa Zwier '03, Sarah Zwier '08, David Zwier '12 and James Zwier.
---
Jes Stoltzfus Buller '08
2018 Young Alumni Award Winner
Goshen | Peace Advocate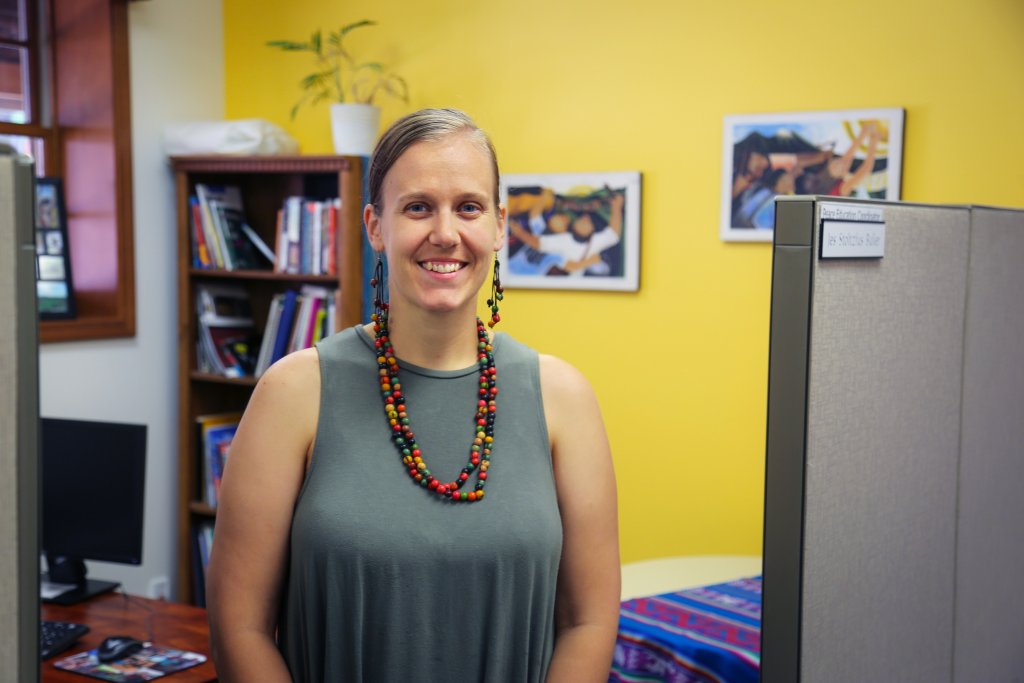 Jes Stoltzfus Buller '08, Peace Education Coordinator for Mennonite Central Committee (MCC), knows firsthand how messy the process of peacemaking can be.
Shortly after graduating from Goshen College with a double major in sociology and Bible, religion and philosophy in 2008, Buller moved to Colombia as a part of Mennonite Central Committee's Seed Program. For eight years, Buller worked as a facilitator and community organizer on Colombia's Pacific coast.
Buller was originally placed in Zambrano, Colombia, a small town of less than ten thousand people near the Caribbean coast, doing community organizing and peacebuilding trainings. After her volunteer years ended, Buller stayed and worked as the director of the Seed Program for two years, then continued as a seconded worker to the organization Sembrandopaz (sowing peace), on local peacebuilding initiatives.
Buller was amazed at the dedication of the Colombians in the face of decades of conflict.
She often found herself sitting at meetings between community members and local government officials, taking notes and organizing ideas. Thanks to the hard work of her and others at Sembrandopaz, Buller would witness victories such as community peace marches, reparation hearings, and the building of key roads and other infrastructure such as new schools in her time with the organization.
During Buller's time in Colombia, local leaders were able to get the attention of government officials and, with a good deal of compromise and effort, work side-by-side to improve conditions in their communities.
However, in March 2015, Buller was in a motorcycle accident that resulted in a broken femur, burns and other significant damage. The resulting surgeries and rehabilitation put her on a long road to recovery, and much of her peacebuilding work on hold. She eventually returned to Goshen for further medical treatment with her husband, Willian.
Buller wants people to understand that the process of compromise is messy and time consuming.
"Peace is ugly," said Buller. "And yet, truly, I believe that a huge amount of peacebuilding is how we talk to each other."
Buller lives in Goshen with her husband, Willian Murillo, and their 10-month old daughter Belen. They attend Walnut Hill Mennonite Church.
---
Penina Acayo Laker '11
2018 Champion of Character Award Winner
St. Louis, Missouri | Human-Centered Designer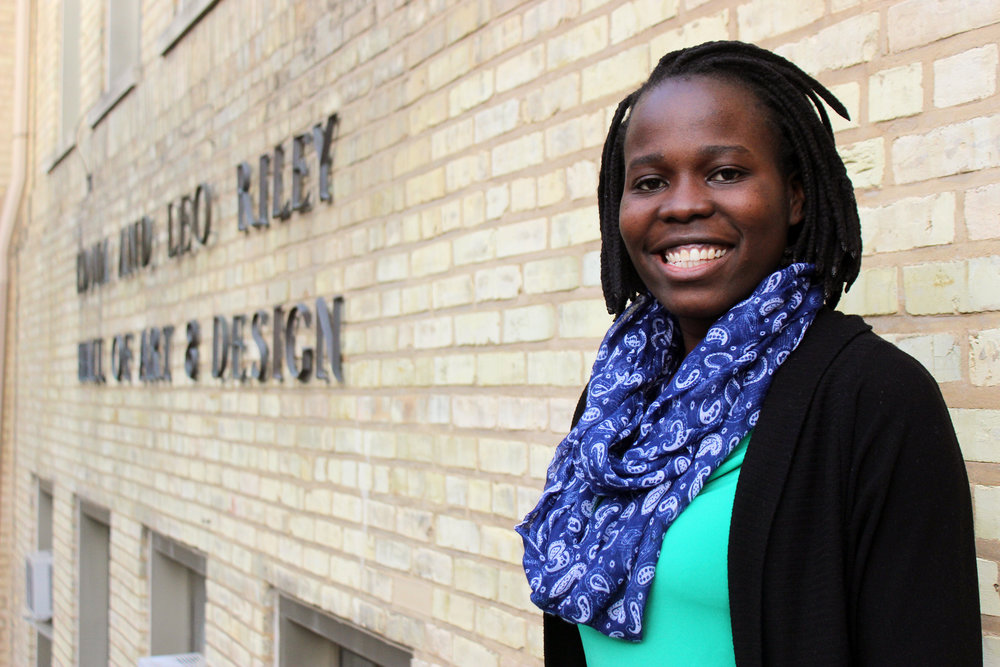 Penina (Acayo) Laker '11, a former Maple Leaf volleyball and track and field All-American from Kampala, Uganda, uses visual design to take a human-centered approach to solving social problems — with a particular focus on education and healthcare related issues in East Africa.
On campus, Laker was known as one of the best athletes, setting records and receiving awards in volleyball and track and field. In 2009, she was the first Maple Leaf volleyball player to be named Mid-Central College Conference Player of the Year, the first Goshen NAIA First Team All-American in volleyball, and was ranked eighth in the country with 4.3 kills a game.
As a member of the track and field team, Laker won three conference championships (high jump, 2008; triple jump 2009 and 2010), held the GC record in the indoor and outdoor triple jump and in 2010 was the national runner-up and an NAIA All-American at both the indoor and outdoor national championships in the triple jump.
Off the court and the track, Laker was also known for her quick smile and positive attitude, her willingness to give back and help others – whether by holding volleyball clinics for kids, speaking to youth or raising money – and for her passion for graphic design that makes a difference.
In 2013, Laker graduated with a master of fine arts degree in visual communication design from Kent State University, then briefly worked at Notre Dame as a research associate for visual communication design. She is currently working as an assistant professor of communication design at Washington University in St. Louis, and regularly travels to Uganda to conduct research and lead DesignEd Uganda workshops to equip young people with skills in design and creative problem-solving.
Whether in Uganda or the United States, Laker enjoys broadening student's ideas for what can be accomplished with technology and design and exploring the importance of human-centered design.
Laker lives in St. Louis with her husband, Kyle, and their two-year old daughter, Christina. They attend Grace and Peace Fellowship.
---
Byron Shenk '63
2018 Champion of Character Award Winner
McMinnville, Oregon | Certified Athletic Trainer, Professor and Mentor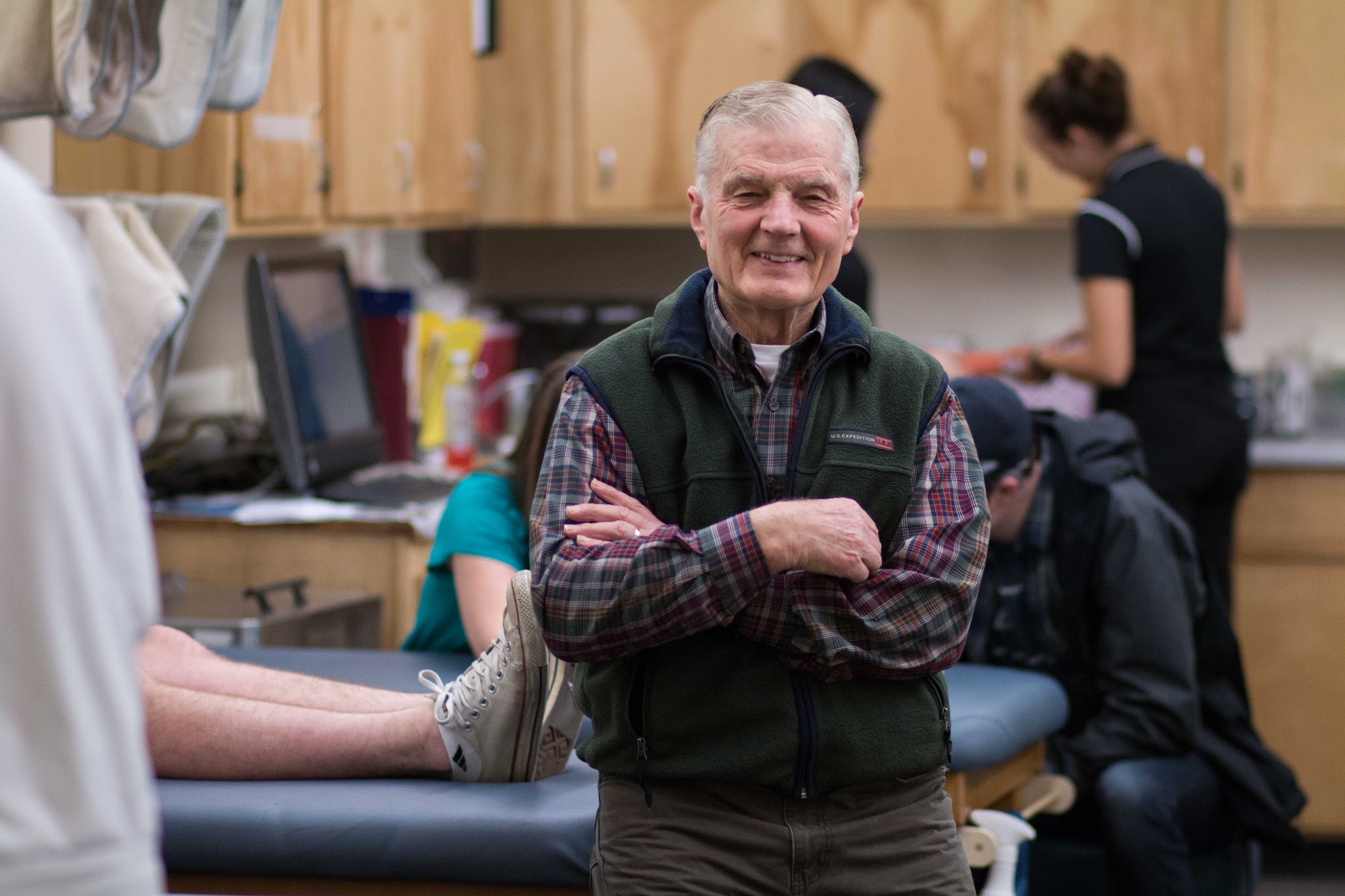 Byron Shenk '63 has spent 67 years – including the last 28 years at George Fox University - shaping students and athletes physically, mentally and spiritually.
Shenk spent his childhood in the Pacific Northwest where, after graduating from high school in 1956, he and his identical twin brother spent a few years working as loggers in the mountains of Oregon.
Eventually, Shenk's older brother encouraged the two to attend Goshen College. Shenk graduated from GC in 1963 with a health and human performance major. Soon after, he began working as a physical education professor at both GC and Bethany High School. He also began coaching GC's men's soccer and track and field teams.
In 1966, Shenk left to do missionary work in India as part of the Mennonite Board of Missions. Upon returning from India in 1969, Shenk earned a master's degree in physical education from the University of Oregon in 1970.
Shenk became a professor at Eastern Mennonite University (EMU), where he worked for 17 years. In addition to teaching, Shenk coached wrestling, men's soccer, and men's and women's track and field teams.
In 1987, Shenk went to the University of Virginia to earn his Ed.D. in sports medicine. He also got certification from the National Athletic Trainers' Association and became a certified athletic trainer.
Shenk took a position with George Fox University in 1990 as a half-time professor and half-time physical trainer. There, he founded and became the first coach of George Fox's women's soccer team. His work with the team would earn him a spot in George Fox's sports hall of fame in 2004.
He was named the National Soccer Coaches Association of America Women's Coach of the Year for the Far West Region in both 1992 and 1998, and was the Northwest Conference Women's Coach of the Year in 1998. He also earned a national meritorious service award from the National Christian College Athletic Association for previous service and leadership.
Shenk recently retired as a full-time professor at George Fox and lives with his wife Ina in McMinnville, Oregon, where they are active at First Mennonite Church.