Save the Date: Oct. 6-8, 2017!

---
Homecoming Weekend 2016
Thank you to all who joined us for Homecoming Weekend 2016 (October 7-9). Save the date for October 6-8, 2017!

Photo albums
Alumni Awardees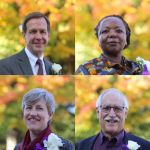 2016 alumni awardees: The 2016 Culture for Service Awards were presented to Ellah Wakatama Allfrey '88, of London, England and Dr. Doug Schwartzentruber '78 of Indianapolis, Indiana. The 2016 Dr. Ruth Gunden Champion of Character Award went to Aletha Stahl '89 of Richmond, Indiana. And the 2016 Dr. Roman Gingerich Champion of Character Award will go to James Gingerich '66, of Albuquerque, New Mexico. Read more about them.
---
View photos from past Homecomings