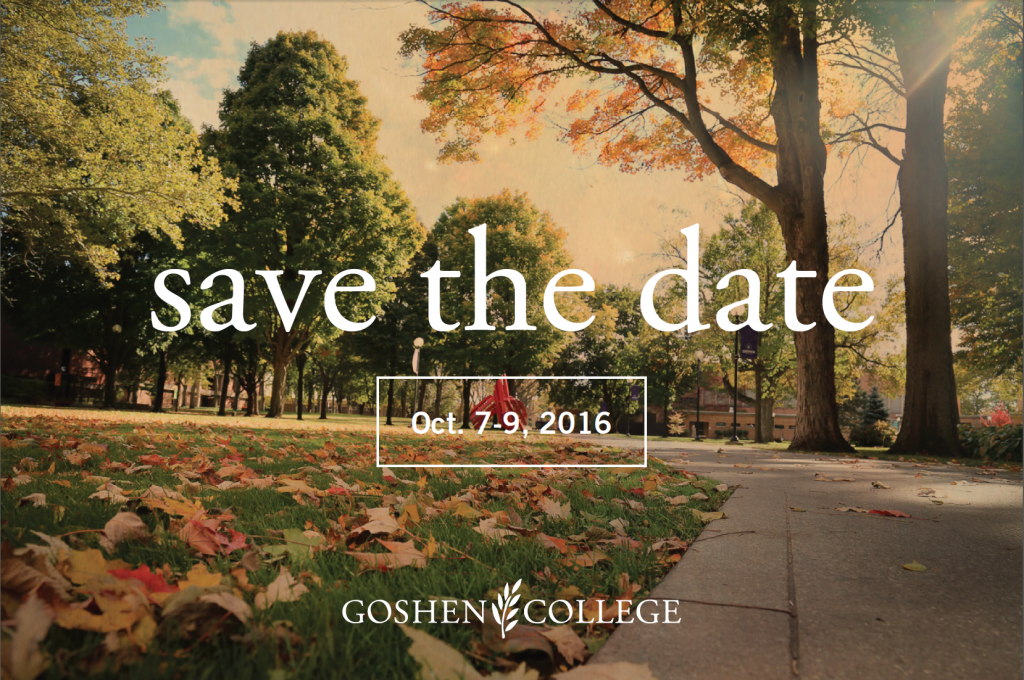 Goshen College's Homecoming Weekend is Oct. 7-9, 2016.
Weekend activities include:
Friday
Homecoming convocation and alumni awards reception
Special faculty presentations
50

th

class banquet (1966)
Goshen's First Friday activities – downtown
Family bike ride

Peace plays

(also Saturday and Sunday)

Homecoming Visit Day

(for high school students)
Saturday

Alumni breakfast
Class reunions
Ultimate Frisbee tournament
Soccer game
Art department exhibit and reception
Hymn sing
Alumni picnic
Music Gala
Class reunion years:
2006, 1996, 1991, 1986, 1981, 1976, 1971, 1966 (50th), 1961, 1956, 1951
You may attend a class reunion of your choice, regardless of your graduation year. Feel free to attend weekend activities even if you do not have a reunion. We will not be holding the 5th or 15th year class reunions (classes of 2011 and 2001) in 2016.
Blocks of rooms have been held at the following hotels:
Comfort Inn Phone: (574) 533-0200
Holiday Inn Express & SuitesPhone: (574) 535-9200
For the group rate, make your reservation by Sept. 1 and identify yourself as an alum of Goshen College.
Registration: Watch for your registration form and complete schedule of events in the mail this summer. Beginning July 1, we encourage you to register online. 
---
HOMECOMING WEEKEND 2015
Thank you to all who joined us for Homecoming Weekend 2015 (October 2-4). Save the date for October 7-9, 2016!

---
View photos from past Homecomings