Five exceptional Goshen College alumni awarded for commitment to core values
During Goshen College's Homecoming Weekend 2012 on Oct. 5-7, the college will honor five exceptional alumni with awards for their commitment to the college's core values.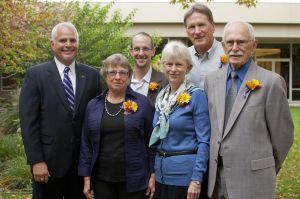 Sponsored by the Goshen College Alumni Board, the 2012 Culture for Service Awards will be presented to John Driver '50 of Goshen, Ind., and Rebecca (Kreider) Pries '66, of Cambridge, Mass. The 2012 Decade of Servant Leadership Award will be given to Grant Rissler '99, of Richmond, Va. The 2012 Dr. Roman Gingerich Champion of Character Award will go to Keith Springer '69 of Saybrook, Ill., and the Dr. Ruth Gunden Champion of Character Award will go to Sue Roth '66 of Stryker, Ohio.
The awards will be presented on Friday, Oct. 5 at 10 a.m. in the Church-Chapel during convocation, with a reception following in the Church Fellowship Hall at 10:45 a.m. These events are free and open to the public.
John Driver '50 – Culture for Service Award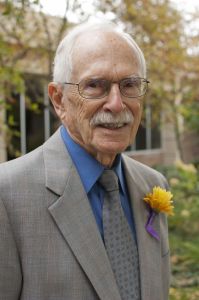 John Driver '50, of Goshen, Ind., has responded repeatedly to the call to service and ministry, giving his energy to the development of global and Christian relationships and learning throughout his life.
Prior to studying at Goshen College, Driver served in community development and as a pastor and church planter in Puerto Rico. After graduating from Goshen College in 1950, Driver attended Mennonite Biblical Seminary in 1951. He also attended Perkins School of Theology at Methodist Union Seminary in Dallas, Texas.
In 1967, Driver began working as academic dean and professor of church history and New Testament at the Inter-Mennonite Seminary in Montevideo, Uruguay. He continued to do church-related work in Spain from 1974 until the early 1980s.
Driver and his wife, Bonny, have since retired in Goshen, though Driver continued to teach periodically in the Hispanic Ministry Program at Goshen College from 1994-2003. Driver is a prolific writer, doing almost all of his writing in Spanish. He is the recent author of Life Together in the Spirit: A Radical Spirituality for the Twenty-First Century, published by Goshen College's Institute for the Study of Global Anabaptism and available in both English and Spanish.
Driver demonstrates compassionate peacemaking in many ways as he thinks carefully about cultural and theological issues and promotes justice for "the least of these." He has traveled extensively to work for peace and advocate for the poor and disposed, particularly in Latin America, South America and Spain. Driver's ministry has been shaped by what he has learned around the world, and his vision for Anabaptism reflects his global citizenship and Christ-centeredness.
"No Mennonite theologian has had a greater impact within Anabaptist and evangelical circles throughout Mexico, Central America and Spain than John Driver," said John Roth, Goshen College Professor of History. "The profound simplicity and clarity of his teaching is legendary. But in addition to his scholarly accomplishments, John is even better known as a person whose very life – in his generosity, simplicity, gracious spirit and evident love for all God's people – embodies the message of his teachings."
The Drivers have three adult children, Cynthia Driver-Rempel '74, Fred Driver '75 and Jonathan Driver, and attend East Goshen Mennonite Church.
Rebecca (Kreider) Pries '66 – Culture for Service Awardee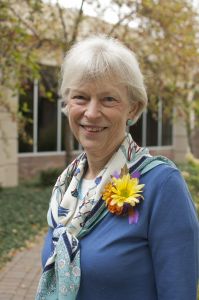 In the face of juvenile and domestic violence in her community, Rebecca (Kreider) Pries '66, of Cambridge, Mass., took action in 1976 and founded Adolescent Consultation Services, Inc., a non-profit mental health and social services agency that she continues to lead as its executive director today. Pries championed the agency's expansion to address the multiplicity of issues faced by court-involved children and families, such as trauma, substance abuse, behavioral disorders and cultural issues due to recent immigration.
Pries' agency partners with the Middlesex County and Greater Boston juvenile courts, and offers mental health evaluations and psychological counseling to troubled youth and their families. As a licensed mental health counselor, Pries oversees court-based mental health clinics that evaluate youth and link them with services in their communities. She is directly involved in helping to reconcile youth and their parents (many of whom come from the sizable Hispanic and Cambodian populations in the area). As co-chair of the Massachusetts Alliance of Juvenile Court Clinics, she advocates for funding to meet the mental health, social service and educational needs of these youth within the Department of Mental Health and the state legislature.
Pries studied English at Goshen and went on to receive her master's degree from Tufts University and a certificate of advanced graduate study from Boston University. She co-authored the book Kids and the Law, a user's guide to the court system, which is available in English, Spanish and Khmer, and offers information to parents of court-involved kids on how to navigate the Juvenile Court System.
"What distinguishes Rebecca is the vision, dedication and incredibly hard work that she pours into her work," said Dr. Owen Gingerich '51, Professor Emeritus for Harvard-Smithsonian Center for Astrophysics and member of Mennonite Congregation of Boston. "In many instances, the psychological counseling she provides keeps these troubled young people out of jail and places them in rehabilitation programs – a really strong case of conflict resolution. Clearly this is compassionate peacemaking in a fundamental way."
Pries volunteers with the Mt. Auburn Neighborhood Association and is a board member for Citizens for Juvenile Justice. She has been recognized by the Department of Mental Health for her commitment to public service with the Richard Barnum Distinguished Service Award and by the Middlesex District Attorney with the Citizenship in Action Award.
Pries attends Mennonite Congregation of Boston, where she has served as a lay pastor. She is married to Weldon Pries and they have two daughters, Rachel and Eleanor.
Grant Rissler '99 – Decade of Servant Leadership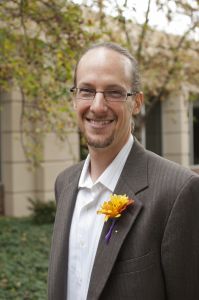 Grant Rissler '99, of Richmond, Va., seeks to live the life of a global citizen, working to promote justice and peace. Rissler studied history at Goshen College. Following graduation, he worked for six months at Mennonite Board of Missions. He spent two and a half years in Mennonite Voluntary Service, including a year at Mennonite Central Committee's (MCC) United Nations Liaison office, a year as an immigration paralegal in South Texas and a half year spent traveling around the United States and Canada by Greyhound bus to report on the work of Mennonite service programs.
Rissler earned a master's degree in international relations at Johns Hopkins School for Advanced International Studies, concentrating on Latin America. Following the completion of his degree, Rissler worked as Communications Director at the Faith and Politics Institute, where he helped to organize and participate in the Congressional Civil Rights Pilgrimage.
Rissler has held several positions with MCC East Coast relating to peace and justice work, donor relations, MCC Relief Sales and MCC thrift shops. His interests in peace and justice issues are reflected in the volunteer work he has done with his church and peace and justice related organizations.
Among those who influenced his life choices and worldview, Rissler highlights the role of his parents, Ed and Jean Rissler, who served under Eastern Mennonite Missions in Somalia and Kenya, where Rissler was born. Rissler has also lived or worked in Haiti, Italy, Peru and Switzerland.
"These experiences have especially equipped him to be a sensitive and thoughtful citizen in many contexts," said Chad Martin, associate pastor at Community Mennonite Church of Lancaster. "He rides bike often to conserve resources, is a faithful financial contributor to the church and celebrates diverse cultures with exquisite documentary photography wherever he goes."
Rissler is a member of Community Mennonite Church of Lancaster (Pa.). He lives in Richmond, Va. with his wife, Maia Linask, where they attend Richmond Mennonite Fellowship. Rissler is in his first year of a doctorate program in public policy and administration at Virginia Commonwealth University.
Keith Springer '69 – Dr. Roman Gingerich Champion of Character Award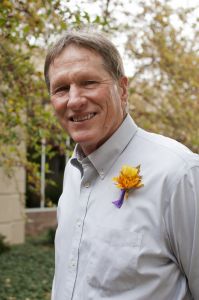 Keith Springer '69, of Fisher, Ill., has dedicated his life to serving others, both locally and around the globe. While studying mathematics and secondary education at Goshen College, Springer participated in basketball and baseball. He set career-scoring records for men's basketball, finishing with 1,531 points from 1965-69. Springer taught math and coached 9th grade boys basketball at Concord Junior High School in Elkhart, Ind. from 1969-71.
In 1971, Springer and his wife, Kathy (Newcomer) Springer '71, served for two years at the American School of Brasilia in Brazil with the Mennonite Board of Missions (now Mennonite Mission Network) as overseas mission associates. While there, he taught high school math and physics and coached boys basketball. In 2004 and again in 2011, the Springers travelled to Argentina to visit and share with churches of the Patagonia Mission Project. In 2012, they did volunteer work at Nazareth (Israel) Village.
Springer served for six years on the Christian Nurture Commission of the Illinois Mennonite Conference. Since 1977, he has operated a cash grain farm with his brother. He is a member of East Bend Mennonite Church in Fisher, Ill., where he is the chairman of finance and is vice president of the board of directors for the Illinois/Iowa chapter of Everence Financial. The Springers have two adult sons, Ryan '96 and Eric '99.
Sue Roth '66 – Dr. Ruth Gunden Champion of Character Award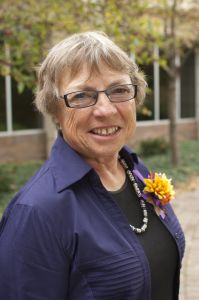 Sue Roth '66, of Stryker, Ohio, helped pioneer organized sports opportunities for women, striving to give them equal access in the athletic world. While studying physical education at Goshen College, Roth was a member of the Women's Athletic Association and participated in field hockey and softball, as well as several intramural sports. After graduating from Goshen College, she taught physical education and coached in Middlebury, Ind., and Stryker, Ohio, before returning to the college from 1976 to 1999 to teach physical education and coach field hockey, volleyball and track and field.
While teaching and coaching in high school, Roth worked hard to develop opportunities for girls. She increased the number of sports to make sure every girl had the opportunity to participate in the sport she wanted, even though Roth was expected to coach all sports alone.
As a volleyball coach at Goshen, Roth was named the Hoosier Conference for Women Coach of the Year in volleyball in 1985, 1988 and 1989. She initiated the women's track and field program at Goshen and promoted student athletes as commissioner with the Indiana Association for Intercollegiate Athletics for Women. She also worked with Ruth Gunden in developing the Hoosier Conference for Women, which filled an organizational need for women in sport.
Roth is a track and field official for the Ohio High School Athletic Association. She attends St. John's Christian Church in Archbold, Ohio.
Alumni Awards
The Culture for Service Awards were initiated in 1989 and are given annually to honor Goshen College graduates who have made lifelong commitments to service. Recipients distinguish themselves through commendable accounts of service and achievements at home or in their churches, colleges and communities and the larger world.
The Decade of Servant Leadership Award, created in 2004, recognizes a Goshen College alumnus or alumna whose contributions and achievements in career, public or church service and volunteer activities early in post-graduate life are worthy of recognition.
For the seventh year, the Goshen College Maple Leafs Athletic Club is presenting the Dr. Ruth Gunden and the Dr. Roman Gingerich Champion of Character Awards. The two awards, created in 2005, are presented to a male and female alumni athlete who exemplify the college's core values in their lives, work and community service. Gunden and Gingerich were pioneers in Goshen College's athletic history.