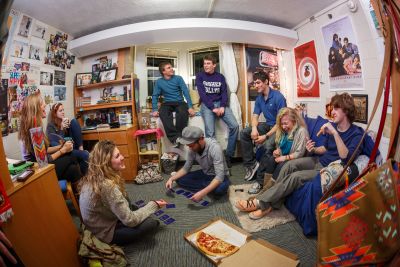 The residence halls are often the place where students first meet friends, come together as a group with other students and begin to feel a sense of belonging. All full-time single students younger than 25 are welcome to live in one of four traditional residence halls. Each hall houses men and women on separate floors.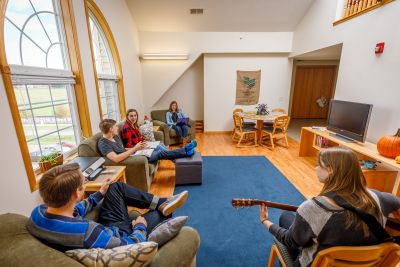 Apartments offer increased independence and flexibility within the campus context. Each student apartment on Goshen's campus has its own kitchen, living area, bathroom and separate bedrooms, while some feature unique lofts and spiral staircases. This option is available for older students.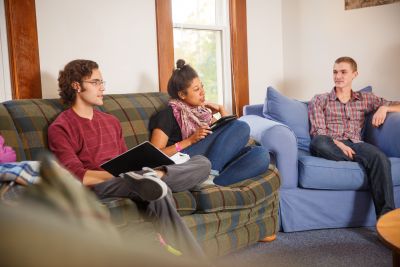 Intentional Living Communities offers an opportunity to deepen friendships in a largely self-governing environment. Students apply for housing together as a group, and groups are chosen based on several criteria. This option is available for third and fourth year students.

Goshen College Residence Life will foster a healthy, hospitable community where students learn and develop by creating meaningful connections, joining in acts of service, and engaging in purposeful reflection.
Housing Options and Requirements
The standards held by Goshen College are based on Christian ideals, educational goals, necessary expectations set and upheld for good group living, and guidelines needed to ensure proper care of the housing facilities. Some college housing and living regulations are necessary to protect the rights of each individual student while others are designed to protect the entire student community.
Attendance at Goshen College is a privilege and carries with it the obligation to observe college regulations. While attending Goshen College, a student is subject to the laws of Indiana as well as those of the local community outside the campus.
Campus housing is an integral part of college campus life and contributes in many ways to the education students receive. Students live and work in groups and get to know people of various backgrounds.
On-Campus Housing Requirements & Exemptions:
Goshen College seeks to create a strong on-campus student experience with opportunities and services. We know that students are better able to integrate into campus and complete their degree at Goshen College if they live and work on campus.
All full-time students enrolled at GC are required to live in campus housing unless they meet any of these exemptions:
4 years removed from high school
Turn 23 years old prior to Dec. 31
Registered as a part-time student
Live at home with parents/guardians or spouse within 30 miles from campus
**Applies to students who graduate high school in 2020 or after.
Full restitution of room and board fees will be expected if students bypass the residency requirements. Students 25 years of age or older are not eligible to live in on-campus housing.
Married Students
Married students of traditional age (18-25) are eligible for campus housing provided both spouses are enrolled for a minimum of 9 credit hours. The housing and residence fee structure for married students is equivalent to single residential students. A meal plan is required and the understanding that all college furnishings remain in their chosen housing location remains in effect. Priority campus housing option selection will be given to married students at the start of our housing selection process.
About four out of every 10 Goshen students lives off-campus. But that doesn't keep them from playing sports, singing in the choir, eating lunch with their friends, or being just as involved in campus life as any other student. Learn more about all the resources available to students who live off-campus.
Commitment to Community
Residence life at Goshen really stands out thanks — in part — to our Commitment to Community Standards, which enables a strong sense of community and engenders a spirit of hospitality. These guidelines for living ask us to respect one another and ourselves through the choices we make, including in behavior exemplified in campus housing facilities and environments.
Residence Life Resources