Experience Living on Campus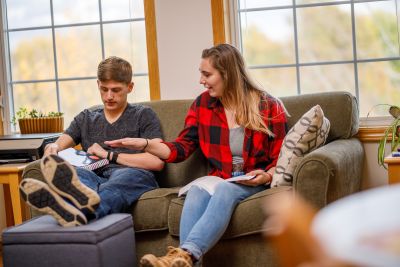 Goshen College offers a variety of housing options for students which includes traditional Residence Halls, Apartments, and Intentional Living Community Houses. Campus housing is primarily designed for single students enrolled full-time and younger than 25 years of age. We consider the residential experience a vital part of the education we offer. We believe students who live on campus have the greatest opportunities for learning and growth by living in close proximity to their peers and also having easy access to campus activities, services, and facilities.
Options and Requirements
The standards held by Goshen College are based on Christian ideals, educational goals, expectations needed for compatible group living, and guidelines needed to ensure proper care of the housing facilities. Certain regulations are necessary to protect the rights of the individual while others are designed to protect the community.
Attendance at Goshen College is a privilege and carries with it the obligation to observe college regulations. While attending Goshen College, a student is subject to the laws of Indiana as well as those of the local community outside of the campus. Campus housing is an integral part of campus life and contributes in many ways to the education students receive.
All full-time students enrolled at GC who graduated high school in 2019 or before must live in campus housing unless they meet one of these exemptions:

Have 112 + credit hours
Turn 23 years before to Dec. 31
Live at home with parents/guardians or an older sibling.
Students who graduated high school in 2020 or after will be required to live in campus housing unless they meet any of the following exemptions:
4 years removed from high school

Turn 23 years old before Dec. 31

Registered as a part-time student

Live at home with parents/guardians or spouse within 30 miles from campus
Full restitution of applicable room and board fees will be expected if students attempt to bypass residency requirements.
What should I do if I plan to live off-campus next semester?
If you are qualified to live off-campus you will need to fill out our "Off-Campus Housing Confirmation" to confirm your eligibility. You may also submit an exemption request if you are not yet eligible to live off-campus but wish to due to extenuating circumstances.
What are the cost and price differences for each housing space on campus?
For a complete breakdown of housing prices please visit our housing website.
How do I make a housing deposit, and how much is the deposit?

You can submit your deposit online on the Goshen College homepage or in person with the accounting office cashier in AD10. Housing deposits for Romero Student Apartments and Intentional Living Communities are $200, while rooms in KMY, Kulp, and Coffman are $50. Deposits are refunded at the end of the academic year once students have checked out and their spaces have been evaluated for damage by Residence Life staff.

Is there a discount for senior students who choose to live on campus?
If you've earned 112 Credits or more before July 1st, or turn 23 years-of-age by Dec. 31st you'll qualify for a 30% bridge discount and will no longer be required to purchase a meal plan. Students must complete the Bridge Discount Application Form on the Residence Life homepage to confirm eligibility. Students who graduated high school in 2020 or later will not be eligible for a bridge discount.

Which living spaces on campus are ADA handicap accessible?
Kratz Hall, Miller, Hall, Yoder Hall, and Romero Student Apartments feature elevators and ADA accessibility. Kulp Hall and Coffman Hall do not have elevators or wheelchair ramps to enter the building for floors.
Am I required to have a meal plan?
All students living on campus not eligible for the bridge discount are required to have a meal plan. Students living in Kratz, Miller, or Yoder Hall must maintain a Carte Blanche (unlimited) meal plan. Students living in Kulp, Romero or Intentional Living Communities are eligible for the minimum 65-Block plan or the Carte Blanche plan. Each meal plan comes with Munch Money credit (amount varies) that can be used for meals at the Westlawn Dining Hall, Leaf Raker (Union), or Java Junction (Connector).
Can I room with an incoming transfer student next year?
Yes, provided the incoming transfer has already been admitted to Goshen College at the time of your room application for the fall and has been assigned a student ID number. You will need to acquire that information from the incoming transfer along with their permission to assign them a room with you.

I do not have a roommate lined up for next year. What should I do?
Students seeking a room in KMY may select a double room to themselves on their housing application then proceed to fill out a Roommate Compatibility Form. This form will help us find you a suitable roommate based on common interests before the fall semester begins. If possible, we will pair you with an incoming transfer or current student in a similar position. If your preference in housing for fall is the Romero Student Apartments but you are unable to form a group to meet capacity—please take a moment to fill out our Apartment Roommate Seeking Form. Student Life will attempt to match you with incoming transfers and other students also seeking roommates to form an apartment group.
I will not be on campus next fall; will I be able to reserve a room in advance for spring semester?
Students not on campus in the fall may fill out our Spring Housing Application to state their intentions to return in the spring and express their desired living arrangement. We will house you based on the availability of your request. Students that plan to join an apartment or ILC for spring only should be included in their original group's application.
I will be a second-year student (sophomore) in the fall with enough credits to be considered a junior—am I eligible to live in Romero Student Apartments or an Intentional Living Community house?
No, you must be at least two-years removed from your high school graduation date at the start of the Fall semester to qualify for Junior/Senior housing options. Traditional first or second-year students, regardless of credit hours, must choose a space in Kratz, Miller or Yoder Hall.
What do I need to select a room for fall semester?
(1) You must be registered for classes full‐time for the upcoming fall semester. (2) submit a $50 room deposit before filling out your online application, and (3) demonstrate your support for the community standards by agreeing to the terms of your housing contract that is part of the online application.
---

Intentional Living Communities (ILC)
The ILC application process begins in late February and involves self-selected groups completing an online application and demonstrating a proposed Intentional Living Community theme for their housing group. ILC Applications are evaluated by Residence Life with assignments announced in mid-March. Houses are awarded based on meeting capacity, classification (Jr/Sr), group GPA, past standards compliance, campus involvement, and presenting an achievable theme as part of their group application. Students applying for Intentional Living Communities are required to submit a $200 deposit at the time of their application. The deposit is refunded if groups are not selected. Eligible students would have graduated from high school at least two years before the first day of classes.
What spaces will be used for Intentional Living Communities next fall?

We will be accepting co-ed or single-gender ILC Applications for East Hall (9-12), Howell House (9-12), Kenwood House (8-10), and single-gender applications for Kulp South (6-8) and Kulp West (4-5). In addition to those spaces, we will be accepting co-ed-only applications for Student Apartments 201, 202, 301, and 302 as part of ILC and will be offered as 4-6 capacity units.
When can my group apply for an Intentional Living Community?

We will be accepting applications beginning in the middle of February and announce assignments in the middle of March. For the exact date and details on the application process please visit the ILC homepage on the Goshen College website.

What are the qualifications for Intentional Living Communities and how does the application work?

Students must be two-years out of high school before the beginning of the upcoming fall semester. Qualifying groups must submit an online application on our website. Groups will need to able to identify a housing theme for their group and be able to demonstrate a commitment to the community standards and housing policies as well as outline group goals, a cleaning strategy, a and conflict management plan.
What are the capacity requirements for Intentional Living Communities and what if someone from my group vacates our house between semesters and we fall below capacity?

Students are encouraged to occupy units at their full capacity when submitting an application. However, the primary requirement for all groups is to maintain at least 3/4 of the house's total capacity. This includes any time in which your group is affected by SST, internships, or early graduation departures. Following the ILC selection process, if your group agrees to a housing contract you will be expected to maintain your given capacity at the time of your original application. Should your group fall below 3/4 capacity at any time, you will be given three options: (1) Your group can remain in the house and each forfeit the $200 housing deposit submitted at the time of your application; (2) You can opt to add students to your group to meet capacity; (3) You can relocate to another campus housing location where your group meets the minimum capacity requirement.
Is there a gender ratio requirement for co-ed living spaces in ILC?

No, however, if your group has a proportionately imbalanced gender ratio you should recognize the challenges and demonstrate in your application why and how it will work for your group. It must also be noted that the gender ratios for co-ed groups must be congruent with the desired house's bedroom configuration. For example, Kenwood House features five double rooms. Men and women cannot share a room; therefore the male/female breakdown would need to be 6-4 if your group is at capacity.

Who evaluates ILC Applications and with what criteria?

Residence Life evaluates each application. We use a scoring system to assign a point value to each application. The score is comprised of both subjective and objective data. Examples include group size meeting capacity, classification, GPA, campus involvement, standards compliance, group goals and theme, and group collaboration evident throughout the application process. The groups with the highest scores are more likely to receive their first or second choice of the house requested in the application.
---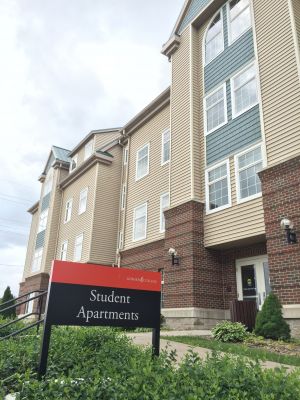 Romero Student Apartments
Beginning in late-March students planning to live in the Romero Student Apartments can self-select groups and reserve an apartment through an online application form on the Residence Life webpage. Groups applying for an apartment are required to submit a non-refundable $200 deposit at the time of their application. Eligible students would have graduated from high school at least two years before the first day of classes.
Where can I find the online Student Apartment application?
The online application for student apartments will be linked on the Housing portion of the Goshen College website during the month of March.
When can our group apply for Romero Student Apartments for next fall?

Starting in late March we will begin taking applications for all eligible student groups. Seniority will be given to senior students who submit an application in the first week the application goes live. In the second week, we will process all new applications in the order they are received to include junior groups. We will only process apartment group applications with verified deposits.
Do we have to submit our housing deposit before filling out the online application?

Yes, and No. We will process all applications in the order we receive them based on the seniority outlined in the previous question. However, groups that have students who have not yet submitted deposits at the time of their application will have their application placed on hold until accounting confirms that all deposits have been made. This could cost you your place in line.
I'm planning to get married this summer and would like to live in the Romero Student Apartments this fall, am I eligible to do so?

For a married couple to be eligible for the Romero Apartments they must: (1) be 25-years old or under, (2) both spouses must be enrolled for a minimum of 9 credit hours in the fall semester, (3) pay the normal fee structure equivalent to single residential students, and (4) must maintain all college furnishings in the provided apartment. We will give priority to couples who agree to these terms and place them in a two-person apartment if available.

What should I do if my chosen roommates are not on campus when the application goes live?

Students away on SST, internships, or transferring in will still need to submit their housing deposit before your application will be processed. Plan ahead—students away for spring can submit their deposit online from the GC website at any time. Just be sure to confer with them regarding your commitment as a group in accordance with community standards and campus housing policies.
What are the capacity requirements for the student apartments?

Your group must meet the capacity requirement for the apartment you are applying for. For example, if the apartment is designed for 4-students, then you must have a minimum of 4-students in your group. Loft apartments can be acquired with groups of three or four students. Student groups occupying a 4-person loft at capacity receive a $500 discount. Groups of three living in the lofts can do so at the base rate but will be charged an additional $500 per person should capacity fall from three to two at any time. We do make concessions for student groups where SST, GC academic programs, or early graduation affects capacity for one semester. If one of the aforementioned programs affects your group's capacity, you may still apply for an apartment provided there is only one person missing from your group for either fall or spring semester.

Our group can't meet the capacity requirement for any available apartment. Can we sign up for an apartment and be open to transfers joining us?

No, if you can't meet the capacity for an available apartment you will need to select an alternative housing assignment elsewhere on campus. You may also opt to pay a premium rate of $500 (per resident/per semester) with no obligation to add additional residents provided the apartment remains at 2/3 capacities. Please note all two-person apartments must be at full capacity to be eligible. We do permit groups of two to acquire a 2-person apartment for fall only or spring only.

Do we need to have 6-people to apply for a listed 4-6 person capacity apartment? And if not, can we have the additional furniture removed?

No, all apartments listed as 4-6 capacity are optimally designed for four students. Those sharing a room in the 4‐6 person apartments will see a reduction in price of $500 per semester; however, it is not an expectation to share the double rooms. Please note that all listed 4-6 person capacity apartments feature two-bedrooms with bunks and additional furniture that can't be removed from the apartment. We encourage groups of four to choose traditional 4-person capacity apartments (when available) at the time of sign-up to avoid this inconvenience.
---
Residence Halls

In early April all students planning to live in the Kratz/Miller/Yoder (KMY) Residence Halls, Coffman Hall, or Kulp Hall will be able to sign up for a room via an online application form on the Residence Life webpage. Priority will be given to junior and senior students. Students must be two-years removed from high school and maintain at minimum a 65-block meal plan to be eligible for a single room in Kulp and Coffman Hall. Students living in KMY are expected to have a full board meal plan and have a roommate. Single rooms will be available for an additional $750 fee if space allows. Students interested in any of these spaces are required to pay a room deposit of $50 before sign-up.
Three of us would like to sign up for a Quad (or two of us would like to sign up for a triple room), can we do so and be open to a transfer student?

No, you must be able to fill a quad or triple to capacity at room signup. Students unable to do so will need to choose a standard double room. If there are available triples or quads still remaining on May 1st, groups will be allowed to sign-up for these spaces below capacity for additional fees.

I am living in Kratz/Miller/Yoder next year and would prefer not to have a traditional meal plan, but instead a block plan similar to students living in the apartments or Intentional Living Communities, can I do this?
No, all students living in KMY are required to maintain an unlimited plan as part of their room and board. AVI Fresh will work with students with food allergies or dietary restrictions to help better serve their needs. Students can email jcorson@goshen.edu for more information about AVI Fresh and its current menu options.
I would prefer my own room next year in Kratz/Miller/Yoder. Can I do this, and how much more would it cost?

While everyone needs to be open to living with a roommate in KMY, students who prefer a room alone may note this preference on their room sign-up application; private rooms are granted as space allows. Private double rooms are an additional $750 per semester. There are several smaller single rooms in Kratz and Miller that are reserved ($250 extra) for students with documented needs verified by a physician.
Room Change Policy
Returning students may choose roommates during the room selection application process in the spring. Students without a chosen roommate may sign-up alone in the KMY residence halls provided they are open to being assigned a roommate by Residence Life. Room change applications will be made available in mid-October for those seeking a change for the spring semester. Room changes mid-semester are discouraged and will only be honored in extraordinary circumstances. Residence Life will be available to offer assistance and ultimately approve any changes. A $25 administrative fee will be charged for any room change request approved by Residence Life. The fee is increased to $100 for all requests made after the Thanksgiving Day holiday break.
---