Chandler Buchfeller
Director of Residence Life and Housing
Resident Director – Yoder Hall
Originally from Southern California, Chandler fell in love with the work of Residence Life while in grad school. Chandler believes that we each need a great community around us in order to grow into the people we've been created to be. He is excited to work with students, other staff, and faculty to build a great community on campus. Chandler is a graduate of Grace College where he earned his B.A. in Biblical Studies and M.S. in Higher Education. In his free time, he enjoys cooking, baking, playing board games, and reading.
Emily Hahn
Resident Director – Kratz & Kulp Hall
Emily is originally from Ohio, but moved to Indiana for undergrad at Huntington University, where she got degrees in Psychology and Sociology. She served as a Resident Assistant for three years during her undergraduate years and is entering her fourth year as a Residence Life professional at Goshen College. Emily holds a Master's degree in Social Justice and Human Rights and is passionate about bringing this education into her work as a Resident Director.
Kevin Schultz
Resident Director – Romero Apartments and Intentional Living Communities
Kevin is originally from Fargo, North Dakota. He attended Hesston College and graduated from Goshen College ('10) majoring in Social Work and Bible/Religion. He spent the next 9 years in Oregon as a social worker and eventually earned his Master's Degree in College Student Services Administration. He is so pleased to be back in Michiana working for Goshen College and serving its students as a new member of Residence Life.
Gretta Rempel
Student Assistant Resident Director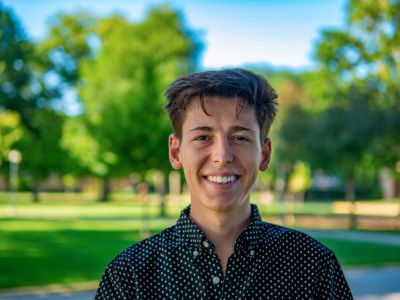 Gretta Rempel is a third-year Biology major with Chemistry and Sustainability Studies minors from Iowa City. She was involved in Residence Life during the 2020-2021 academic year as a Resident Assistant and is now working in one of the Assistant Resident Director roles. On-campus she is also involved in Women in STEM, Prevention Intervention Network, Distributed Drug Discovery research, and Teacher Assisting in the Chemistry department.                                                           
Jackson Steinmetz
Student Assistant Resident Director
Jackson Steinmetz is a senior film production and communication double major with minors in Spanish and Graphic Design. He is from Bluffton, Ohio. Jackson lives in the Romero apartments. He is an active member of the cross-country and track teams at Goshen College and loves to spend time outdoors taking photos and playing spikeball, soccer, and disc golf with friends.