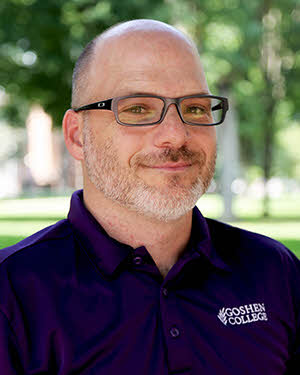 Chad Coleman
Director of Housing Operations
Chad Coleman has been at Goshen College since 2002, serving as a Resident Director from 2002-2010 before becoming Director of Residence Life in 2011. In 2016, Chad has provided leadership in housing operations at Goshen College. Chad currently serves as Director of Housing Operations and Campus Safety–providing leadership to both areas in Student Life. Chad is a 1996 graduate of Indiana University and completed his Master's Degree in Organizational Leadership at Gonzaga University in 2009. In his free time he is an avid technology and sports enthusiast.
Chandler Buchfeller
Resident Director – Yoder Hall
Originally from Southern California, Chandler fell in love with the work of Residence Life while in grad school. Chandler believes that we each need a great community around us in order to grow into the people we've been created to be. He is excited to work with students, other staff, and faculty to build a great community on campus. Chandler is a graduate of Grace College where he earned his B.A. in Biblical Studies and M.S. in Higher Education. In his free time, he enjoys cooking, baking, playing board games, and reading.
Emily Hahn
Resident Director – Kratz & Kulp Hall
Kevin Schultz
Resident Director – Romero Apartments and Intentional Living Communities
Kevin is originally from Fargo, North Dakota. He attended Hesston College and graduated from Goshen College ('10) majoring in Social Work and Bible/Religion. He spent the next 9 years in Oregon as a social worker and eventually earned his Master's Degree in College Student Services Administration. He is so pleased to be back in Michiana working for Goshen College and serving its students as a new member of Residence Life.
Gretta Rempel
Student Assistant Resident Director
Gretta Rempel is a third-year Biology major with Chemistry and Sustainability Studies minors from Iowa City. She was involved in Residence Life during the 2020-2021 academic year as a Resident Assistant and is now working in one of the Assistant Resident Director roles. On-campus she is also involved in Women in STEM, Prevention Intervention Network, Distributed Drug Discovery research, and Teacher Assisting in the Chemistry department.
Cade Fisher
Student Assistant Resident Director
Cade Fisher is a fourth-year Peace, Justice, and Conflict Studies Major with minors in Music and Video Game Development working as the live-in support for Kulp Residence Hall. Cade is also a leader of the Prevention Intervention Network, a peer education group that works to combat sexual violence on campus, as well as a member of the Goshen College Symphony Orchestra, Vox Profundi low-voice choir, and Chamber Choir. In his free time, Cade likes to read science fiction and non-fiction about race and privilege, as well as learning about health and fitness.