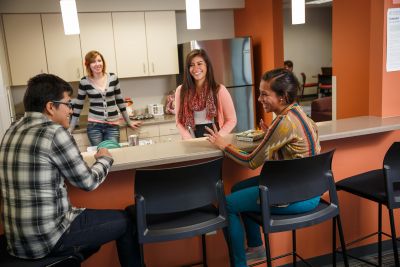 About four out of every 10 Goshen students lives off campus. But that doesn't keep them from playing sports, singing in the Chamber Choir, eating lunch with their friends, or being just as involved in campus life as any other student.
There are tons of resources available to Goshen College students living off campus:
A dedicated commuter lounge, complete with kitchen, lockers and private rooms (need a quick afternoon nap?)
Special meal plans so you won't go hungry
The Campus Center for Young Children — a high quality, accredited, early childhood center — is located on campus in the Church-Chapel and gives enrollment priority to Goshen College students. It offers a sliding fee scale for families that qualify and accepts CCDF vouchers (child care assistance program).
The Commuter Student Association, which keeps you in-the-know about all campus activities and with opportunities to engage with others who are also commuting
If you're thinking about learning at Goshen but living elsewhere, here are the links to get you started:
FREE local public transportation
The college has a partnership with the Interurban Trolley so that all GC students and employees can ride the trolley for FREE just by swiping your current Goshen College ID card. The Red Line Trolley stops along College Avenue on the north side of campus, running every 30 minutes Monday through Saturday. Use the trolley to get to school, work, shopping, the train station or appointments in Goshen and Elkhart. Get more information about routes and schedules at interurbantrolley.com.
Emergency contact system
From time to time, you may need to let people know where you are in case of an emergency, or you may have a sick child or family emergency. A system is in place to reach you – call the main switchboard for details at (574) 535-7000.