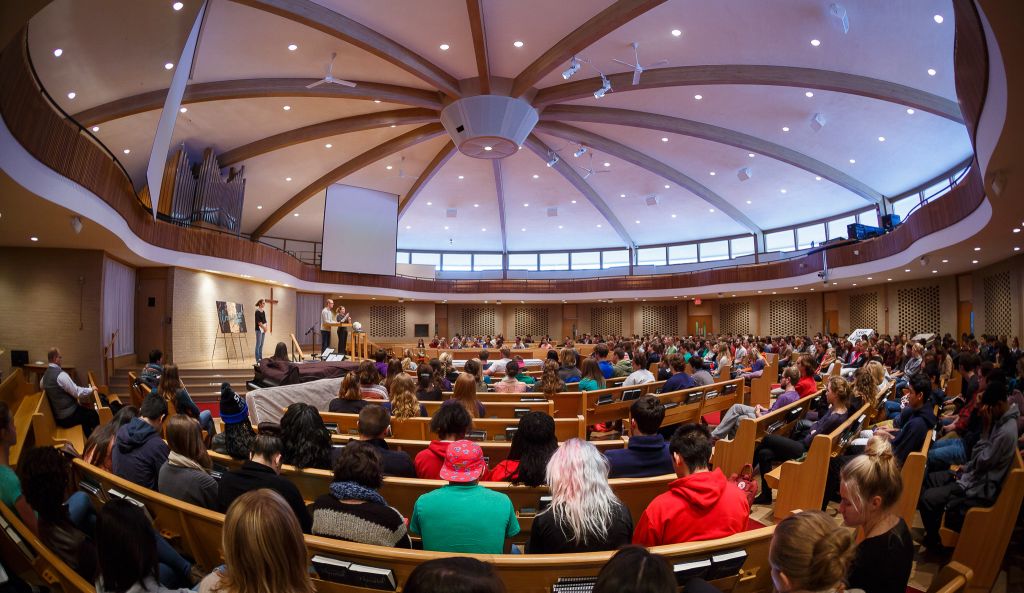 UP NEXT: October 28, 10 a.m.
What: Día de los Muertos Chapel
Who: Latino Student Union
Where: Live stream
SIGN UP FOR POLITICAL TALK DISCUSSION GROUPS HERE
Fall 2020 Chapel and Convocation Schedule
---
Chapel services and convocation programs gather the Goshen College campus community together for shared learning experiences and for worship, usually in the Church-Chapel sanctuary at 10 a.m.
The purpose of chapel is to tend to the Christian spiritual formation of our gathered community. Chapel calls us to come before God together in worship and seek to be continually formed into the image of Christ. Chapels may include guest speakers, faculty faith stories, hymn sings, or student presentations.
Convocation provides integrative learning opportunities for personal, intellectual and social growth. In convocation, we explore complex problems and big questions. We also support and celebrate each others' learning. Convocations may include faculty or guest speakers, drama or music performances, presentations by student Study-Service Term (SST) units, or special events.
Each year, the campus pays special attention to one of the five Goshen College core values, with Christ-centeredness running through every year's focus. Several chapel services and convocation programs each semester focus on the current year's core value:
2020-21: Passionate Learning
2021-22: Compassionate Peacemaking
2022-23: Global Citizenship
2023-24: Servant Leadership
You may listen to past Chapels and Convocations online.