Dr. Kenneth Newbold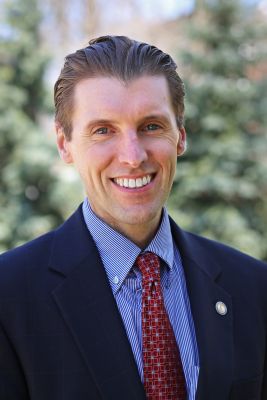 B.A., Bridgewater (Virginia) College
M.A., James Madison University
Ph.D., James Madison University
president@goshen.edu
(574) 535-7180
The college's provost and executive vice president, Dr. Kenneth Newbold, is serving as interim president from July-October 2017.
In 2015, Dr. Newbold came to Goshen College from James Madison University, where he led the institution's sponsored research efforts. Additionally, he served as the director of the institute for energy and environmental research and director for the institute for infrastructure and information assurance. His research interests include critical infrastructure protection, homeland security policy, intelligence analysis and higher education.
Dr. Newbold graduated from Bridgewater (Virginia) College in 1999 with a bachelor's degree in history and political science. He completed a master of public administration degree with a concentration in higher education at JMU in 2001, and earned a Ph.D. in strategic leadership in 2014. His dissertation, "Influence of Entrepreneurship Education on Entrepreneurship Development in Post-secondary Education," focused on the impact that education has on developing entrepreneurs.
Dr. Newbold lives in Goshen with his wife, Tiffany, and their two daughters.