History of Goshen College
Goshen College was founded in 1894 as the Elkhart Institute of Science, Industry and the Arts, a private preparatory school to provide the opportunity for Mennonite and other young people to further their education. Soon afterwards, the Mennonite Church took over its operation, and by 1903 the school so flourished that new facilities were needed. Business and civic leaders from the city of Goshen convinced school leaders of the benefits of relocating to the southern edge of their growing town, and ground was broken on a wheat field near train tracks that could conveniently transport students to the new campus.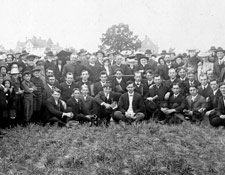 From its inception, Goshen College has been known for its high ideals and energetic vision, inspired by a deep desire to prepare students as engaged church leaders and responsible world citizens. Soon after establishing the Goshen campus in 1903, President Noah Byers suggested a college motto that has stood the test of time: "Culture for Service." This motto has inspired generations of students to follow the example of Jesus as they equip themselves for lives of service.
In 2002, the college re-articulated the core values that have long been woven into the cultural fabric of the institution: We are a Christ-centered community committed to passionate learning, global citizenship, compassionate peacemaking and servant-leadership.
A sense of vibrant connectedness to the larger world has been integral to the college since its beginnings, when three students were sent to India for mission and famine relief work in 1898. One of the college's distinctive features is its Study-Service Term (SST) program, which was started in 1968 as a cutting-edge international education program, built on the experiences of many faculty members who had lived, studied and served abroad.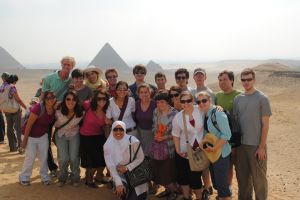 Since then, more than 8,000 students and 230 faculty members have journeyed to 25 countries significantly different from the United States through the semester-long, immersion experience of SST, which features the uncommon combination of cultural education and service-learning. And in 2023, after a 20 year journey, the U.S. Department of Education designated the college as a Hispanic-Serving Institution.
Today, more than 20,000 Goshen College alumni, reside throughout the world in more than 85 countries, and the campus has expanded to 135 acres with 19 major buildings. The college now offers 40 majors and 49 minors of academic study, as well as select graduate programs, with quality professional programs and facilities. In addition to academic programs, co-curriculars, internships, athletics and religious life programs offer students rich and balanced opportunities for personal, intellectual, spiritual, physical, social and professional growth.
The college has long been guided by a Christian theology of creation care and good stewardship of both environmental and financial resources. Merry Lea Environmental Learning Center of Goshen College annually hosts more than 7,000 school children for educational programs on its 1,189-acre natural sanctuary. In 2008 its ecological field station – Rieth Village – received the 42nd Platinum rating in the country from the U.S. Green Building Council's Leadership in Energy and Environmental Design (LEED) program. The college offers various related undergraduate majors in environmental science and a master's degree in environmental education. And in 2007, President Jim Brenneman signed the American College & University Presidents' Climate Commitment to work toward a carbon neutral campus.
Much has changed since the college's beginnings, but the familiar sound of train whistles brings a reminder that many things remain the same. Goshen College – rooted in the Anabaptist tradition of answering Christ's call to reconciliation, community and service in the world – is thriving as a liberal arts college pursuing exceptional academic inquiry.
Goshen College Alma Mater song
"There's a spot in Indiana where the leafy Maple grows…" are the opening words from the GC Alma Mater, and are near and dear to the hearts of alumni. Read the full lyrics of the Alma Mater.
Learn more about Goshen College's first year in Goshen

Goshen College's history as told by Susan Fisher Miller '79, titled, One remarkable year: 1903-1904, from the "Celebrating 100 Years in Goshen, Indiana" July 2003 issue of the Bulletin (several photos with detailed captions). Read the full story.

Cow in the Science Hall: Get the scoop on legendary GC pranks
In the U.S., a widely known and practiced college prank is to take a cow to the top floor of some building and release it there – but it is especially popular in areas like Goshen, where cows have always been readily available.
Read the full story.