Culture for Service: The GC motto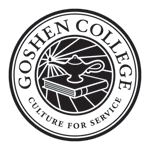 Culture for Service – we see it flying on banners, printed on Goshen College literature and stuck on car windows. It says something about the college and its graduates in a way that few other college mottoes do. Culture for Service is a call to action, a call to learn, a reminder of how our Christian values affect the work we do.
Since its beginnings, the college has felt the impact of the twin harmonies of these words, "culture" and "service." It has sometimes struggled to define how the dual concepts combine into a campus ideal. Described as a "felicitous turn of phrase" by Susan Fisher Miller in Culture for Service: A History of Goshen College, 1894-1994, the motto serves not just as a theoretical challenge but as a "real world" set of instructions for the campus community to incorporate into its life and growth.
Coined in 1903, the phrase has survived for over a century with the college, through periods of growth and change both internal and external. Once, when the motto came under scrutiny in 1943, GC faculty were asked to evaluate Culture for Service. In a description of its relevance to the campus and its students, the faculty members described the motto as "beautiful and satisfactory." "Culture for Service also has significance for past pupils," they said.
A call to serve
Students across the country are catching this spirit. According to a fall 1996 survey by the Graduate School of Education & Information Studies at the University of California, Los Angeles, freshmen entering U.S. colleges and universities are increasingly service-minded. The survey of more than 250,000 freshmen shows record numbers of students doing volunteer work and record numbers spending at least an hour a week doing service.
When they arrive at GC, all students are encouraged to engage in both the theoretical exploration of service and hands-on projects and programs. This happens by responding to local service agencies that come to campus each fall to engage students; donating blood; participating in the annual Celebrate Service Day; and joining a mid-term break service trip.
Since 1968, students have often learned how broadly service can be defined during Study-Service Term when they spend half the semester in a "service assignment." During that time, students have spent roughly 170,000 hours at varying types of service during this portion of their experience abroad. Students are often reminded that service includes "being," "understanding" and "accompanying," as well as "doing."
Adapted from the article 'Culture for Service: a journey, an action, a commitment, a motto' written by Rachel Lapp '95 which appeared in the March 1998 issue of the Goshen College Bulletin.