This presidential column originally appeared in the Spring/Summer 2023 issue of The Bulletin.
By Rebecca J. Stoltzfus '83, President of Goshen College
---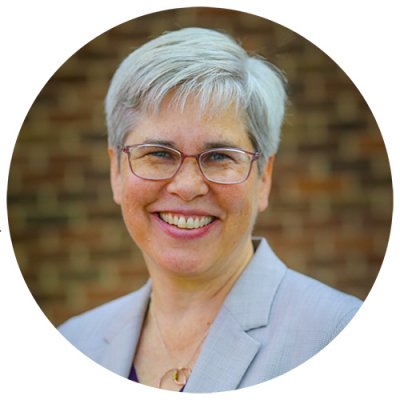 Shaped by Anabaptist-Mennonite tradition, we integrate academic excellence with real world experiences and active love for God and neighbor. I have come to see this part of our mission statement as the essential ingredients of our special sauce at GC.
It is common for a college to emphasize academic excellence, and increasingly common to emphasize real-world experiences, although very few offer global service learning with faculty — what we call Study-Service Term (SST) — to every student as
part of the academic package. For us, these two ingredients were natural.
We articulated the third ingredient in an energetic faculty workshop. Striving to put our
Christ-centeredness in clear language that transcended our particular Anabaptist-Mennonite tradition, we turned to Jesus' Great Commandment in Matthew 22:36-40.
We began to converge around "love for God and neighbor," when one of the discussion tables asked that it be active love for God and neighbor. The whole room quickly agreed. All the knowledge that we impart and discover, all the real world experiences of SST and internships must be integrated with active love. The integration of our whole lives with active love is the proving ground for faith formation — the context in which faith is developed and tried out. Active love, rooted in the way of Jesus, is not a competing interest for us, it is an inextricable part of a GC education that enlivens everything that we do.
Our journey to become a Hispanic-Serving Institution (HSI) has been fueled by active love. The U.S. Department of Education awarded the HSI designation to Goshen College last month. This means that for consecutive years GC has met the criteria of at least 25 percent of its full-time undergraduate students identifying as Hispanic, and that overall we enroll a high number of students who demonstrate financial need.
But these numbers are a manifestation of a much more important transformation, because the most important word in this designation is the word "serving." Along the way, our Hispanic students have taught us how to become more student-serving — for ALL of our students. We have learned about advocacy, cultural expressions and identities, academic and holistic support, and the importance of engaging with parents. The long path to becoming an HSI has been a proving ground for the active love of GC staff, faculty and leaders as we put our faith into action.
It is a journey ongoing and still evolving as we listen, learn and challenge one another to bring our special sauce to all of our students. In the feature story of Isacc Hernandez '13, our mission comes full circle. His unique journey to graduation from GC equips him to serve our current students as academic coach, teacher and mentor.
The Apostle Paul wrote that faith is the substance of things hoped for, the evidence of things not seen (Hebrews 11:1). Faith in action is going beyond imagination to actively bring about the things we hope for: peace through justice, release to prisoners, a college degree, a more inclusive and equitable campus.
GC's special sauce is outstanding education that explicitly integrates active love for
God and neighbor, shaped by our Anabaptist-Mennonite heritage. Be nourished!