President Rebecca Stoltzfus appointed to second term at Goshen College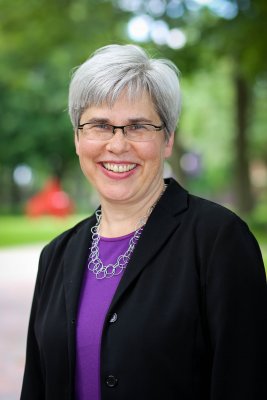 With strong affirmation for her exceptional relational gifts, strategic thinking, community-mindedness and communication skills, the Goshen College Board of Directors has unanimously appointed President Rebecca Stoltzfus to a second term of five years beginning July 1, 2021.
"Along with the entire board of directors, I am so grateful to Rebecca for the ways she has pursued a renewed and compelling mission and vision for the college," said Dr. Bruce Stahly, the chair of the board of directors and a 1967 graduate from Goshen. "We have heard overwhelming affirmation from all for her calm, positive, challenging, insightful, joyful, confident and authentic leadership and spirit. And she is very obviously motivated by her dedication to our students. The board strongly believes that Rebecca is the right leader for Goshen College at this time and that we are very fortunate to have her in this role."
Stoltzfus, who began her first term as the college's 18th president in November 2017, responded to the invitation to reappointment without hesitation. "I am grateful and enthusiastic to continue the vital work we have begun and are doing together," she said. "I believe that both the disruption and new engagement in the midst of this pandemic will prove to be a crucible for a clear and lively future — a future that expands our network of relationships and refreshes the salt and light that Goshen College distinctively brings to the world."
The reappointment was the result of a comprehensive assessment of presidential leadership that began a year ago and was led by Dr. Conrad Clemens, the board vice chair and a 1985 graduate from Tucson, Arizona, with the services of a third-party consultant. Board members, employees, students, alumni, church leaders and community leaders were surveyed as part of the review process.
Board member Aaron Zou, of Bristol, Indiana, said, "We thank President Stoltzfus for her bold and hopeful leadership on many different fronts, including her relentless commitment to make Goshen College a place of joy, growth and purpose for all students and employees."
Accomplishments
Stahly highlighted several of the particularly noteworthy accomplishments from President Stoltzfus' first term:
Refreshed the college's mission and vision.
Successfully fundraised for and renovated the Center for Communication Studies in 2020, as well as the Juanita Lark Welcome Center, the Hunsberger Commons and the Leaf Raker Cafe in the Union Building in 2019.
Had a record fundraising year during the college's 125th anniversary year with $2,393,128 raised for the unrestricted Goshen College Fund, and was awarded a total of $1.85 million in grants since 2018.
Raised more than $1 million in her first six months for a President's Innovation Fund, which included creating a program for Faculty Innovation Grants.
Added new undergraduate academic programs of study, including a public health major and a criminal justice & restorative justice major.
Increased attention to and investment in diversity, equity and inclusion on campus, including policies and practices related to sexual assault and misconduct, and a new freedom of speech and expression statement.
Prepared to apply for Hispanic Serving Institution status after surpassing 25 percent Latinos in the student body.
Brought stability and growth to undergraduate enrollment, and launched a rebranding campaign around "Where Everything Connects."
Strengthened governance at all levels of the organization as well as internal communication.
Forged community partnerships, including by serving on various boards, including the South Bend – Elkhart Regional Partnership, Horizon Education Alliance and WNIT Public Television.
Started a presidential blog where she writes regular reflections and has gained thousands of readers.
Led the college's response to the pandemic crisis.
Stahly also noted that President Stoltzfus' plans for her second term include rolling out a new five-year strategic plan, a comprehensive campaign to support initial projects in a new Campus Master Plan and new initiatives to expand educational engagement and attainment in Elkhart County through GC's new Office for Community Engaged Learning.
Affirmations
Dr. Kathy Meyer Reimer (a 1983 graduate), professor of education and faculty chair during this academic year, said, "Rebecca has brought grounded leadership to the college and is appreciated on campus, so this mutual decision is received warmly and gratefully. She is respected by campus members and leads with deep faith, sharp intellect and strategic direction. She communicates in a transparent way about her thinking and is open to feedback."
Mennonite Education Agency (MEA), the education agency of Mennonite Church USA that supports six higher education institutions, including Goshen College, expressed strong support for the reappointment.
"Dr. Stoltzfus is a visionary and faith-filled leader with a gift for connecting the church and the college together through new initiatives and educational programs," said Thomas Stuckey, MEA's interim executive director and a 1970 graduate from West, Unity, Ohio. "It has been a joy to work with her on various committees and projects. I see her as a very capable leader and an excellent role model, and I whole-heartedly affirm her reappointment as president of Goshen College."
About President Stoltzfus
A 1983 Goshen College graduate, President Stoltzfus received master's and doctoral degrees in human nutrition from Cornell University (Ithaca, New York). She taught human nutrition at the Johns Hopkins Bloomberg School of Public Health (Baltimore, Maryland) and then joined the Cornell faculty in 2002 as professor of human nutrition and then vice provost for undergraduate education, before returning to lead her alma mater. Stoltzfus' global health research has focused on the causes and consequences of malnutrition in women and children in low-income countries, and she has continued this research while serving as president. She is married to Kevin Miller, a 1985 Goshen College graduate, and they are the parents of two young adults, Lydia Miller '18 and Gabe Miller '20.