One remarkable year:
1903-1904



Goshen College was transformed from vision to reality in the course of one remarkable year. In June 1903, the spot in Indiana that would become Goshen College glimmered only in the imagination of a crowd gathered in a south Goshen wheat field. By the following June, 1904, Goshen College faculty and students welcomed guests into their Administration Building's freshly paneled Assembly Hall to celebrate the college's first group of graduates.


Vision and expansion
Since its founding in 1894, Goshen College's parent school, the Elkhart Institute, had grown rapidly. Consisting at first merely of its founder H. A. Mumaw, four students and a rented classroom, by 1896 the Elkhart Institute boasted enough scholars, faculty and supporters to have erected its own building on Elkhart's Prairie Street, opposite Prairie Street Mennonite Church. A Mennonite and Amish Mennonite constituency provided an increasing amount of the school's financial support, students and staff.

In 1898 the Elkhart Institute hired principal Noah E. Byers, a new graduate of Northwestern University with a large vision for Mennonite intellectual life and an ambition to raise Elkhart Institute's academic standards. Byers recognized the need for expansion. Institute Hall could not accommodate the large audiences that attended literary programs and commencement exercises. There were no dormitory facilities; students from Ohio, Illinois or Canada roomed in Elkhart city homes or hotels (though "Lady and gentlemen students shall not take rooms in the same home."). The Institute operated a dining hall at 424 South Main Street, but its clientele included outside patrons as well as students. Students had to apply to the Elkhart YMCA for the use of its reading room, gymnasium and bathtubs. The Prairie Street Mennonite meeting house served as de facto campus extension, but attempts to determine the academic and congregational parameters had strained the relationship at times. For all the loyal student spirit evident in the Elkhart Institute years, campus life was more diffused than ideal.

To complicate matters, the handsome brick Elkhart Institute building, still new upon Byers' arrival in 1898 and the school's proud symbol, stood on a small lot without available adjacent land; its property could not be enlarged. Worse, it flooded: the structure had been planted atop an underground watercourse, which, as college historian John S. Umble observed, "flooded the basement during spring freshets sometimes putting out the fire in the furnace."

The Institute required a new property with room to grow. In 1901, the board of directors of the Elkhart Institute Association appointed a committee to entertain proposals from localities interested in attracting the school. Naturally, the City of Elkhart desired the thriving Institute to stay in the city, and a wooded acreage in the city's Highland Park area (now named McNaughton Park, located southwest of Elkhart General Hospital today), 10 minutes by streetcar from Main Street, was soon identified as the leading site. But the location committee also received proposals from the smaller nearby town of Goshen and from the Ohio communities of Wadsworth, where a former Mennonite school's buildings had become available, and West Liberty, where other school buildings were up for sale. Sites in Illinois and Pennsylvania also came in for consideration.

The Elkhart Chamber of Commerce made a concrete proposal for a joint effort in which the Institute and its supporting church would raise money for buildings, and the city of Elkhart would furnish land and additional financial support. So likely it was that the school would remain in Elkhart that the Institute's commencement week program for 1902 featured a cross-town foray to "the possible future home of the Institute at Highland Park."

Meanwhile, enterprising members of the Goshen citizenry had also been promoting various locations. Just before leaving the Institute in the fall of 1902 for a year of advanced study at Harvard University, Principal Byers, with business manager C. K. Hostetler, toured some of the Goshen sites. These included an east-side site on East Lincoln Avenue, a north Goshen hilltop location and two south-side locations: one of them, Burns Park, was a full mile from the city, and the other lay within the Shoup farm that stood in an area of Goshen known as the Parkside.

Most appealing, initially, of the Goshen sites was a west Goshen property near what is now the Old Bag Factory (it then housed the Cosmo Buttermilk Soap Company, which was purchased in 1910 to initiate a "bagology" industry). This property lay west of the Elkhart River and had the advantage of including a ready-made college gymnasium in the guise of a barn. But the river, however scenic, inhibited easy access to downtown, and struck the committee on location as too isolating from the center of Goshen. Thus Elkhart's Highland Park continued at the top of the list. The Elkhart Institute Association even began the provisional sale of building lots in the Highland Park locale.

But an unexpected sequence of events turned things in Goshen's favor. Something about the Parkside location had drawn Hostetler and J. S. Shoemaker of the Institute's committee to return for a second, approving look at the Shoup farmland in January 1903. Then, in the spring of that year, Elkhart entered a period of financial crisis, in which some businesses failed and a bank closed. The uncertain economic outlook led the Highland Park Association to raise the original price for access to their property, an unwelcome surprise to the Elkhart Institute negotiators.

At the same time, two Goshen community leaders – businessman Wilbur L. Stonex and an attorney, Anthony Deahl, president of the Goshen Commercial Exchange – launched an energetic fundraising campaign among Goshen citizens to bring the Institute eastward. In businessman Stonex's shrewd rhetoric, the coming of a college to Goshen would outdo a factory's commercial benefits any day – and a college brought cultural riches to boot. By May 15, Stonex and Deahl had the pledges they needed.

On May 27, 1903, Institute representatives Jonas S. Hartzler and C. K. Hostetler signed a contract with the Commercial Exchange of Goshen. The city had subscribed pledges in the amount of $10,000 to secure the college site; the Institute Association would immediately erect a main college building at the cost of $25,000 and purchase south Goshen land to be sold for housing lots. In a final stipulation, for at least 10 years the institution would be called Goshen College.

On June 12, 1903, the Institute's commencement week program included an excursion to Goshen. Riding specially chartered interurban cars, 150 students, faculty and friends of the Elkhart Institute traveled to the site of the newly designated Goshen College, where they were met in the Shoup farm fields by an equal number of Goshen well-wishers. Speeches ensued, and a 20-member male chorus of Institute students, directed by music instructor Wellington K. Jacobs, performed to acclaim. After these ceremonies, Hartzler, who had faithfully served Elkhart Institute as minister, business manager, instructor and board member, guided a plow behind a large team of bay horses to break ground for a new campus amidst the soon-to-be harvested wheat.


A triumph of culture, service and elbow grease
The year that followed might be called a triumph of culture, service and elbow grease. The ability to improvise – an adaptive gift that would stand the college in good stead for the next century – frequently came into play. Yet from the start, there was also at work in campus life a steady drive of confident purpose.

Excavation for a dormitory had begun immediately, "while the shocks still dotted the field," in John Umble's phrase. The Aurora literary society had donated the cornerstone for the Administration Building. Construction continued all summer, but, in the classic pattern of construction, was in no way complete when the first students, 77 of them, arrived on Sept. 28, 1904. Boards were shuffled about as impromptu walkways through the mud wallow surrounding the buildings. Even the immaculately groomed, erudite President Noah Byers, just returning from his sabbatical at Harvard, pitched in among the faculty to haul debris during the first week.

A dormitory, East Hall, was in place just in time for the beginning of the term. But since the bricks of the campus centerpiece, the three-story Administration Building, had risen only to first floor level, the verandah-bedecked East Hall became the center of college academic, social and devotional life, as well as fulfilling its intended purpose of housing and feeding students. (The venerable East Hall, standing to the east and at right angles to the Administration Building, was renamed North Hall upon its 1916 relocation north of College Avenue, where it stood until its demise by fire in 1969).

Students too may have rolled up their sleeves on Saturdays to aid in the ongoing construction, but the campus maintained a more elevated tone the rest of the week. Social refinement did transfer from urban Elkhart into smaller-town Goshen: it is evident in the linen-draped tables for six and china soup bowls depicted in a dining hall photograph; in a student's monogrammed sterling napkin ring; or in the decorous care given to selecting school colors (purple and white, inherited from Northwestern by way of President Byers), class flower (white rose, in 1904), or literary society motto ("Esse Quam Videre" for the Avons, or "To be, rather than to seem"). Dignity and pride of place was also in evidence in a fine the administration levied in the first year: $5 for every scratch on the new furniture.

The advent of 58 new students in the winter term of January 1904 coincided fortuitously with the enclosure of a usable, if not completely finished, Administration Building ("recitations" in the new classrooms competed with the carpenters' ongoing clamor). A large audience thronged into Assembly Hall for its formal dedication on Jan. 8, 1904. Soon the president's office, a reading room, a science laboratory and a basement gymnasium (with showers) were up and running in the Ad Building.


Continuing traditions, expanding horizons
Despite some rough and tumble in campus facilities the first year, Goshen College enjoyed a continuity of tradition carried forward from the nine-year-old Elkhart Institute. Academic and cultural endeavors at Elkhart had taken on increasingly sophisticated forms, and this momentum continued at Goshen. For one thing, the 12 faculty members brought an impressive array of university experiences to their work, and, from those encounters, a passion for expanding students' horizons (which is not to say that students were never caught snoozing in psychology class, a phenomenon noted as frequent in the 1904 Reflector, Goshen's first yearbook).

Something of this questing ethos is reflected in the opening lines of the essay titled "In Chains," written by Albert Benjamin Rutt, member of the Class of 1904: "With the birth of every soul there begins a struggle for freedom; a reaching out towards heights of perfection; a casting aside of weights; and a breaking of chains."

Students and their faculty mentors channeled the restless urge to self-improvement and intellectual elevation into the regular public programs of four amiable, if seriously competitive, literary societies. Elocution, oratory, debate and theatrics filled these soirées. Music, fostered from the beginning at Elkhart, continued at Goshen in the performances of a Ladies' Choral Society and the Sunshine Male Chorus, among other groups. True to Wilbur Stonex's prediction, the town benefited from campus's cultural offerings, and in its turn supplied venues and collaborators for various shared projects such as a performance of Handel's "Messiah" held in the First Methodist Episcopal Church.

Campus religious life both extended the patterns familiar from Elkhart, and pioneered new ground. The Young People's Christian Association, an organization nurtured at Elkhart Institute by Principal Byers, surged after transplantation to Goshen – "the strongest, most powerful and permanently most useful organization" on campus, according to historian Umble writing in 1955. Soon Goshen sent delegates from its YMCA and YWCA to annual national conferences at Lake Geneva and Lakeside, Ohio.

When it came to forming a campus-related Mennonite congregation, something new emerged. The school was no longer within reach of Elkhart's Prairie Street congregation. The Mennonite church closest to Goshen at the time was the Clinton Frame congregation, six miles to the east. For a month or two, seemingly with cross-denominational ease, the campus community joined services with the Christian Church congregation in their little white building on South Main Street, with minister J. S. Hartzler supplying the pulpit for both groups.

By November 1903, a unique, campus-based congregation came into being which reflected the two main strands of the institution's constituency, Mennonite and Amish Mennonite. The Indiana-Michigan Mennonite Conference and local Amish-Mennonite bishops collaborated to authorize a joint, or "union," Goshen College Mennonite Church that would accommodate both traditions. In short order, the congregation held Sunday school, worship and communion services and commissioned two mission workers to India. In January and February 1904, as part of a Winter Bible term, preacher Sanford G. Shetler conducted meetings that led 15 at the college to confess Christ; the Mennonite students received baptism by sprinkling, while the Amish Mennonite candidates simply waited until April, when the temperature of a northern Indiana stream would allow their bishop to perform the ceremony following their tradition.

Finally, a spirit of inventive good humor animated the first year. After a dormitory and administration building were underway, students' next priority was tennis courts – laid out and put to coeducational use in timely fashion (and, in tennis fashions) just north of East Hall. Baseball and track teams were also organized. Students soon gallantly formed a volunteer fire brigade. Chronicles of the year also mention boating, ice skating and sleigh-riding (one apparently nostalgic outing as far as Elkhart). Early photographs reveal swimming parties in the Elkhart River above the dam; a bluff there was soon dubbed College Point.

Many activities brought together faculty and undergraduates; the numbers were intimate enough, and the faculty young enough, for plenty of informal interaction and good-natured ribbing.

Women students were housed in East Hall, with men off campus, but the latter were admitted into the dormitory for visiting hours from 8 to 10 p.m. on Sunday nights. A published student "Calendar" alludes to furtive after-curfew escapes and returns and depicts a night watchman, lantern at his side, keeping slumbering vigil on the East Hall stairs. Students and some faculty took meals together in the East Hall dining room, where a faculty table could be uproariously noisy, and at least one hungry fellow lamented the infrequent appearance of pie on the menu. Such shortages were ameliorated by taffy-pulls, "feeds" enjoyed courtesy of home-sent care packages and, for the seniors, the treat of an end-of-year meal in the home of President Noah and Mrs. Emma LeFevre Byers.


With sweetness and light
On the occasion of commencement in June 1904, class salutatorian H. Frank Reist, a member of the Aurora Literary Society and a future Goshen College president, welcomed the audience gathered in the Administration Building. Standing on the Assembly Hall platform, he acknowledged the strides made since the previous June: "A comparatively short time ago we were anxiously looking forward to the erection of this building." His speech went on to sound notes consistent with the phrase "Culture for Service," words used by President Byers in his October inaugural address and adopted in April as the Goshen College motto. "We have looked forward to this event with pleasant anticipation," Reist declaimed, "not with the thought of having successfully finished a prescribed course of study, but as an event which indicates our entrance into a broader and more useful avenue of life. … New fields of labor and need constantly appear upon our horizon."

Fellow 1904 graduate Fannie Coffman, in composing the "class prophecy," envisioned a future 20 years hence in which she toured the world to find her classmates laboring among the factory girls of New York City, leading a mission in West Africa, working in Brazil as a combination coffee planter-philanthropist, preaching in Oregon and ranching in Missouri – the student in this latter prediction having renounced his earlier notion of becoming President of the United States. Upon return from this trip, Fannie Coffman imagined, "I recalled our motto, 'Culture for Service.' Were we not all living it? Yes, each in his own way was performing a noble service for mankind. The culture received at Goshen College was bringing sweetness and light to many a weary burdened heart."

Outside the Administration Building, water bubbled over the basins of a new fountain, the gift of the Coming Men of America literary society (soon to be known as the Adelphians). Earlier in the week, C.M.A. secretary J. E. Hartzler had formally presented to President Byers the fountain and surrounding sidewalks – no more planks or wheat shocks strewn about this campus. Walking out of Assembly Hall, with culture and service, sweetness and light still in their ears, the people were met with the sight of a graceful fountain: a vision of Goshen College taking beautiful, and perpetual, shape before their eyes.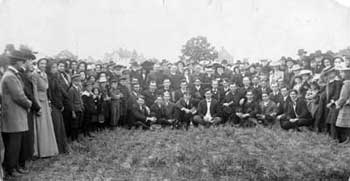 Groundbreaking, June 12, 1903
The Goshen News-Times reported that the 2 p.m. groundbreaking ceremony for Goshen College attracted 250 or 300 people to a small area cut in a wheat field. Goshen attorney Anthony Deahl, president of the Goshen Commercial Exchange, delivered an "able address, setting forth the interest Goshen has in location of the school here and the interest felt in the aims and objects of this Mennonite school of higher education, both educational and spiritual." Future business manager J.S. Hartzler suggested that all sing "Blest Be The Tie That Binds." The News-Times concluded: "Certainly this was an auspicious day for Goshen and Goshen College."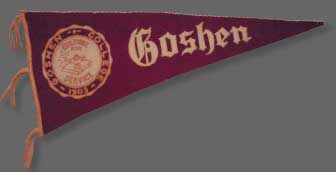 GC pennant, ca. 1916
Formerly owned by J.C. Meyer '16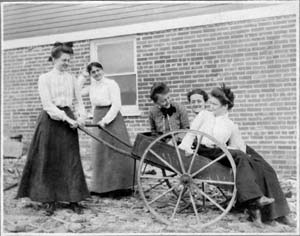 College cart, ca. 1904
The "college cart," an example of an artifact tied to campus traditions of an era nearly forgotten, served purposes of utility and entertainment, but primarily hauled student trunks to and from the rail depot when they arrived in Goshen. Poems and orations published in the Record at the time of the retirement of the second cart of three (1919) suggest a wide variety of other, mostly mischievous, uses; on at least one occasion a late night foray north on Eighth Street aroused faculty members from their sleep.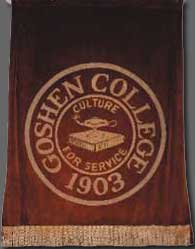 Culture for Service seal
From original Union Building stage curtain, 1949
In April 1904 the college adopted "Culture for Service" as its official motto. The phrase was the title of an early speech by President Noah E. Byers. A scrapbook kept in the 1930s by Ina K. Slate suggests she may have been the designer of the college seal. Slate taught art education at GC from 1916 to 1923; her husband, George, was president of Western Rubber Co. in Goshen. In 1933, at the age of 60, she enrolled as a GC student, graduating in 1936.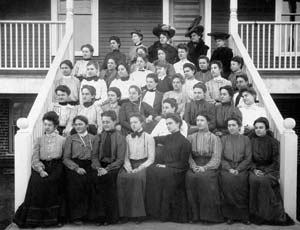 Ladies on East Hall steps, 1904
The 1904 residents of East Hall, from about 10 different states, each paid 75 cents per week for a double room (including heat, light and 12 pieces of laundry); meals were $1.85 per week or $22 for term. Men roomed in private houses near campus until Kulp Hall was built in 1906.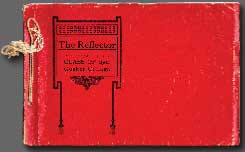 Reflector, 1904
The original Goshen College yearbook, before it became the Maple Leaf.

What were they thinking?
Quotes from the 1903-04 issues of the Goshen College Record (formerly known as the Institute Monthly)

"Just as we go to press the news comes from Goshen that $10,000.00 has been raised to locate the Institute at Goshen."
(Institute Monthly – May 15, 1903)

"A temporary stage had been erected in the center of the site of the proposed first new building at the south end of the campus. Stakes were driven to show the outlines of the structure and the wheat was cut away from this space."
(Goshen College Record – June and July, 1903)

"We expect to do all we can for those who must make their own way through school. Some of the best students belong to that class and the College can not get along without them. But the 'if-you-get-me-a-nice-easy-place-I'll-come' class had better stay at home. Only hard work and real merit will win at Goshen College."
(Goshen College Record – August 15, 1903)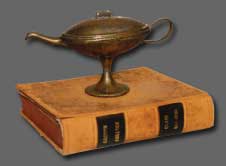 The book and the lamp
In 1910, GC graduates began signing their names in this record book. The book and the lamp illustrate the college seal.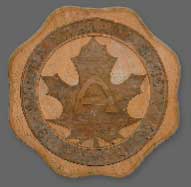 Literary societies
In Elkhart, this institution's student body had divided itself into four literary societies. The societies had particular interest in fostering the literary and oratorical interests of their members. Strong group identity meant that many other informal campus activities ranging from athletic to musical, perhaps even romantic, divided along literary lines. The four societies disappeared from campus life about 1962. There were two pairs of societies for men and women. The female Avons (with the motto "Esse Quam Videri") were paired with the male Auroras (with the motto "Forward"). The female Vesperians (with the motto "Excelsior") were paired with the male Adelphians (with the motto "We learn to do by doing").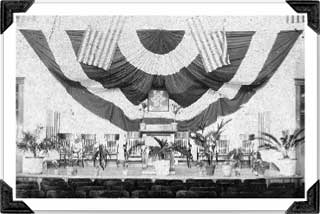 Commencement reception, 1904
In April 1905, citizens of Goshen hosted GC students and faculty at a reception in the newly completed Administration Building's Assembly Hall so townspeople could visit and learn more about the college, express their gratitude and "extend the hand of fellowship." Extra street cars were added to help transport people to the south end of Goshen that evening. The room was decorated in red, white and blue, flags and carnations; the Rogers' orchestra played many popular selections.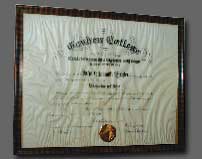 Bachelor of Arts diploma, 1910
GC did not offer a four-year degree until 1910. John E. Hartzler (1879-1963), a member of the Class of 1904, had returned to complete his bachelor's degree and was the first to be handed his diploma that year. After graduation he began serving as dean of GC's Bible school and, from 1913 to 1918, was GC's president.
In 1915, M.C. Lehman received the only master's degree to be awarded by Goshen College to date.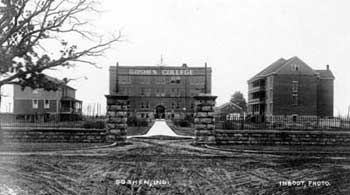 FROM THE COLLECTION:
A century ago, the City of Goshen's Commercial Exchange campaigned successfully to entice the Elkhart Institute to move its campus to Goshen. The exhibit "100 Years of Goshen College in Goshen" pays tribute to all that has come since the first day classes began, on Sept. 29, 1903. Hosted in the Goshen College Library Gallery, the exhibit will continue through Oct. 5.

The Mennonite-Amish Museum Committee and the Mennonite Historical Library sponsor the exhibit. The Library Gallery is located on the lower level of the Harold and Wilma Good Library. Call the Mennonite Historical Library at (574) 535-7418 to verify library hours.

Thanks to Mennonite Historical Library and exhibit curator Joe Springer for his historical assistance on this issue of the Bulletin.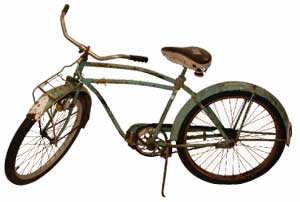 S.W. Witmer's bicycle
S.W. Witmer (1888-1990) taught biology from 1910 to 1959. After he turned 70, Witmer began biking, rather than walking, from his South Eighth Street home to campus. He maintained this ritual, rain or shine, until sometime in his 90s.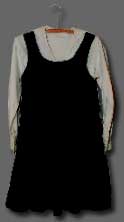 Women's gymsuit, ca. 1936
Formerly owned by
Wilma Miller Smith '39
Wilma Miller (later Smith), captain of one of two sophomore women's basketball teams in 1936-37, when her team won second place in the intramural tournament, winning four of seven games.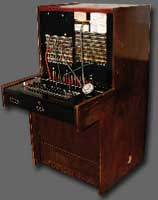 Westlawn switchboard, late 1960s
Although GC probably had a telephone on campus almost from the beginning, individual offices did not typically have telephones until the 1950s. A switchboard went into Westlawn lobby in 1956 and, about a decade later, this larger switchboard replaced the first one. By 1987, when telephones were installed in each dorm room, this model was already unused and obsolete. A former student switchboard operator, William (Bill) Archibald '81, took pity on it, and saved it from the junk heap.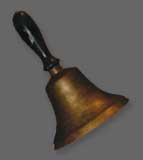 Kulp Hall dinner bell
Formerly owned by Mary Royer '30
Before construction of Westlawn in the early '50s, students dined "family style" in the basement of Kulp Hall. This dinner bell was rung before the meal prayer.