The Bulletin – Spring/Summer 2020
The Spring/Summer 2020 issue of The Bulletin will arrive in mailboxes in mid-June. Look for yours!
ABOUT THE COVER
Unable to be on campus in person, the 218 members of the Goshen College Class of 2020 were each honored in a virtual commencement ceremony on April 26, 2020 — the first commencement in our 125-year history to be solely held virtually. This mosaic featuring each of their photos is a tribute to this incredible class, whose final year was cut short when they were thrown a curveball that no one saw coming. Their perseverance, versatility and resilience is an inspiration to us all. Congratulations Class of 2020!
FROM THE PRESIDENT
The future that we will create
FEATURES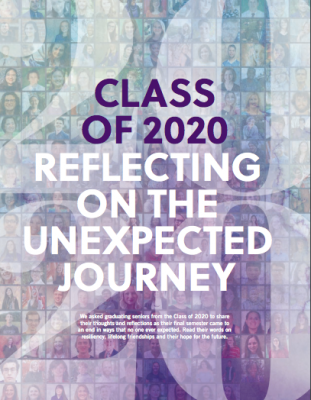 Reflecting on the unexpected journey
In this unprecedented season, members of the Goshen College Class of 2020 share their thoughts and reflections as their final semester came to an end in ways that no one ever expected.
• Evan Beck '20: Life lessons from a house
• Megan Bower '20: We're all connected through this experience
• Taliah Borom '20: Finding my people
• José Chiquito-Galván '20: A vision for a better tomorrow
• Siana Emery '20: 'Move forward with heads held high'
• Riley Friesner '20: Life has surface noise
• Natalie Graber '20: 'Heaven knows how we will get there, but we know we will'
• Rachaelann Klink '20: A lesson in resilience
• Mandira Panta '20: The world isn't ready for us
• Delphin Monga '20: Making my dream a reality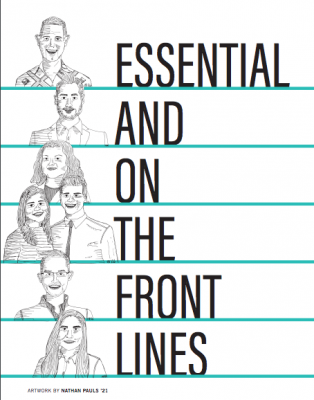 Essential and on the front lines
As doctors, nurses and researchers, GC alumni talk about finding meaning and purpose as they work to cure and find cures for COVID-19.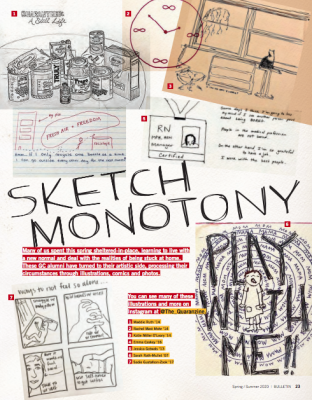 Sketch monotony
Meet some GC alumni who have turned to their artistic side to process quarantine and the pandemic.
When GC closed during the 1918 flu epidemic
Goshen College has closed its doors due to Covid-19, but the college faced a somewhat similar situation 102 years ago.
LASTING TIES