Siana Emery '20: 'Move forward with heads held high'
In this series, graduating seniors from the Class of 2020 share their thoughts and reflections as their final semester comes to an end in ways that no one ever expected. 
---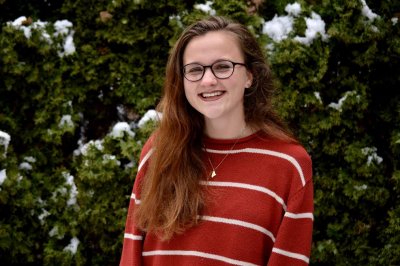 There were a lot of things I anticipated occuring in my final weeks as a Goshen College student. COVID-19 was not one of them.
When all of this first began shifting from a problem in a far-off country to disrupting every aspect of life, I was nothing short of devastated. In the course of less than a week, my entire world fell apart. Among so much else, I had anticipated an effort to break the school record in the 5k racewalk, soaking up the many "last" experiences at campus events, and of course, walking across the stage in the Rec-Fitness Center on April 26 in front of my family and friends.
As life has begun to settle into a new, rather surreal, pattern, I have been able to sort through my emotions a bit more and consider what it all might mean.
As emotional as the last few weeks have been, I have become more thankful than ever for the community that Goshen College has given me. Faculty and staff have shown such an outpouring of support for all students, but especially seniors, and for that, I am so grateful. No, a virtual commencement is not what I ever could have foreseen, but it is touching that the school is working so hard to give us something. Additionally, support among students is stronger than ever.
This is not a time any of us will forget. And for the Class of 2020, we are learning not to dwell too long on what could have been. Instead, we are finding peace in the things we were able to experience and learning to move forward with heads held high. I've come to realize that this is a class that is entering the world with such a unique shared experience and I believe that will prove valuable in the years ahead.
None of us know what the next few months and beyond will look like. It's a scary, overwhelming time full of disappointment and frustration. But it will come to an end and I firmly believe that we will all be stronger for it. Besides, everyone will always remember the Class of 2020. You can't say we don't know how to make an exit.
Siana Emery is an English Major and a four-time All-American race walker from North Yarmouth, Maine.