When GC closed during the 1918 flu epidemic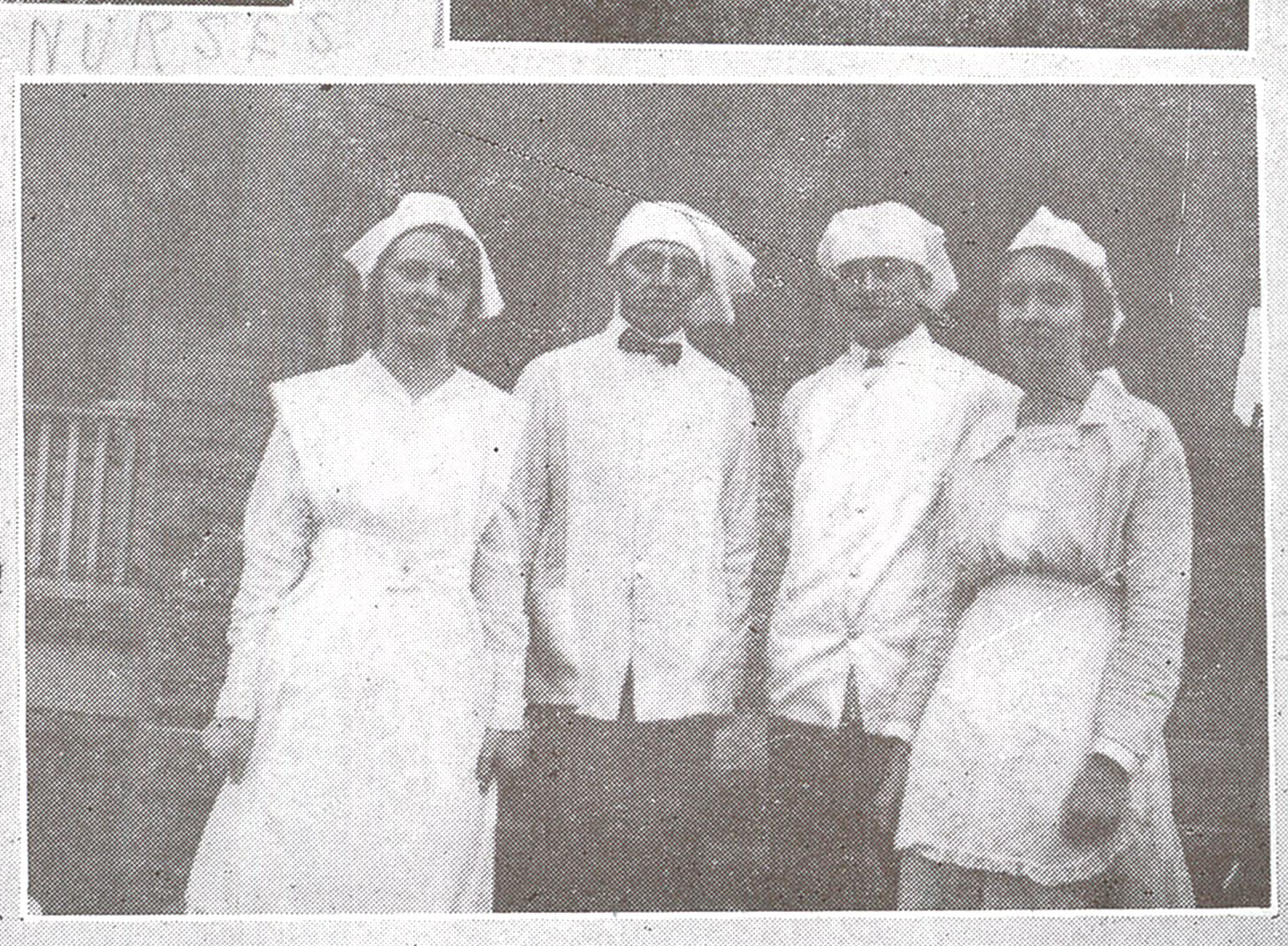 On Monday, March 16, 2020, Goshen College officially closed campus and moved classes online due to the Covid-19 pandemic. But exactly 101 years, 5 months and 10 days before, the college faced a similar situation and shut its doors due to the 1918 Influenza, sometimes known as the Spanish Flu.
All told, the 1918 flu killed as many as 50 million people worldwide, with about 675,000 deaths occurring in the United States, though Indiana was less hard-hit than many states.
Still, the city of Goshen and Goshen College felt the effects of the virus.
According to the 1919 Maple Leaf yearbook and historical records uncovered by Joe Springer, Mennonite Historical Library curator, GC closed on Monday Oct. 7, 1918 and reopened nearly a month later on Tuesday, Nov. 5, 1918.
But without the option of online learning or an easy return for many to their homes, the campus wasn't quite as locked-down as it is today.
"It seems that not everyone moved out of student residences," Springer said. "Students were still engaged in social activities, e.g. a Halloween party on Kulp four."
Springer notes that the flu was not entirely over by the time GC reopened, as evidenced by an article in an issue of The Record published in late November.
"The Spanish influenza at present claims a few mild cases among the girls in the Dormitory. [Seven named women] are having the experience of finding out what the 'flu' is like. We are very thankful that we can continue with our work. We have not suffered nearly as much as some other colleges have - for example our neighboring college North Manchester."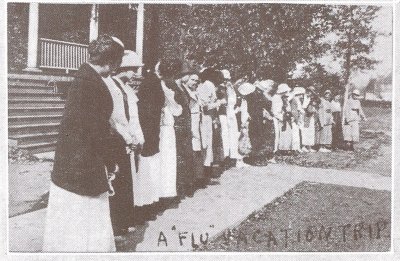 Scattered cases of flu were mentioned in succeeding months. Springer noted that one reason that more women were affected on campus is because of a drop in male enrollment - drafted men either interned in camps as conscientious objectors or served in medical or direct military service. Several of those men did succumb to flu or pneumonia contracted in camps.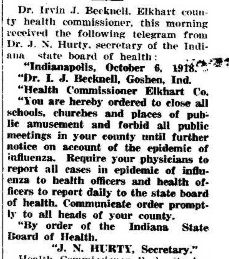 Goshen newspapers from the period mention a state health board order from Oct. 6 that caused the county health commissioner to act:
You are hereby ordered to close all schools, churches and places of public amusement and forbid all public meetings in your county until further notice on account of the epidemic of influenza." (Goshen Daily Democrat published Oct. 7, 1918)
On Oct. 18, 1918, the Goshen Daily Democrat notes that Indiana continued the ban on public gatherings and schools through Oct. 26, but local physicians agreed that the epidemic was already under control in Goshen by Oct. 18, but then extended again. The City of Goshen lifted the closures on Nov. 3. No church services were permitted locally Oct. 13, 20 or 27.