Delphin Monga '20: Making my dream a reality
In this series, graduating seniors from the Class of 2020 share their thoughts and reflections as their final semester comes to an end in ways that no one ever expected. 
---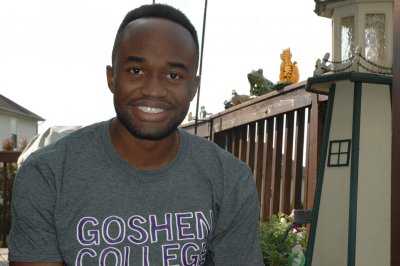 As I look back at my experience as a student at Goshen College, I have learned a lot and made great memories that will always be with me forever. I began as a freshman on academic probation, knew little about college, lacked good English skills and did not have the prerequisites to succeed in college.
I am very thankful for my family, for my college friends, for Goshen's environment and the community, and most importantly, for all the professors who played a huge role in my success as a student and a friend. All of you supported me and were always there for me in my journey. I have learned skills that have shaped my future.
Additionally, my professors provided a space for me to always go for help if needed and opportunities that helped me succeed as a student and a leader. They invited me to attend different conferences and work and volunteer in the community. They invited me to participate in research on campus such as the AlgaeTown project that investigates the cultivation of algae and harvesting more biomass in the interest of saving our planet. I also worked on a chemistry and biochemistry oriented research project investigating the synthesis of a potential drug that could lead to a cure or treatment for Cystic Fibrosis.
I have made great memories with my life-long friends as we have traveled, backpacked, shared cooking experiences and worked together on many school projects.
Due to the impacts of COVID-19, I am disappointed in the shortened SST experience in Tanzania, which was also an opportunity to travel to Uganda to see my mother, whom I have not seen in 16-plus years.
I am thankful for the opportunities Goshen College has given me. When I entered Goshen College, graduation was a dream. You have been most helpful in making that dream a reality. For this I am deeply indebted!
Delphin Monga is a molecular biology/biochemistry major from Lancaster, Pennsylvania.