Essential and on the front lines
As our world got accustomed to physical distancing, life in lockdown and virtual everything, many GC alumni have been out on the front lines in the fight against COVID-19. As doctors, nurses and researchers, they are applying their expertise to cure and find cures. We checked in on some of them and asked, "How are you making meaning and finding your purpose in this moment?"
---
Christian Yoder '80
Palm Springs, California
"Disease and death are a part of living, although we often don't think about it in our North American culture. I am reminded of the HIV epidemic that swept through my community in the 1980s and how random and arbitrary it felt when those around us got sick and died. From that time, I have been very grateful for health, and I live with a sense that all life is fleeting and precious and must be lived to its fullest.
"Now as we are faced with COVID-19 in those around us, we need to be gentle with each other, as we all react differently to this uncontrollable reality. Those who are afraid need to be reassured, those who are fearless need to respect and be patient with those who are afraid. We can choose to isolate ourselves completely or respond to those around us with care as we recognize our common humanity in the face of illness. I hope we can all find ways to be grateful during this season."
Christian Yoder '80 recently retired from managing clinical research trials for emerging global diseases at the National Institutes of Health (NIH), and later at the U.S. Food and Drug Administration (FDA). Now, he has returned to the field, working with the NIH and Indonesian colleagues to plan and implement clinical trials at two hospitals in Jakarta that are caring for COVID-19 patients.
---
Dr. Aaron Miller '96
New York City, New York
"I work long hours, mostly from home. I'm lucky. I have a job and my health. But I know how much suffering is happening all around me, and that weighs on me, like I think it's weighing on many people no matter what part of the country you live in. I cry a couple mornings a week while reading the morning paper and scrolling through videos on social networks. I'm not sleeping great, and I try to make time to relax, but I could do better on that front.
"I have been truly inspired by the countless examples I see of people going out of their way for each other. No matter what your job is, or was, find a way to bring joy or peace to someone's life, even if it's just in small ways. I'm a stubborn optimist, so I know I'll get through this and be fine, but other people won't be as fortunate, so I need to stay focused, for now, in hopes that I can help reduce the amount of pain that is happening in our communities."
Dr. Aaron Miller '96 is a child abuse pediatrician in New York City, and is helping to develop the hospital system's response to COVID-19. He is focused on finding doctors for foster children and supporting homeless shelters to keep people safe.
---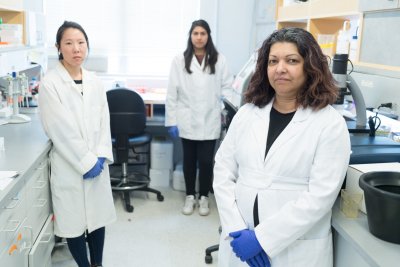 Dr. Rushika Perera '95
Fort Collins, Colorado
"Never before have I felt that I could contribute to human existence as I can today. Finally, those years of hard work and education can be utilized to assist in an international effort to identify antivirals that could interfere with SARS-CoV-2 infection, transmission and pathogenesis. I didn't realize that the expertise and the infrastructure needed for this effort were few and far between until I was being contacted by various folks from around the world in academia, pharma and the clinics asking for help to test their drugs and compounds. Thank you to Goshen College for taking a chance on me as an international student – you have made a difference in the world today."
Dr. Rushika Perera '95 is an associate professor in the Department of Microbiology, Immunology and Pathology at Colorado State University. She leads a team that is testing drugs and chemicals to fight COVID-19.
---
Jessica Shirch '14 & Peter Martin '13
New Orleans, Louisiana
"We are appreciative of the friends and family that have reached out to us and kept us in their prayers. COVID-19 has been probably the most unique challenge that both of us have faced in our young careers. Fortunately, our emergency department at University Medical Center of New Orleans (UMC) is no stranger to disaster; UMC is the safety net hospital that replaced Charity Hospital, which came to fame during the response to Hurricane Katrina. UMC was proactive in its response to COVID-19 and had procedures in place to allow nurses and doctors to manage this crisis.
"Perhaps even more amazingly, the people of New Orleans have really been supportive of the Stay-at-Home order, and our curve is trending downward. We are not completely out of the woods yet, but we appear to be heading in the right direction.
"We love our adopted city and its people. As we care for the most vulnerable New Orleanians during this difficult time, we are thankful for what we learned at GC and are striving to live out our commitment to 'Culture for Service.'"
Peter Martin '14 is a resident at University Medical Center of New Orleans (UMC). Jessica Schirch '13 is a nurse in the UMC emergency department.
---
Jacob Roth '17
New York City, New York
"Overall it's been an incredibly sobering and visceral experience, but also an opportunity to really see humans and humanity at its best, in the care that we're providing and trying to continue to provide."
Jacob Roth '17 is a first-year medical student at the Albert Einstein College of Medicine in the Bronx in New York City, and has been volunteering at Weiler Hospital.
---
Minnie Avila '20
Goshen, Indiana
"I'm a nurse working the frontlines of COVID-19, assisting patients, gathering history of symptoms for providers, obtaining specimens and relaying results to patients. Sometimes I feel like an astronaut; I have my gown, my two layers of gloves, a PAPR (powered air purifying respirator) helmet that covers my entire head with tubing to allow me to breathe. It's definitely been a different experience.
"Goshen College has helped me gain more tools and techniques that I can use to relate to several different cultures within the medical field and patients that I encounter. I feel that my professors have armed me with all the necessary communication tools to do my job effeciently.
"I feel truly blessed and honored to have advanced my nursing knowledge through Goshen College. After receiving an excellent education, I am now fully equipped and prepared to face this pandemic with enhanced leadership, critical thinking and judgment making skills. As a nurse, my purpose in life is to assist others in their time of need. This pandemic has only heightened this desire."
Minnie Avila '20 graduated this spring with a nursing degree, and is currently working at Goshen Physicians Urgent Care.