Evan Beck '20: Life lessons from a house
In this series, graduating seniors from the Class of 2020 share their thoughts and reflections as their final semester comes to an end in ways that no one ever expected. 
---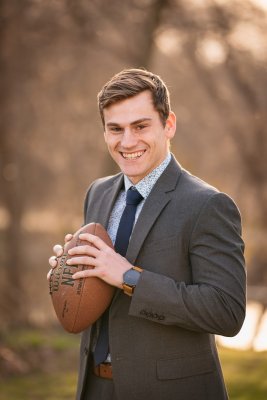 In these uncertain times, our new routines can interrupt our previous sense of meaning and purpose. With much of my pre-coronavirus purpose disrupted, I have discovered new meaning during the past week. Since my high-paying job as a local substitute teacher was effectively terminated, my landlord Adam Scharf '01 generously agreed to trade rent in exchange for some home improvements. Besides giving me a new sense of purpose, these home improvement projects have taught me some invaluable life lessons that are worth passing on during this unprecedented time:
Our expectations rarely match reality.
Surprisingly, Sketch House (located across the street from GC) hasn't become a $1.5 million mansion, even after I trimmed the bushes and repaired the drywall. Similarly, I didn't think my senior year of college was going to end like this.
We are not as skilled or knowledgeable as we think we are.
Yesterday, I spent 15 minutes trying to figure out how to work Adam's electric trimmer before I realized I hadn't put in the battery. With the sheer amount of misinformation and new daily data regarding COVID-19, it is important to stay informed, yet practice humility.
Sometimes you just need a change of perspective.
Sure, that bush on the southeast corner looks pretty bad from five feet away, but it looks great when you're going 35 miles an hour down Main Street. When we confront our anxieties related to the coronavirus, it can be easy to only fixate on a singular problem or perspective. Instead, like any home improvement project, if you take care of the small things, the big things will usually take care of themselves.
Evan Beck is a molecular biology/biochemistry major from Goshen. He's a member of the men's tennis team and served as vice president of the Student Athlete Advisory Committee.