Students study honeybees, racial identity, Latin American music and more in summer research program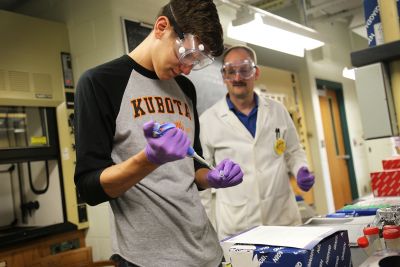 This summer, 18 Goshen College students are participating in the Maple Scholars Summer Research Program.
Maple Scholars is an eight-week long intensive study and research program that pairs students with faculty members who serve as supervisors and colleagues. The program – which welcomes students from all academic disciplines – provides student scholars with the opportunity to conduct hands-on research while working closely with their faculty advisors.
Throughout the summer, the students live together in a community of scholars and take part in weekly presentations of their research during Friday colloquiums. The program concludes with a celebration where the scholars' results are presented to their peers and the public.
The 2015 Maple Scholars students include: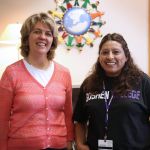 Guadalupe Arellano-Nelson, a nontraditional student studying social work from Dowagiac, Michigan, will work with Carol Jarvis, associate professor of social work, on the Needs Assessment of the Latino Community Research Project. Arellano-Nelson is collaborating with community members and Ryan's Place, a local children's grief center, to better understand the needs of the large Latino population living in Goshen. The project aims to better understand the bereavement support services of the Latino community. Arellano-Nelson is also working to develop a survey in Spanish with hopes of getting good feedback from the Latino community so that Ryan's Place can better serve this population.
---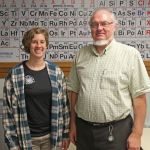 Anneliese Baer, a senior Bible and religion major from Villa Ridge, Missouri, is working with Paul Keim, professor of Bible and religion, on a project titled "Theodicy and Martyrdom: The Anabaptist Reception of the Book of Job." Baer is examining documents used by 16th and 17th century Anabaptists such as "Martyrs Mirror" and works by theologian Menno Simons, as well as translating small quantities of the Hebrew text of Job, which will be helpful for Keim's work in writing a commentary on the book of Job for the Believer's Bible Commentary. Baer will conduct research on connections between the suffering of persecuted Anabaptists and that of Job. Additionally, she is researching the historical shift in Anabaptist interpretation of the book of Job.
---
Kenan Bitikofer, a sophomore music and computer science double major from St. George, Kansas, is working with David Housman, professor of mathematics, on the Game Theory Project. Bitikofer is creating and analyzing simulations of populations where individuals may choose to cooperate or defect in playing a game against adjacent players. More simply, Bitikofer is examining situations in which agents choose to cooperate or exploit their neighbors for their own benefit.
---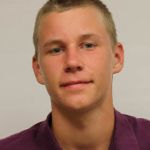 Isaiah Breckbill, a junior physics major from Kidron, Ohio, is working with Paul Meyer Reimer, associate professor of physics. Breckbill is looking at changes in groundwater by using gravity measurements from NASA's GRACE satellite. He and Meyer Reimer are developing software tools to map and analyze changes in groundwater.
---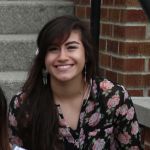 Karina Flores, a junior broadcasting major from Goshen, Indiana is working with Kyle Hufford, FiveCore Media general manager, on a project called "The Goshen Spotlight." For the project, Flores' goal is to capture the untold stories of Goshen on film—basically, figuring out what makes Goshen unique, and who is quietly impacting the community. So far, Flores has created a short documentary on the Revive Indiana movement and the ways that it brought diverse people together, and her current project is a piece about The Chief's significance to the community. Other projects in the works include stories on the Interurban Trolley system, Habitat for Humanity, the Goshen Theater and the Write on Sports camp at Goshen College.
---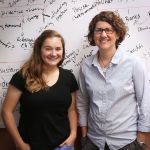 Elizabeth Franks-North, a senior English major from Greensboro, North Carolina, is working with Suzanne Ehst, associate professor of education and director of secondary education, to study the discrepancy between teaching theory and actual classroom experiences. In light of a new national standard that assumes preservice educators understand how to implement social justice and the ways that it affects the academic success of a diverse student body, Franks-North is studying how English educators are incorporating social justice into their curriculum and pedagogy. Franks-North and Ehst hope to publish a piece that explores the complications of this new standard and the ways to bridge the gaps between theory and practice.
---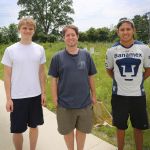 Alejandro Genis, a senior molecular biology and biochemistry major from Elkhart, Indiana and Nate O'Leary, a sophomore molecular biology and biochemistry major from Seattle, Washington, are working with Andy Ammons, associate professor of biology. Within bee communities, there is a specific behavior called "drifting," when bees enter the wrong hive or end up in the wrong location after having been collecting food for a while. This behavior can lead to colonies dying off, so the goal for Genis and O'Leary is to minimize this behavior.
---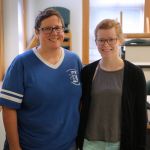 Kayla Gray, a junior biology major from Bridgton, Maine, is working with Lisa Zinn, assistant professor and environmental educator at Merry Lea Environmental Learning Center. Gray is participating in bird banding while also doing research on Northern Cardinals in order to discover a successful method of determining their age by using the underwing coverts. (A covert is one set of feathers that help smooth airflow over the birds' wings.) Gray is also monitoring the bluebird boxes at Merry Lea.
---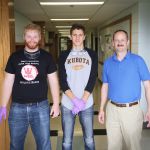 Stuart Kurtz, a junior chemistry major from West Lafayette, Indiana, and Jacob Swartley, a senior physics and biology double major from Harleysville, Pennsylvania, are working with Dan Smith, professor of chemistry, on pigeon color genetics. This is a long-time project designed to define genes in homing pigeons that affect their physical appearance—specifically, the color of their feathers.
---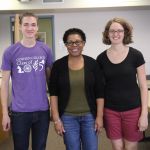 Eva Lapp, a 2015 graduate with a degree in peace, justice and conflict studies (PJCS) from Goshen, and Seth Miller, a 2015 graduate with a degree in history and social research from Wellman, Iowa, are working with Regina Shands Stoltzfus, assistant professor of PJCS. The project, titled "Racial Identity Mediated Through Faith Identity: Does a Historic Peace Church Perspective Influence an Understanding of White Racial Identity?" explores the construction of, experience with, perceptions of and overall themes arising from discussions of white racial identity. The project arises out of the idea that amidst conversations on race and racism, the white racial identity is rarely or never discussed. The project consists of interviews with white-identifying persons and the themes from their stories and experiences.
---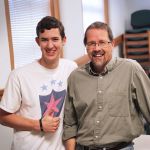 Tim Litwiller, a sophomore communication major from Peoria, Arizona, is working with John D. Roth, professor of history. Prior to the Mennonite World Conference at the end of July, Litwiller will produce a promotional video for the Bearing Witness Project that will inform and persuade individuals to share their stories of faith and costly discipleship from their own culture and background. Roth and Litwiller will then travel to Harrisburg, Pennsylvania for the conference to conduct film interviews. Learn more about this project at www.martyrstories.org/about/.
---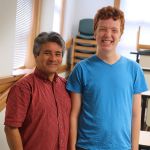 Jake Smucker, a 2015 graduate with a degree in music from Woodward, Pennsylvania, is collaborating with Nayo Ulloa, adjunct Spanish professor, as well as composer Jaime Diaz Orihuela, with the goal of creating a professional booklet of Orihuela's music. Smucker's project consists of transcribing Orihuela's songs and working with Ulloa and Orihuela to provide translations, program notes and historical context. Additionally, Smucker and Ulloa are doing a harmonic analysis—looking at the chords and chord progressions—of Orihuela's music in order to understand how his music functions. Smucker hopes that the final product will contribute to the classical Latin American body of music and make Orihuela's music more accessible to the modern musician.
---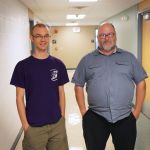 Bobby Switzer, a 2015 graduate with a degree in peace, justice and conflict studies (PJCS) from Berne, Indiana, along with Joe Liechty, PJCS, are working on a project to construct and administer a survey to graduates of the PJCS program at Goshen College. Switzer will be crunching data and finding presentation mediums for the results. Switzer's hope is to have a PJCS fact sheet, brochure and updated website by the end of the summer.
---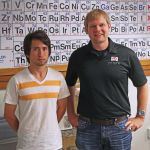 Benji Thapa, a 2015 graduate with a degree in art from Kathmandu, Nepal, is working with Kyle Hufford, FiveCore Media general manager. Thapa is working with the Asian Rural Institute (ARI), a Japanese training center for rural leaders, making templates for their graduate staff so that they can have profiles for each of their graduates. Thapa's goal is to generate a simple template so that future profiles can be easily created. He will also be adding some profiles to their website when the template is complete.
---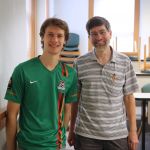 Bryan Yoder, a senior physics and mathematics double major from Manheim, Pennsylvania, and John Ross Buschert, professor of physics, are designing and building an electronic musical instrument. Yoder is looking to make a design for the instrument that has an engaging interface, can be played with variations in tone and style and can be easily learned while sounding good when played by beginners.