Professor of Physics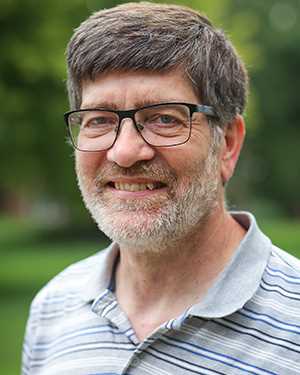 Education
B.A., Goshen College, 1981
M.S., Purdue University West Lafayette, 1985
Ph.D., Purdue University West Lafayette, 1989
(574) 535-7301
General Physics I and II – PHYS 203-204 

Electronics – PHYS 304 

 Optics and Holography – PHYS 305

Modern Physics – PHYS 210 
Physics of Music – PHYS 240 

A study of the physics of a variety of musical instruments including the voice, the physical origins of musical scales and temperaments, perception effects in the ear and brain and room acoustics. Many class sessions will be laboratory experiences and each student will do a major project. Syllabus
Statics

Directed independent study of engineering statics for students intending to continue in engineering.  
Research Seminar – PHYS 101 

An introduction to the department and to physics and engineering as careers. Presentations by faculty and students of research, introduction to the scientific literature and scientific writing, individual research on a chosen topic.
Descriptive Astronomy – PHYS 154 

An introduction to astronomy including the study of the solar system, stars and stellar development, galaxies and cosmology. Laboratory experience will include astronomical observation and measurement. Syllabus