Housing Info Night
Residence Life will be having an information meeting about housing options for the '22-'23 school year on Tuesday 3/8/22 at 9pm in AD28. Come with questions or just if you are curious about your options.
---
Intentional Living Communities
Applications are no longer being accepted for fall 2021.
Available for 2022-2023:  Howell House (coed 9-12), Kenwood House (coed 7-10), East Hall (coed 9-12)
All group members will need to submit a $200 deposit before submitting an application
Applications are due March 14th, by 5 PM.
ILC Housing Assignments for Fall 2020 will be announced by March 16th, 2022
CLICK HERE to Apply for an ILC
CLICK HERE to Apply for The SENIOR DISCOUNT
---
---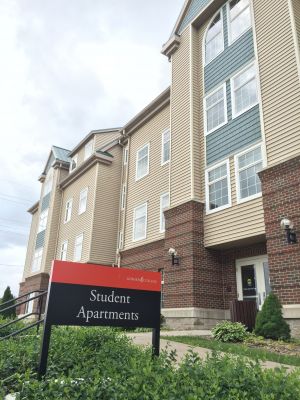 Romero Student Apartments

Returning student groups can reserve an apartment until we've reached capacity. 

Only 2020 high school graduates or earlier are eligible.
Starting Monday, March 21 we will begin taking applications for all eligible student groups
(2020 HS Graduates and before)
. Seniority will be given to senior students who submit an application before Thursday, March 24. At that time all new applications will be processed in the order they are received. We will only process apartment group applications with verified deposits. Deposits can be submitted online here: 
http://mygc.goshen.edu/services/
We will begin notifying groups of assigned apartments by Monday, March 28 – April 1st.
All group members are required to submit a $200 Deposit prior to filling out an application.
CLICK HERE to begin the application process for Romero Student Apartments
CLICK HERE to Apply for The SENIOR DISCOUNT
CLICK HERE if you are interested in Romero Apartments but don't have a group.
---
Kulp Hall, Kratz Hall and Yoder Hall
Room Sign-up
Sign-up in person on Wednesday, April 6th @ 9:00 PM at AD 28
Residential students who graduated high school in 2021 or 2022 are required to live in Kratz or Yoder Hall.
2020 High School Graduates and before are eligible for Kulp Hall single rooms.
Can't make room sign-up night? Starting on April 6th you can sign-up online by CLICKING HERE.
$50 Room Deposits are required for Kulp, Yoder, and Kratz Hall before signing up.
CLICK HERE to Apply for The SENIOR DISCOUNT (Kulp, Romero, ILC Only)
Not on campus this fall? Apply here to secure a room for spring only.
CLICK HERE if you don't have a roommate and would like us to help you find one.
CLICK HERE for more information about our residence halls.
---
Housing Rates for 2022-2023 School Year
Kratz, Miller, & Yoder 
Double/Triple/Quad Room at Capacity………… $2995
Double Private Room (No Roommate) …………$3745
Kratz/Miller Small Single Room ………….…..… $3245
Quad Room 1-Below Capacity ………………… $3245
Quad Room 2-Below Capacity ………………… $3745
Triple Room 1-Below Capacity ………………… $3370
Senior Discount……………………………………$2095
Kulp Hall  [KU] [KUN]
Traditional Single …………….…………..……… $2920
Super-Sized Single ……………………………… $3170
Double Room at Capacity (RM 207/307)……….$2920
Senior Discount Rate …………………………… $2045
Coffman Hall [CO]
Traditional Single …………….…………..……… $2920
Double Private Room (No Roommate)………….$3170
Double Room at Capacity………………………..$2920
Senior Discount Rate …………………………… $2045
Student Apartments [SA]
Traditional SA at Capacity………………………. $3525
Traditional SA Below Capacity …………………. $4025
Traditional SA Above Capacity (Shared RM) ….…. $3025
Loft Style Apartment (3-Residents) ……………. $3525
Loft Style Apartment (4-Residents) ……….…… $3025
Senior Discount Rate …………………………… $2470
Special KMY Rate…………………………………$2995
Intentional Living Communities [HO] [KE] [EA] [KUS] [SA] 
Howell, Kenwood, and East Hall…………….…. $3275
Kulp South …………………………………..…… $3275
Kulp West …………………………………..…… $3275
Student Apartment ILC …………………….…… $3525
Senior Discount Rate …………………………… $2295
MEAL PLANS
Carte Blanche Unlimited (+$30 MM)…………… $2555
65 Block Plan (+$140 MM)………..…….….…… $1050
30 Block Plan (+$125 MM) …………………..……$465*
*Only available to commuters and senior discount qualifiers