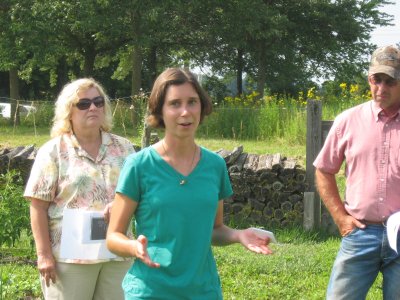 "I'm fascinated by sustainable agriculture because botany is one of my biggest passions," explains Jess Raffel, an environmental science major with a concentration in agroecology.
While a high school student in Indianapolis, Jess took an AP environmental science course and realized she'd like this field to be part of her future. So she looked for colleges with strong environmental science programs and ended up at Goshen College.
Jess's plan of study included spending the summer of 2017 at Merry Lea Environmental Learning Center of Goshen College for the Agroecology Summer Intensive (ASI). In addition to working in the market garden, woody perennial polyculture fields, greenhouse and barns, the ASI students had free rein in the kitchen garden where they planned and planted their own plots.
"Designing a plan, implementing it together and seeing stuff come up was fun," Jess recalls.
Cooking and eating together at Merry Lea has proved an adventure as well, as the group experimented with crops—and weeds– growing on site. Edible flowers? Purslane? Purple beans?
It was a summer of new food and improvised recipes.
One reason Jess looked forward to the ASI was the opportunity to see what her career options might be. The ASI cohort took weekly field trips to a wide variety of farms and other businesses related to agriculture. Jess might not have thought of earthworms as a crop until she visited Iroquois Valley Farms in Huntington County, Indiana. In addition to their expertise in growing organic grain and tomatoes, this farm raises worms for their castings—a soil amendment. Other field trips included a potato farm, a poultry plant, Pioneer Seed Corn and Sherck Seeds, a farm that produces heritage grain varieties.
Jess says she fantasizes about having her own farm some day with ducks and goats and many different crops. For now though, she's spending a few extra weeks at Merry Lea for internship credit. A bonus includes the chance to milk the new goats—a first for the Merry Lea Sustainable Farm.