Agroecology Summer Intensive
Overview
The Agroecology Summer Intensive (ASI) is a residential program based at Merry Lea Environmental Learning Center's Sustainable Farm. Students live, work, eat, and play together in an immersive residential learning community housed within our LEED platinum certified cottages at Rieth Village. This ten-week summer intensive is the keystone of the new major in Sustainable Food Systems and the agroecology minor, but is open to students of all majors and welcomes students from other colleges who can transfer earned credits to their home institutions.  Applications are accepted for Summer 2020 through March 31st.  
The Agroecology Summer Intensive is a program focusing on sustainable agriculture with emphasis on interconnected systems and interdisciplinary learning, making the ASI program broadly relevant. Agroecology is an important part of the growing effort to make human activities more compatible with natural ecosystems. ASI students not only learn about growing food, but also gain practical life skills while engaging in interdisciplinary, culturally-rich learning.  Not only will students learn science concepts, students will also learn about cooking, nutrition, social systems, and the economy of food and farming!
Program Description
Living at Merry Lea for the summer is an adventure. Sustainable living at Rieth Village is an important part of the educational experience. Students live in a LEED-certified eco-village sharing meals, working and studying together daily. Throughout the program, students will interact with peers from Goshen College and other institutions, and engage with program faculty, staff, Merry Lea Sustainable Farm interns, and volunteers who may be local to the area or from other regions or even countries. Weekly integrative sessions include regional travel to a variety of farms and food-related enterprises.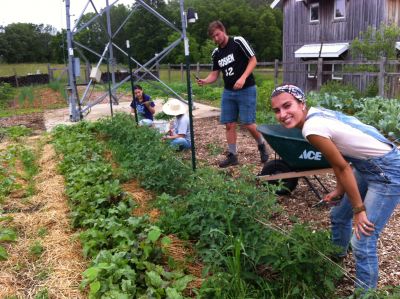 Students will not only gain a greater understanding of ecosystem functions, but will also be exposed to a wide a range of agricultural production practices. The ASI program also explores social and economic systems and allows students to participate in agricultural management and decision making processes. Students will experience life in an academic community and have the opportunity to explore the intersection of faith, environment and agriculture.
Participants leave the ASI at Merry Lea better equipped for lives of thought and purpose in their homes, communities and world. Many have gone on to pursue careers in small-scale farming, work for hunger relief organizations, serve overseas in development-related projects, enroll in graduate programs in various environmental fields, including law, or return to family farms. Others pursue careers unrelated to agriculture but garden at home and/or contribute to community gardens.
We welcome you to our next Agroecology Summer Intensive! To take the next step and learn more about the application process, contact John Mischler:
To learn more about the vegetable production, soils, agroecology, and small farm management and marketing courses, see the Agroecology Summer Intensive course listings.
Agroecology News & Events
Frequently Asked Questions
What are the dates?  The Agroecology Summer Intensive takes place during the summer semester (ten weeks) of the academic school year. For more information, please visit our application and registration page.
What is the deadline for receipt of my completed application? Please visit our application and registration page for this information.
Where are the courses delivered? In the classrooms, gardens and environmental laboratory of Merry Lea Environmental Learning Center.
How many credits would I earn?  15 credits for the four courses and the Merry Lea Farm Internship.
Can I take just part of the program?  It is highly recommended that all 15 credits making up the ASI be taken together as a unit.  Other options are possible.  Please contact John Mischler (jamischler@goshen.edu) with your specific questions.
What alternatives are available if I do not need college credit?  A certificate program allows you to participate in the ASI, but instead of college credit you will receive a certificate of participation.
What does the ASI cost?  ASI is included in Goshen College's tuition, however for more information about the cost for students from other colleges, please visit our tuition and financial aid page.
Is room and board included in the cost?  Room and board is a separate cost. Housing is provided at Rieth Village. Food is at the expense of the students although fresh vegetables are available from the greenhouse and kitchen gardens. For more information, please visit our tuition and financial aid page.
What should I be sure to pack? You will want to bring all of your own linens (i.e. sheets, towels, pillows), a bicycle if you own one, food for personal meals and snacks, a laptop if you own one, a lunchbox, a swimming suit, and good quality rain gear. For a more extensive packing list, see the Rieth Village packing list. Any further questions can be directed to Tom Hartzell.
An alumnus tells the story of how the Agroecology Summer Intensive helped him find his passion in life: sustainable farming.
What do I not need to bring? At Rieth Village, you will be provided with refrigerators, microwaves, pots and pans, cooking utensils, dinnerware, silverware, cleaning supplies, dishwashing supplies, laundry detergent, a bed, a dresser, a desk, and a desk chair. Any further questions can be directed to Tom Hartzell.
I don't attend Goshen College; must I enroll at GC in order to participate?  Yes, but only for the summer term. Credits are then transferable to your home institution. For more on this, see the application and registration page.
What are the course prerequisites? None, the ASI experience is intentionally designed to welcome students from all academic backgrounds to take part in this truly multidisciplinary summer semester.
Faculty