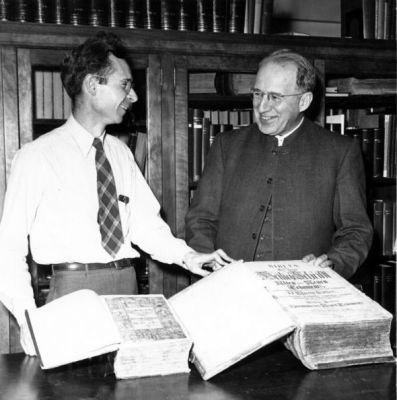 One of the world's most comprehensive collections related to Anabaptist and Mennonite history
On June 13, 1906, the Alumni Association of Goshen College passed a resolution to establish a Mennonite Historical Library (MHL). The collection grew slowly, occupying only three shelves in the college library by 1927. About this time Harold S. Bender and Ernst Correll revived the Mennonite Historical Society and through it began a campaign to collect Anabaptist-Mennonite historical materials. The acquisition of the John F. Funk library in 1930 and the major part of the historical collection from the Mennonite Publishing House at Scottdale, Pennsylvania, in the 1940s greatly enriched the collection. The latter, maintained as a memorial to the Mennonite historian John Horsch, is particularly rich in Reformation materials.
The library includes bibliographies, texts and images on topics related to the Radical Reformation, the Anabaptists, Hutterites, Mennonites, Amish and various related groups.
Irregular hours: March 20-April 4:
Due to staff absences the MHL will be on a slightly-reduced schedule March 20-March 31.  Our apologies for any inconvience. 
Monday March 20-Monday March 27:
M-F 8:30 a.m.-noon; 1 p.m.-5 p.m.
Tuesday March 28 9 a.m.-3 p.m.
Wednesday March 29 9 a.m.-1 p.m.
Thursday March 30 9 a.m.-3 p.m.
Friday March 31 9 a.m.-5 p.m.
Mon-Tues. April 3-4 8 a.m.-3:30 p.m.
Regular hours return Wednesday April 5 (closed Good Friday, April 7)
Monday-Friday: 8 a.m.-5 p.m.
Masks are currently not required, but our staff will happily wear them if you would like us to during your visit. We encourage off-campus researchers to contact us in advance of visits. Please call 574-535-7418 or email mhl@goshen.edu
This year our "first Saturday of the month" hours will be available by appointment only. Please contact Joe Springer (joeas@goshen.edu/574-535-7421) no later than the Thursday before the Saturday you hope to visit to determine availability.
If the Good Library is closed and the MHL is open, please use a cell phone to call in to 574-535-7418 for access.
Our hours between academic semesters and in summer differ and include periods when we are closed. Special hours for these periods are usually posted by end of November or mid-May. If you hope to visit the MHL in December, beginning of January, or May-August and special hours have not yet been posted, please contact us before scheduling your visit. The Library Gallery is open whenever the main college library building is open. See here for library building hours.
Location
We are located on the 3rd floor of the Good Library on the campus of Goshen College (Goshen, Indiana).
Contact information
Staff Directory
Phone: (574) 535-7418
Fax: (574) 535-7438
Email: mhl@goshen.edu
See the Institute for the Study of Global Anabaptism to read about our current program initiatives.
Facilities
The library provides special carrels for scholars doing research for extended periods, enabling researchers to work evenings, except during college vacation periods. Laptop computers may be used in these carrels. Microfilm readers and a photocopier are available, but there are no facilities for producing microfilms.
The staff is pleased to exhibit and explain parts of the library's resources and to give talks about the collection to interested individuals and groups. Members of the staff will help researchers in any way they can.
Inquiries by mail and email (mhl@goshen.edu) will be answered as staff time permits. The serious researcher will find it more advantageous to visit the library and examine the collection in person. The library usually has more resources relating to a research project than can be determined by correspondence, and many of the library's materials do not circulate.