Center for Business & Entrepreneurial Education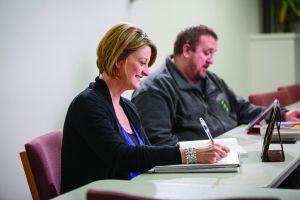 The Center for Business and Entrepreneurial Education (CBEE) is dedicated to supporting local businesses through developing and operating educational programs for local managers, employees and entrepreneurs.
For more information about CBEE programs, please contact:
Professor Jonathan Geiser
Phone: (574) 535-7135
Email: jgeiser@goshen.edu
Current CBEE Program Offerings
This five week course is an introductory course offering a complete overview of human resource roles and responsibilities. If you are just starting out in the profession, or are looking for an effective way to boost your employee management skills, this is the program for you!
Backed by SHRM's track record of providing quality HR training, this course covers the topics you need to meet key HR challenges that are relevant to you and your company. In less than 20 hours of training time, you can cover the issues you need to reduce potentially costly lawsuits. Learn more!
Earn the New Standard in HR Certification. This is an exciting and pivotal time in the HR profession. Now, more than ever, HR teams are required to assume a greater leadership role, contributing to the strategic direction of their organization. Goshen College's SHRM-CP/SHRM-SCP Certification Preparation classes are designed for SHRM credential candidates. Expand and test your knowledge and practical, real-life competencies in areas critical for HR career success.
This intensive twelve week program combines expert instruction with the SHRM Learning System® for SHRM-CP/SHRM-SCP, so you will learn faster, retain more knowledge and stay on track for success on the exam. Learn more!
This is a thirteen week course designed for employees who have recently taken on (or who are preparing for) a supervisory role within their company. It focuses on the methods and challenges of managing others and helps participants to develop the necessary insight and skills to be successful in supervisory roles. Learn more
Personal Finance
"Money problems don't stay at home — they follow your team to work." Goshen College has teamed up with Dave Ramsey's Financial Wellness program to deliver a personal finance course for employees of local companies. Companies can engage the CBEE to deliver this powerful course to their employees. This 8-week program provides employees with valuable knowledge and skills for managing their personal household finances and helps them to develop good financial habits. It also provides long-term coaching and support for graduates of the program.
Please contact Jonathan Geiser at (574) 535-7135 or jgeiser@goshen.edu if you would like to discuss options for your company or group.