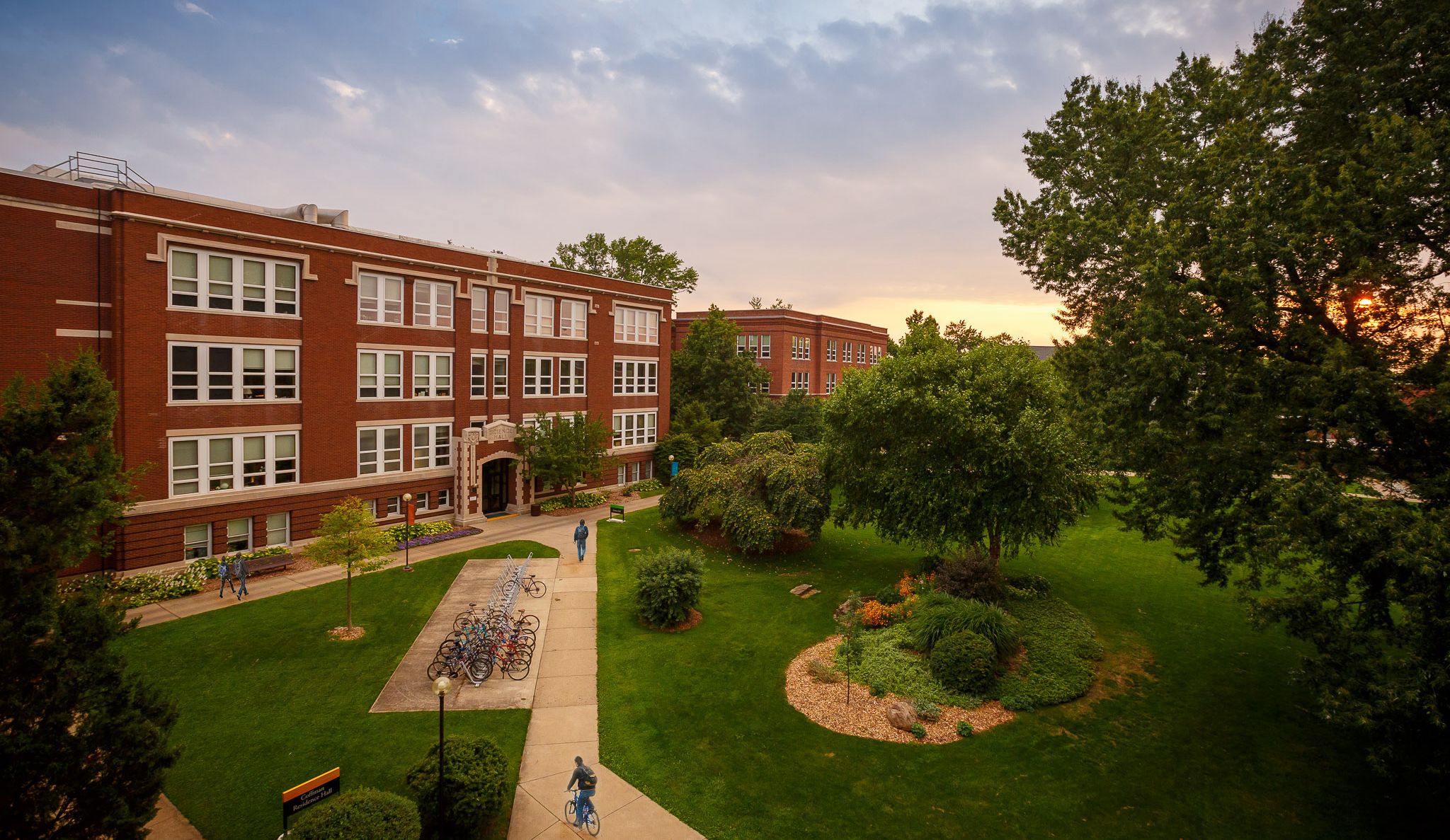 Academic Dean's Office
Faculty Achievements and Awards
Goshen College is proud of its reputation for challenging academic programs. At Goshen College you will find faculty who enjoy spending time with students and who are willing to engage students as co-learners along their journey.
John D. Roth, Professor Emeritus of History, published A Mennonite College for Everyone (?): Goshen College and the Quest for Identity and Inclusion, 1960-2020 with a "Reframing the Institutional Saga" grant from NetVUE (the Network for Vocation in Undergraduate Education) and the Council of Independent Colleges (CIC). President Rebecca Stoltzfus wrote the Foreword. Goshen College 2023.
Luke Beck Kreider, Assistant Professor of Religion and Sustainability published a review of Jeff Gundy's Wind Farms: Landscape with Stories and Towers for the Mennonite Quarterly Review April 2023.
Jessica Baldanzi, Ph.D., has published Bodies and Boundaries in Graphic Fiction: Reading Female and Nonbinary Characters with Routledge 2023. Dr. Baldanzi also published reviews in the Mennonite Quarterly Review of Rachel Yoder's Nightbitch (April 2023) and Jonathan Dyck's Shelterbelts (January 2023).
Anna Groff, Assistant Professor of Communication, reviewed Lindsay Ems Virtually Amish: Preserving Community at the Internet's Margins for the Mennonite Quarterly Review January 2023.
Breanna K. Nickel, Assistant Professor of Bible and Religion, reviewed Marshall King's Disarmed: The Radical Life and Legacy of Michael "MJ" Sharp for the Mennonite Quarterly Review July 2022.
Jan Bender Shetler, Director of International Education and Professor of History, reviewed Jeremy Rich's Protestant Missionaries and Humanitarianism in the DRC: The Politics of Aid in Cold War Africa, for the Mennonite Quarterly Review April 2022.
Jewel Lehman passed the National Board Health and Wellness Coach (NBHWC) test in Oct 2022.
Robert Brenneman, Professor of Criminal Justice and Sociology, reviewed Aaron Griffith's Law and Order: The Politics of Punishment in Evangelical America, for the Mennonite Quarterly Review April 2022.
David Housman,  Ph.D., professor of mathematics, department chair of mathematics and computing, spoke about Congressional Apportionment during the spring meeting of the Indiana Section of the Mathematical Association of America, March 27, 2021.  He and Rick Gillman (Valparaiso University) presented a four-hour minicourse on Game Theoretic Modeling for Math Majors at MathFest, August 4-7.  At the same conference, Ebtihal Abdelaziz ('22) presented A Coalition Game on Finite Groups based upon her 2020 Maple Scholars work.  Her presentation received a Mathematical Association of America Outstanding Student Paper Session Presentation Award.
Duane Stoltzfus, Professor of Communication, Director of Adult and Graduate Programs, has published an article, "When an American Pacifist Became an Alien in Her Own Homeland (and Had to Be Ready to Kill to Reclaim Her Citizenship)," in Peace & Change: A Journal of Peace Research, March 2021.
Julia Chiavone Camacho, Associate Professor of History, reviewed the book Liminal Sovereignty: Mennonites and Mormons in Mexican Culture written by Rebecca Janzen, for the Mennonite Quarterly Review October 2021.
Jonathan Schramm, Professor of Sustainability and Environmental Education, published a review of Courtney Fullilove's The Profit of the Earth: The Global Seeds of American Agriculture, for the Mennonite Quarterly Review April 2021.
Dr. Matthew Hill, Professor of Music, was an invited judge on Saturday Feb. 6, 2021, for the Gene Marcus Piano Competition held at Purdue University Fort Wayne School of Music.
Regina Shands Stoltzfus, Professor of Peace, Justice and Conflict Studies, department chair  of PJCS and Bible and Religion, has written several articles and contributed a chapter to a book.
"Pacifism and the Assault on Marginalized Bodies." in Liberating the Politics of Jesus, Studies in Anabaptist Theology and Ethics Volume 2,  T&T Clark, 2020.
"The Effects of Segregation on Theologies of Creation Care." Mennonite Quarterly Review, January 2020, Number 1.
Chapter in Proclaiming the Good News:  Mennonite Women's Voices 1972-2006. Forthcoming from Institute of Mennonite Studies, 2020.
Cordova, Guynn, Johnson and Shands Stoltzfus, eds.  Resist, Organize, Transform: An Introduction to Nonviolence and Activism, First Edition.  Cognella Academic Publishing, 2020.
Robert Brenneman, professor of criminal justice and sociology, has co-authored a book titled "Building Faith: A Sociology of Religious Structures" (Oxford University Press, Aug. 2020) with Brian J. Miller, associate professor of sociology at Wheaton College.  "Building Faith" combines sociological theory and the empirical method in order to understand the impact of physical structures on the religious groups who build them.
Doug Schirch, Professor of Chemistry, collaborated in publishing of  the Multi-Institution Research and Education Collaboration Identifies New Antimicrobial Compounds.  ACS Chem Biol. (2020 Dec 18) 15 (12), 3187-3196.
Philipp Gollner, Associate Professor of US History & MQR Book Review Editor, contributed a journal piece in "Roundtable:  Educating for Activism?  Historians and Politics in the Contemporary United States."  Fides et Historia 52 (2/Summer/Fall 2020), 79-92.
John D. Roth, Professor of History, MHL Director and  MQR Editor, has written the book "Where the People Go:  Community, Generosity and the story of Everance."   The book, published by Herald Press in June of 2020, tells the story of Anabaptist-Mennonite efforts to enable communal forms of sharing.  Mutual aid,  stewardship, and generosity are deeply embedded in the Christian faith and have been actively nurtured among Anabaptist-Mennonite groups.  You may find out more about the book at https://heraldpress.com/books/where-the-people-go.
H. Roz Woll,  Assistant Professor of Music, has successfully defended her dissertation and has completed the Doctorate of Musical Arts in Vocal Performance with a Certification in Africana Studies from The Graduate Center, City University of New York. The dissertation title is "Teaching Choral Music of the African Diaspora in the United States: Toward a 'Living Black History.'"
Eric Bradley, Good Library head of research and instruction, was elected to the Board of Directors by fellow members of the Foundation for the Advancement of Christian Libraries (ACL).  He was elected Director-at-Large for a three year term, beginning in 2020. ACL is an organization of evangelical Christian academic librarians that seeks to strengthen libraries through professional development of evangelical librarians, scholarship, and spiritual encouragement for service in higher education.  As one of the oldest and largest evangelical academic library organizations, the Association is internationally recognized due to the global outreach of the services it provides.  Eric has been an active member of ACL since 2007.
Colleen Geier, Professor of ASL Interpreting, wrote an article for Protocol and Diplomacy International – Protocol Officers Association (PDI-POA) newsletter to give protocol officers some information about Deaf Culture and working with interpreters for International Week of the Deaf and International Day of Sign Languages.
Jessica Baldanzi, Ph.D., co-edited the book Ms. Marvel's America: No Normal, was released in March on University Press of Mississippi 2020. More information about the book can be found at https://www.upress.state.ms.us/Books/M/Ms.-Marvel-s-America.
Ryan Sensenig,  Professor of Biological & Environmental Science, has written an article for Ecological Society of America (ESA) on the "Synergistic Effects of Long‐term Herbivory and Previous Fire on Fine‐scale Heterogeneity of Prescribed Grassland Burns." December 2020.
Peter Miller, Ph.D., assistant professor of English, published an article in the March 2020 issue of PMLA, the flagship journal of the Modern Language Association. In "Prosody, Media, and the Poetry of Edgar Allan Poe," Miller argues for Poe's importance as an early theorist of poetry as a form of sound media. The essay is part of a larger book project, "Writing Sound," which seeks to correlate the rise of modern sound recording technology with the fall of traditional poetic meter in order to reframe prosodic analysis as a form of media theory.