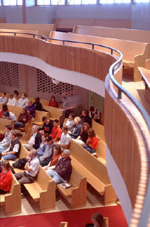 Goshen College is uniquely positioned in regards to the number of performance spaces available to the campus community.  From audiences over 1000 to under 100,  GC facilities provide spaces for a variety of event possibilities.
ITSMedia maintains the Audio & Visual systems in all of the facilities on campus, with the exception of the College Mennonite Church, and can provide portable equipment to meet whatever needs your event may have.  We have listed the technical specifications of each room below as a resource to our colleagues, technicians, and event planners.  If you are an event planner, please know that these equipment lists do not necessarily represent all of the technical resources we can provide.
For more information on appropriate spaces for your event, call the Office of Conferencing & Events at extension 7881.
---
Sauder Concert Hall (Goshen College Music Center)
Rieth Recital Hall (Goshen College Music Center)
College Mennonite Church
Umble Center
Newcomer Room 19
Goshen College Cabin
---