Remember, PowerPoint's Help Menu and Tutorial are very useful.
For maximum readability, ITSM suggests the following overall formatting:
    Use a dark background and light text
    Use a large font size:

no less than 30pt for main items
no less than 24pt for sub items

Don't put too much information on each slide
Align your text or photos on each slide so that there is continuity throughout the presentation.
When using tables and graphs, simplify the information and maximize screen space
Presentation Specifications in Event Spaces:
Use a 4:3 Presentation Mode

Powerpoint

Design>Slide Size> Standard (4:3)

Google Slides

File>Page Setup>Standard (4:3)

White slides with black text look the best. 

Black slides with white or grey text are easier on the eyes but harder to read in this space.

If you are showing a video it might be good for the background of the slide to be black
Use a 16:9 Presentation Mode

Powerpoint

Design>Slide Size> Standard (16:9)

Google Slides

File>Page Setup>Standard (16:9)
Music Center Sauder Concert Hall
Use a 16:9 Presentation Mode

Powerpoint

Design>Slide Size>Standard (16:9)

Google Slides

File>Page Setup>Standard (16:9)
Use a 4:3 Presentation Mode

Powerpoint

Design>Slide Size> Standard (4:3)

Google Slides

File>Page Setup>Standard (4:3)
Saving your PowerPoint
If you are creating a presentation for on-campus use at an event where ITSMedia will be projecting the PowerPoint for you, (for example, Chapel/Convo); save your file to this link and back up save your file on the M: drive (gcfile).  gcfile/Share/ITSMedia PowerPoint Drop Box.  It is helpful if the file is named with the date and truncated title of the event for which it is to be shown.  For example, 24feb_peace.ppt
NOTE:  Faculty and Administrators: if the presentation is not to be available for general viewing, you may place the file in M:/Offices/ITSMedia PowerPoint Drop Box.  If you choose this option, please notify media that the file is there so that a staff member can transfer the file to the necessary computer before the presentation as student usernames do not have access to the Offices drive.
If you have used specific fonts that you really want to use, or have linked to an audio or video file we suggest that you Package your presentation.
Creating on a Mac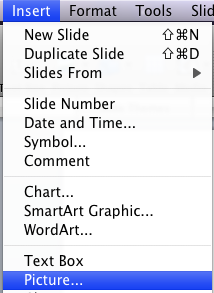 If you plan to present from your Mac, you don't need to worry about platform compatibility. However, if you plan to present from a PC, you should save your presentation using the transferring your presentation instructions.You also need to be careful about dragging images into the presentation. When inserting images, select Insert, Picture and choose the image. If you simply drag an image into your presentation from a web browser, or copy and paste from a browser you may see a "QuickTime and a TIFF (uncompressed) decompressor are needed to see this picture." error when you open the presentation in Windows. You can read more about this is a known issue documented by Microsoft. The error was finally corrected with Office 2008 for Mac Service Pack 1
Making your presentation run smoothly
Nothing feels worse that having your PowerPoint freeze up during your speech.  This often has to do with file size or the amount of free space on the presenting device.  Here are some ways to sidestep this embarrassing situation.
Always run your presentation locally:  do not run from the network, a CD-ROM or a flash drive – always save the presentation to the hard drive of the computer that you are using to present the PowerPoint
Compress any photos or images: (This function is available only in PowerPoint for Windows)

Select a picture in your presentation, then click the "Compress Pictures" button in the Picture Tools toolbar
Select "Options"
Select the "Screen" option and click OK
Be sure the "Apply to selected pictures only" box is NOT checked
Click "OK" to compress all the pictures

Use a non-dynamic background: backgrounds which include motion need time to draw the entire screen each time.
Turn off your screen saver
Make sure that your laptops powersaver settings will not be sending your computer to sleep right in the middle of the lecture.
Sign out of any chat applications:  You don't want your buddies saying "hi" during board meeting do you?
Inserting Video or Audio clips
First, do you really need to?  Many locations at GC offer easy access to video and audio playback devices.  Depending on the flow of your presentation you might save yourself a lot of time and headache by simply bringing in a DVD to play after you show your PowerPoint.
For detailed instructions on inserting video and audio clips, follow this link to a Techie-Buzz article.
Remember- If ITSMedia is setting up to show the presentation for you, we'll need to know ahead of time about the audio embedding in the file so that we can be prepared to set up speakers.
Download a sample powerpoint following these guidelines.
Other PowerPoint Tips: