Campus Post is the designated delivery location for all mail and packages addressed to Goshen College.
All USPS mail and packages, including UPS, FedEx, Amazon, DHL, etc. are delivered to Campus Post for scanning and processing. Packages for campus employees and departments can be picked up at the Campus Post Service Desk window during open hours, and are also routinely delivered to designated buildings and offices as needed. Employee and departmental mail is not delivered and should be picked up by a departmental or building designate.
---
How to Pick Up Mail & Packages
When a letter or package is received by Campus Post, it is scanned into a delivery system. Employee and departmental mail will be sorted by department/building and will be made available for pickup by a departmental or building representative. Mail and packages can be picked up at the Campus Post Service Desk in the Union Building during its stated open hours. It is helpful to have a employee GC ID ready for identification purposes.
If a package arrives addressed directly to a college employee, it will be scanned and the employee will be notified by email. Packages addressed to departments will be scanned in attention to the designated departmental or building representative. Packages can be picked up at the Service Desk during open hours, or will be delivered to departments/buildings by Campus Post student workers, pending worker availability. Smaller packages may be placed with departmental mail for pickup. Packages will be held for as long as necessary.
College employees who work for departments without an administrative assistant (History, Bible & Religion, Philosophy, PJCS) will have all individual mail and packages held for pickup at the service window.
Campus post is not able to forward packages to an employee's home address.
How to Address an Envelope/Package to Campus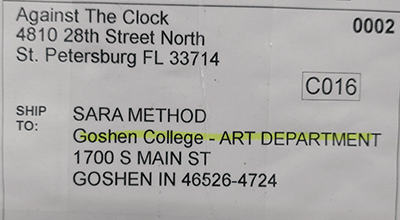 In order to facilitate the timely and accurate processing of packages and mail, campus employees should have mail and packages addressed in the following format:
FULL NAME
Goshen College — [optional department name]
1700 S. Main St.
Goshen, IN 46526
A college department is not required so long as there is an employee name listed (but a department name IS helpful for deliveries!).
Campus Mail
Intra-campus mail and packages can be dropped off at the Campus Post service desk during open hours. In addition, campus mail letters can be placed in the Campus Mail drop-box, located inside the Union Building just north of the Service Desk, by the gymnasium doors. Please do not put campus mail in the blue USPS mailbox outside ITSMedia!
Shipping Packages
Campus Post is not a full-service post office and does not sell postage or ship packages. Employees can bring letters and packages that require postage or shipping labels to Printing & Mailing in the basement of Coffman Hall for departmental charge. Stamps and shipping labels can also be purchased at the City of Goshen Post Office or ordered online from usps.com. Stamped USPS mail can be dropped off at the blue mailbox on the south end of the Union just beside the exterior entrance to the Service Desk. UPS & DHL packages with pre-paid shipping labels can be dropped off for pickup at Printing & Mailing. At this time, there is NOT a campus pickup location for FedEx packages; labeled FedEx packages can be dropped off at the Walgreens on Lincolnway Ave. in Goshen or at any other FedEx dropbox or location.
Bulk Mail Services
Information about bulk mail services at Goshen College can be found at the Printing & Mailing website.