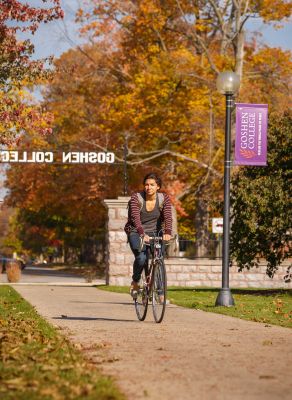 A transfer student is any student who has taken college level classes anytime since the summer following high school graduation. Wondering what it's like to transfer to Goshen College? Check out this helpful viewbook.
Steps to Apply
Complete the application. You have three different options:

GC Paper Application Print and mail PDF to:
Goshen College Admissions Office
1700 South Main Street
Goshen, IN 46526 USA

Send your official college transcript(s) from all colleges attended.
Scroll down to see our academic requirements and transfer course equivalents.
If you have completed fewer than 24 semester college credits, submit your high school transcript as well.
Depending on your academic record, we may ask you to submit a College Reference Form.
Application Deadlines
Rolling admission – candidates are invited to submit their applications to the college anytime throughout the year
March 10: Priority deadline for submitting the FAFSA
Minimum Requirements to Apply
Applicants are expected to be in good standing at the college or university they last attended and to have maintained a 2.0 GPA (out of 4.00) or higher, based on 24 semester college credits.
A college transcript(s) must be submitted, including official documentation for any Advanced Placement credit that may have been granted.
Applicants who have completed fewer than 24 semester college credits also must submit their high school transcript. Both the college and high school GPAs will be considered in the admission decision.
ACT and SAT scores may fulfill athletic eligibility so sending scores is recommended for athletes.
Students not meeting full admission standards are still encouraged to apply for admission. Goshen College takes a holistic approach to admission decisions and will consider the merit of each applicants' academic record on an individual basis. Additional materials may be requested so that we can learn as much as we need to make our admission decision.
Students with diagnosed learning disabilities, who are otherwise qualified for admission to Goshen College, must provide documentation of their specific learning differences to the director of the Academic Resource and Writing Center in order to receive reasonable accommodation.
Transferring Credits
At Goshen College, transfer students are required to complete 16-27 credits in the Goshen Core (sometimes called "General Education" at other schools). Check out this chart of transfer course equivalents for Glen Oaks Community College, Hesston College, Indiana University South Bend, Ivy Tech Community College and Southwest Michigan College.