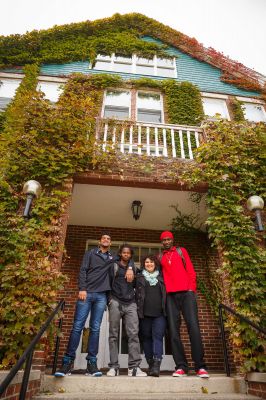 Goshen College is a "home away from home" for dozens of international students every year. They come here from Nepal, India, China, Brazil, Kenya, Korea, Burkina Faso, England, and Canada to name a few. With students from nearly 40 countries, Goshen feels more like a global village than a college campus.
Steps to Apply
Complete the application. You have three different options:

GC Paper Application Print and mail PDF to:
Goshen College Admissions Office
1700 South Main Street
Goshen, IN 46526 USA

Then, pay the $25 application fee. 

We will waive your application fee during College GO! Week or if you visit campus!

If you are a first-year college student, complete the personal admission question. (It's only 250-500 words!)
Send your official secondary school transcripts, exam reports and diplomas, certified with original signatures and/or seals.
Send your original/official or certified copy of TOEFL / IELTS exam report or have TOEFL / IELTS send an official report directly to Goshen College. The institutional code number of Goshen College is 1251.
Fill out and send the International Student Financial Information Form.
Send a bank statement and/or salary statement and/or sponsor letters showing proof of income. The statements need to be sent to us from the bank / employer directly.
Send a copy of your passport information page, including photo.
If you're a college transfer student, send your official post-secondary/university transcripts and exam reports certified with original signatures and/or seals. A letter of recommendation may be requested.
Your documents need certified English translations if they are not in English. We recommend www.wes.org for translations.
Application Deadlines
Candidates need to submit their applications to the college by July 1.
Minimum Requirements to Apply
International students are not required to submit SAT or ACT test scores for admission. TOEFL scores are required if English is not the applicant's first language.
Minimum TOEFL score:
550 (paper version)
213 (computer version)
79 (internet version)
or an overall Band Score of 6.0 on the IELTS
or a grade of "C" or better on the General Certificate of Education (GCE) English exam
Though not required, it is recommended that international students submit SAT I scores with their application for admission. The SAT exam is given in locations around the world several times a year. Students may obtain details of when the exam is administered and how to apply by contacting the nearest American Embassy or Consulate. Students should start planning a year in advance of the time they plan to begin studies at Goshen College to take the required TOEFL and SAT I exams and to prepare the other required documents for admission and financial aid consideration. SAT test scores may fulfill athletic eligibility so test scores are recommended for athletes.
Students not meeting full admission standards are still encouraged to apply for admission. Goshen College takes a holistic approach to admission decisions and will consider the merit of each applicants' academic record on an individual basis. Additional materials may be requested so that we can learn as much as we need to make our admission decision.
Students with diagnosed learning disabilities, who are otherwise qualified for admission to Goshen College, must provide documentation of their specific learning differences to the director of the Academic Resource and Writing Center in order to receive reasonable accommodation.