Goshen College is a "home away from home" for dozens of international students every year. Students come here from Nepal, India, China, Brazil, Kenya, Korea, Burkina Faso, England, and Canada to name a few. With international students from nearly 40 countries, Goshen feels more like a global village than a college campus.
Steps to Apply for Goshen College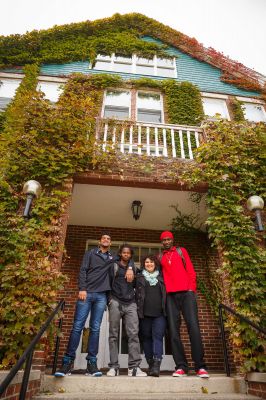 Complete the application. You have two different options:

Submit your secondary school and/or post-secondary/university transcripts to either INCRED International Credential Evaluations or World Education Services for a credential evaluation. Do not send your transcript directly to Goshen College. Applying students are responsible for any fees associated with the credential evaluation.

For INCRED, select the appropriate option: Basic or Course-by-Course. If you do not plan on receiving U.S. credits, select the Basic Evaluation. If you have University or Post-Secondary credit that you want to transfer, you'll select the Course-by-Course Evaluation. Designate Goshen College as the recipient.
For WES, select the WES ICAP Course-by-Course (with GPA & course-levels) option. Designate Goshen College as the recipient.

If English is your second language, send your original/official or certified copy of the TOEFL/iELTS exam report or have TOEFL/iELTS send an official report directly to Goshen College. The institutional code number for Goshen College is 1251.
Answer and submit the personal written essay.
If you are a first-year college student, respond to the following question in 250 – 500 words: As you consider college and your future, what are your academic, social, spiritual, or other goals? Type and send your essay (as a Word document or pasted in the body of the email) to admissions@goshen.edu.
ACT/SAT scores can also be submitted, but are not required.
International Student Application Deadlines
Fall Enrollment Application Deadlines
May 1: Deadline for submitting completed applications (including supporting paperwork). After the May 1 deadline for fall admittance, all new applications will be deferred for the following spring.
Spring Enrollment Application Deadlines
Oct. 1: Deadline for submitting completed applications (including supporting paperwork).
Minimum Application & Admission Requirements
International students are not required to submit SAT or ACT test scores when applying for admission. TOEFL scores are required if English is not the applicant's first language.
Minimum TOEFL score:
550 (paper version)
213 (computer version)
79 (internet version)
or an overall Band Score of 6.0 on the IELTS
or a grade of "C" or better on the General Certificate of Education (GCE) English exam
Though not required, it is recommended that international students submit SAT I scores with their application for admission. The SAT exam is given in locations around the world several times a year. Students may obtain details of when the exam is administered and how to apply by contacting the nearest American Embassy or Consulate.
International students who wish to apply for college should start planning a year in advance of the time they plan to begin studies at Goshen College to allow plenty of time to take the required TOEFL and SAT I exams and to prepare the other required documents for admission and financial aid consideration. SAT test scores are recommended for athletes, as test scores may fulfill requirements for athletic eligibility.
International students with diagnosed learning disabilities, who are otherwise qualified for admission to Goshen College, must provide documentation of their specific learning differences to the director of the Academic Resource and Writing Center in order to receive reasonable accommodation.
Financial Aid & Scholarships for International Students
Have questions? Contact us!
Steph works with international students, including all international students who are transferring.