Applying as a First-Year Student
A first-year student is any student from the U.S. who has not taken college-level classes since the summer following high school graduation. If you match these requirements, use the following steps to apply for admission.
How to Apply to Goshen College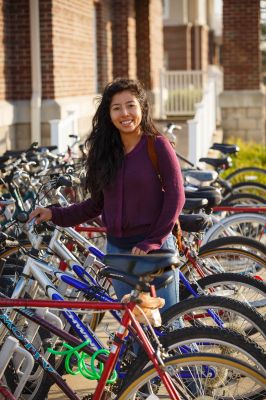 Complete the application. You have two different options:

Go here to complete an existing application.
Send your high school transcript. 
Send your SAT or ACT score (OPTIONAL).
NOTE: Goshen College has a test-optional admissions policy for first-year applicants. You can indicate on your admissions application whether you'd like your SAT/ACT test results considered in your admissions decision. If you wish to submit your test scores, Goshen's SAT code is 1251 and ACT code is 1196.
Important Deadlines
Fall
Dec.1 (extended from Nov. 15): Priority application deadline (to be eligible to apply for achievement scholarships, our top awards. You will need to have applied to GC and submitted your official transcript and test scores prior to applying for the scholarships.)
Jan. 1: Achievement scholarship application deadline (You will need to have applied to GC and submitted your transcript and test scores prior to applying for the scholarships. Separate scholarship applications required for many of these awards. Learn more.)
March 1: Priority deadline for submitting the FAFSA.
Additional Admissions Information
Goshen College seeks to enroll students who are prepared for a challenging academic college program that will prepare them for a successful career after they graduate. High school courses, grades, test scores (if provided), and students' personal experiences are important factors in the admission decision.
Recommended High School Courses:
Graduation from an accredited high school is required for admission into Goshen College, along with the following recommended college preparatory courses.
English: 4 units
Mathematics: 2-4 units
Science: 2-3 units (pre-nursing students must have one unit of high-school chemistry with a grade of "C" or higher, or its college equivalent)
Social Studies: 2-3 units
Foreign Language: 2-4 units
GED:
Average score of 500 or above on each of the sub-scores for tests taken after 2002.
College-Level Credit During High School:
Applicants with Advanced Placement, dual enrollment, or other college-level credit should submit official score reports or transcripts to Goshen College.
Additional Consideration for Student Admission:
Students not meeting our full college admission standards are still encouraged to apply for admission. Goshen College takes a holistic approach to admission decisions and will consider the merit of each applicant's academic record on an individual basis. Additional application materials may be requested so that we can learn as much as we need to make our admission decision.
Students with Disabilities:
Students with diagnosed learning disabilities, who are otherwise qualified for admission to Goshen College, must provide documentation of their specific learning differences to the director of the Academic Success Center in order to receive reasonable accommodation.