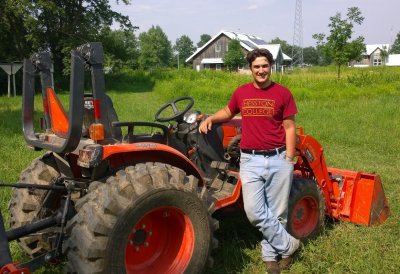 Ryan Miller has an ornery streak. He is not afraid to be the proud meat lover among vegetarians or the tractor enthusiast among market gardeners. Ryan's assets include a practical bent and a scrappy willingness to live with the tensions inherent in today's farming landscape.
When Ryan becomes Goshen College's first sustainable food systems graduate in 2­­­­019, his resume will include familiarity with both small scale sustainable farming and conventional farming practices. As a student in Merry Lea's Agroecology Summer Intensive, Ryan has worked on a teaching farm embedded in a nature center, visited many small-scale operations and learned about organic certification. He has also worked on a dairy farm throughout college and has extended family members in conventional farming.
The contrast between the two worlds remains an internal struggle for Ryan, but some of the issues intrigue him. "There's an interesting tension between tilling and spraying," Ryan says. Organic farmers do not use herbicides on their fields, but then need to till the soil to control weeds. This can increase erosion. No-till farmers use sprays to solve the weed problem which cuts down on erosion.
"I love to put together those kinds of puzzles. How would you do it?" Ryan wonders.
Ryan's ideal future would include a 30 to 50-acre farm where he could raise field crops such as corn and hay. It needs to have enough big machinery to satisfy his addiction to driving and his childhood itch to become a train engineer. He also wants a farm that is "small enough so that you can be intentional about the choices you're making."
Wherever Ryan ends up, his ability to enjoy both hard work and learning new practical skills will serve him well.
"Ryan is very passionate about working with his hands. Whenever there is a job to do, he is eager to help out, especially when it involves tractors," John Mischler, director of the ASI, observes.